Spruce team wins first place at the 2013 Disrupt SF Hackathon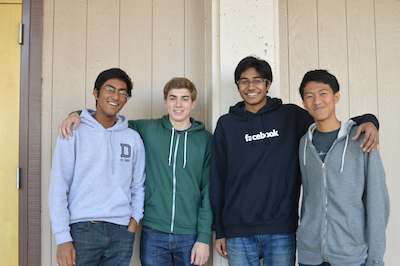 Varsha Venkat
October 26, 2013
MVHS students compete against Bay Area professionals and college students to win $5,000 grand prize.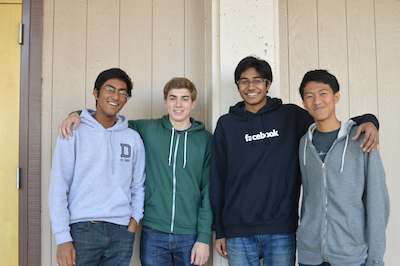 Students are lazy when it comes to reading — at least that's what the team behind Spruce believes.

This general indolence is what prompted sophomores Ajay Jain and Jimmy Liu, and seniors Michael Mattheakis and Zuhayeer Musa, to create a web application called Spruce which helps students learn and practice their vocabulary while reading.

"I know that oftentimes when I'm reading a physical book and I don't understand something I won't get up, go to the computer and try to define a word, I'll just keep reading and ignore it," Jain said.

The team planned and programmed its app in under 24 hours, at the Disrupt SF Hackathon 2013 held at the Concourse Exhibition Center. Following nearly a day's worth of coding time and a one-minute presentation to a panel of judges, the team was announced as the grand-prize winners.

Hacking away

When Jain, Liu, Mattheakis and Musa decided to form a team at the hackathon, which was hosted by TechCrunch, they did not expect to win the entire competition. Held from Sept. 7 to Sept. 8, the event included over 250 teams consisting of professionals and students. At previous hackathons, the boys had used their experiences to enhance their programming skills; they decided to continue with this attitude at the Disrupt SF Hackathon and focus more on practicing rather than winning.

"We never foresaw [a win] because it's such a huge hackathon," Musa said. "We were actually even about to leave because there was school the next day, but then turns out right as we were leaving they announced us."

The hackathon lasted 24 hours, as teams planned and coded throughout the night. Jain and Musa stayed at the conference center throughout the night and worked on the application, while Liu and Mattheakis participated from home. Despite this break in communication, the team managed to get their work done thanks to careful planning and division of tasks.

In order to increase their efficiency in programming the app, the team decided to separate the tasks and play to each member's strengths. Liu was placed in charge of programming the user-interface aspects of the app, which required HTML coding, while Mattheakis, Musa and Jain divided up the remaining "back-end" tasks among themselves.

[blockquote]We never foresaw [a win] because it's such a huge hackathon. We were actually even about to leave because there was school the next day, but then turns out right as we were leaving they announced us.[/blockquote]

APPrehension

Although they ended up winning the grand prize at the hackathon, the boys' experience at the competition wasn't without bumps along the way. They came up with several ideas at the beginning of the hackathon, but struggled to come to a consensus. When they came close to finalizing an application that dealt with travel and payments, they realized there would be too much competition in the travel category and that it would be better to work on a different application.
Following a couple of hours of discussion, the team settled on creating an educational app which would allow users to practice their vocabulary. But despite finalizing their app idea, the team still faced initial doubts.
"The idea evolved over time. Our initial idea didn't involve books at all, it would just be like a vocab game [—] something to help you learn vocab and save the words you don't know to Evernote," Jain said. "We were kind of skeptical like 'Okay there's Quizlet, I don't know what the benefit of this is.'"
As the app progressed over the course of the hackathon, the team grew satisfied with the final product. Jain believes that Spruce fills a missing niche in the app market, as there aren't many online applications which offer quick access to dictionaries directly from an e-book.
The final application includes a library of classics, taken from the Pearson's library, for readers to choose from. For each book the approximate time needed to read each chapter is given, and when a word is clicked on, the definition and other information is displayed. According to the team, one of the best features of the app is that users can store all the words that they don't know to their own Evernote account. The app will then automatically email the user their word list every three days to ensure that the user doesn't forget the words he or she has studied.
Learning opportunities
The Spruce team not only won the $5,000 overall prize at the hackathon, but also won an award from Pearson. The $1,000 award was given for the best use of Pearson's application programming interfaces, which are systems that allow programmers to build apps through a company's services. Although the team doesn't have any plans to market their app as of yet, the boys do plan to work together in the near future.
Jain, Liu, Mattheakis and Musa recommend that anyone who is interested in programming attend hackathons. According to the boys, attending hackathons really helps one learn additional aspects of coding — all four of them have grown through participating in the events and have picked up additional skills that expanded the programming knowledge that they gained from classes and self-studying.
"[I learned that you should] just take something at first and even if its not that good just really go hard at it," Mattheakis said.
Liu also believes that hackathons can help people learn programming as well.
"You can't just go to hackathons as opposed to [a] Berkeley computer science class, [but] they still teach you enough to help you get started and help you with computer science in the future," Liu said.
You can access the Spruce app here: spruceapp.herokuapp.com.