Food: Does Philz Coffee offer enough to stand out?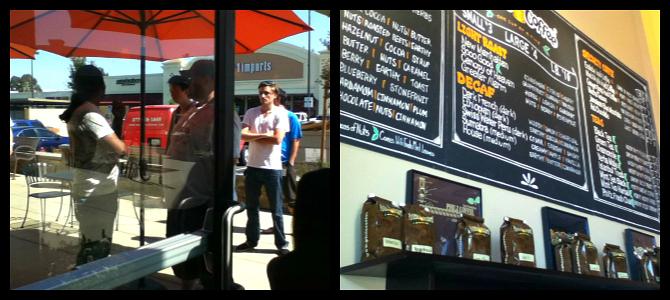 What's the best refreshment for a sunny, 85 degree afternoon? For a huge line of people gathered at Cupertino Crossroads, the answer was apparently coffee.
Philz Coffee, which opened May 9 in the Cupertino Crossroads at the intersection of Stevens Creek Blvd. and De Anza Blvd., is eager to throw its hat into the overcrowded beverage-shop ring. The cafe's selling point is its huge selection of light, medium and dark roast coffee, available in cups ($3 small, $4 large) and in one-pound packages of beans ($16-$120). Each order is individually brewed, which is to be expected given the steep price.
The popular Mint Mojito Iced Coffee ($4.50 large) deserves praise. Made with crushed mint leaves, coffee and cream, it tastes refreshing yet subtle, especially on a hot day. The idea of pairing beverages with the delicate flavor of mint is a great one, and Philz employs the herb with great effect in the Fresh Chai ($3 small) as well.
However, the Mocha Tesora ($3.50 small) severely disappoints. While the Tesora coffee base is strong and bold, with great balance and bright acidity, the mocha portion consists of chalky, undissolved powder. But this can be forgiven somewhat considering the cafe's preference for unadulterated cups of joe over fancy drinks.
What cannot be forgiven, however, is the shockingly mediocre selection of baked goods. One would expect a $3 brownie or cookie to taste amazing, but Philz' desserts don't even taste good. Don't be fooled by how tempting they look under glass. The only food item worth mentioning is the small amount of baklava the cafe keeps in stock, and even this tends to be on the soggy side.
At least the decor is nice (despite resembling a Japanese fusion restaurant), and the service is friendly. Before they allowed us to walk away from the counter with our drinks, the baristas asked us to take a sip to see if it was to our taste, and offered us the mint leaves from the mojito to smell. But we were surprised that the baristas spilled part of their drinks on the ground whenever they dumped ice into a cup; investing in a pair of tongs might be a good suggestion.
As for the atmosphere, the earthy green, orange and brown color palette makes for a cozy setting that complements the coffee nicely. The small number of tables and chairs lined up against the side of the wall suggests that Philz caters more to the customer that picks up their coffee and leaves, and as a result, Philz' customer base, much like its staff, consists primarily of young adults. The cafe's overall vibe is quirky, what with its eclectic mix of couches, benches and chairs, but all in all, it aims to please the serious coffee drinker as opposed to the the student looking for a new study spot.
Our conclusion? Philz Coffee is a great place to try different roasts and varieties. If you like your coffee with two shots of wheatgrass, a squirt of mocha, a dollop of whipped cream and served with tasty treats, there are much better places to visit — but if you like your coffee simple, tried and true, Philz may just be your new favorite coffee stop. We give the cafe 4 stars for those who like it black and 3 stars for those who take all the fixins', creating an average score of 3.5 out of 5.
Philz Coffee is located on 20686 Stevens Creek Blvd, Cupertino, CA 95014. Operating hours are 6 a.m. to 8:30 p.m. on weekdays, 6:30 a.m. to 8 p.m. on weekends.