Spring cooking challenge
Spring Cooking Challenge from El Estoque on Vimeo.
We're juniors, which means a ton of homework on weekends. Almost a literal ton, as our dads seem to comment on the weight of our backpacks nearly every day. And like normal teenagers, we ignore that homework and party instead. But ours aren't the typical parties with loads of alcohol and Dubstep. We know how to throw a real party –– a pastel-colored, petite celebration of spring.
As a pair of untamed 17-year-olds, we tend to take a lot of risks. Attempting to create a satisfying array of snacks just an hour and a half before a spring party isn't procrastination. It's living on the edge.
Adding to the challenge, we had no idea what to prepare. Again, like typical teenage girls obsessed with social media, we took to Pinterest, clicked the four spring recipes that appeared most appetizing and stumbled upon these: bird's nest macaroons, robin egg milkshakes, hummus and carrot pails and chocolate-covered strawberries.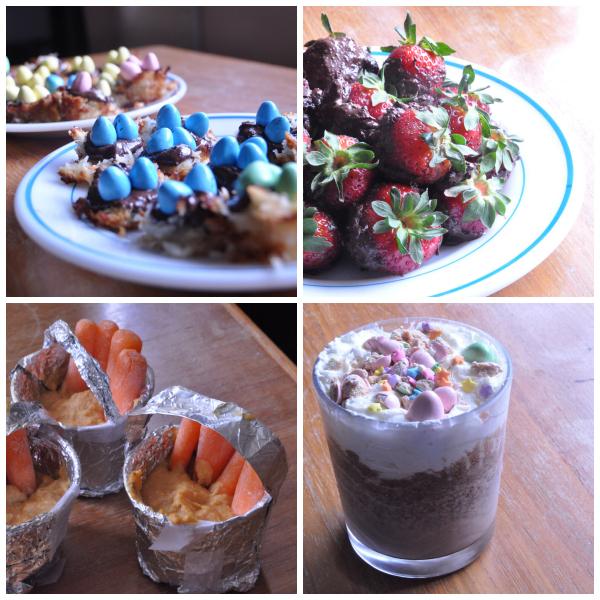 That's not to say that we were entirely successful. Yes, our final products –– when captured with the perfect artsy angle with a faded, Polaroid-esque Instagram filter and a subtle blur –– were Food Network-worthy. But we faced quite a few challenges since we're both rather lacking in terms of preparation and organization.
Maybe high school juniors aren't the best chefs in the world.
Challenge one: roasting the garlic
Who knew cutting one clove of garlic could be so hard? After attempting to saw our way through the rock-hard exterior with a fruit knife, we gave up all hope and peeled it instead. Although 10 minutes of hardcore labor did the job, we lost a lot of time on the clock.
Challenge two: melting the chocolate
Melting chocolate in the microwave sounds pretty doable, but let us warn you: it really isn't. We were surprised the bowl didn't explode. When we took it out of the microwave, it felt hotter than a curling iron set on high — even with an oven mitt on. We obviously forgot to take our safety precautions and read the heating specifications underneath the plastic bowl. Well, it's just some melted plastic –– no biggie.
Challenge three: the food processor
After plugging the food processor into four different power outlets, we finally realized that it was broken. So we ended up using Yuna's mother's favorite smoothie blender. That worked out rather nicely, but cleaning out the hummus afterwards was extraordinarily tedious. Well we're sure she wouldn't mind some tangy hummus flavor in her next smoothie.
We ended up finishing before the party began. Yet things took way longer than the recipe stated they would, probably because of a) our poor preparation, b) our lack of time management skills and c) our general incompetence. We'd probably be burned at the stake if we were contestants on Hell's Kitchen.
We're sure, however, that our ability to create something reasonably appetizing means that others could do the same, maybe even in record time. So, when your spring allergies settle down and you're ready to hit la cuisine, throw your own impromptu spring party –– and take a little risk.