First ever Heart Beats Benefit Concert to provide night of classical music
Athira Penghat
March 22, 2013
Musicians Society's concert will showcase musical talent on campus and raise money for the American Red Cross.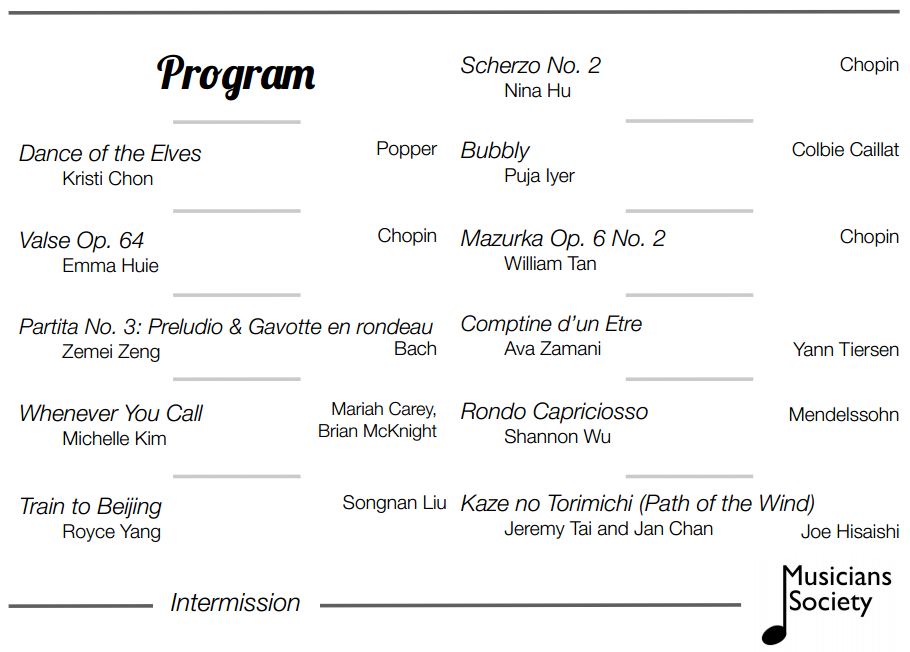 Throughout the year, choir, orchestra and band fill the auditorium with music at their concerts. On the evening of March 23, another concert — primarily featuring classical music — will be held, but this one differs from the rest.
The first ever Heart Beats Benefit Concert organized by Musicians Society, a club that aims to help the community through musical talent, will consist of 11 musical performances, most of which are either solo or duet acts. According to Musicians Society president junior Shannon Wu, the lineup was designed with diversity in mind, both in terms of the grade level and style of the performers. Acts will vary from vocalist and pianist senior Puja Iyer performing Colbie Caillat's "Bubbly" to violinist junior Zemei Zeng performing Johann Sebastian Bach's Partita No. 3: Preludio & Gavotte en rondeau.
Although the concert will feature both classical and contemporary numbers, Wu says that — beside raising money for the American Red Cross — the primary objective behind holding the concert is to not only give student musicians an opportunity to showcase their talent, but also increase appreciation for classical styles on campus.
"Classical music isn't always something that people get super excited about," Wu said. "By holding this concert, we hope to expose more people to classical music and hopefully get them to enjoy it."
Although Musicians Society promotes music whereas the Red Cross places emphasis on rescue and relief, Wu feels that their mission statements align because both seek to help the community above all else.
"When we send members to perform at local community centers, the people there always thank us, and it makes them really happy," Wu said.
Musicians Society also hopes to establish this concert as an annual event, similar to Octagon's Cure Cancer Cafe and Interact's International Night. As the Musicians Society's first concert, planning the event was more demanding than anticipated. Factors such as lighting and ticket sales had to be taken into account, as opposed to simply arranging a lineup of performers and booking a venue. However, the officer team wasn't overwhelmed, and worked closely with its advisor, music teacher John Galli, who was familiar with the process of organizing concerts at school.
Despite these initial obstacles, Wu feels that she and her officer team have overcome the learning curve and have already begun examining ways they can make the concert more successful in future years, but concrete plans won't be made until after the concert. Overall, Wu hopes the event will be a success.
"The concert is a great way to relax from the stresses of school," Wu said. "You'll get to enjoy a lively and fun night of good music while supporting a good cause."
The Heart Beats Benefit Concert will be held in the auditorium with tickets costing $5 in advance and $8 at the door. Doors open at 6:45 p.m. The show starts at 7 p.m.
Heart Beats Benefit Concert Preview from El Estoque on Vimeo.
Change made at 5:54 p.m. on March 28: This article was updated to include a video.