Cure Cancer Cafe both entertaining and beneficial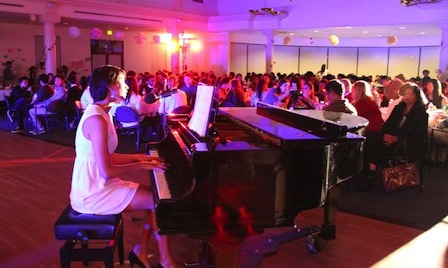 Octagon hosts annual event to raise money for cancer research.
The room was lit a bright purple, imbuing the white flowers and tablecloths with a slight tint. A jazz band played in the background while waiters zigzagged in between chairs and tables, determined to create a pleasurable dining experience. Meanwhile, couples lined up to have their pictures taken at a photo booth. This scene appeared prom-like, and in some ways, it was. People were having fun socializing with friends, enjoying a catered meal and watching talented performers. But this was not an evening just of laughter and fun — rather, it was a shared commitment to help those affected by cancer.Cure Cancer Cafe, hosted annually by MV Octagon, is a unique spin on the standard fundraiser. Instead of selling magazines and sweets, the club created a social event that allowed everyone — waiters, performers and attendees alike — to contribute to a greater cause. Proceeds from ticket sales, donations and a silent auction pushed earnings over $10,000, all of which will be donated to the Leukemia and Lymphoma Society.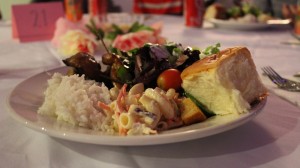 The night's entertainment included musical and visual performances by students who wanted to contribute to the efforts with their talents. Particularly memorable was junior Neha Nuguru's spirited rendition of Rihanna's "Stay," as well as a dance number by Urban Soul Movement. The jazz band, of course, cannot be praised enough for its endurance and soul, which set the ambiance for the entire night.
The food also added to the lively atmosphere: grilled chicken skewers or mushroom served with greens, pulled pork, rice, pasta salad and marble cake were all served efficiently by the volunteer waiters for the evening.
Towards the later portion of the night, the attendees received a reminder of the event's purpose. Alumnus Jack Chin, who students and community members helped last year in his battle with lymphoma, took the stage to deliver a heartfelt speech thanking all of those who supported him, and people facing similar challenges to him, through events such as tonight.
Chin ended with a word of advice to the audience.
"I know that most of you can't register to be a bone marrow donor yet because you're not yet 18, but pretty soon you will be, and I'd really like for you to consider registering to be a bone marrow donor," Chin said in his speech. "If you do happen to be somebody's match, and you do decide to donate, you can be not just a savior to that one person … but you'll also be a hero to everybody who cares about them."
For more information about Cure Cancer Cafe, visit MV Octagon's website or our previous coverage of the event.