Girls soccer: Lady Mats end three-game scoreless streak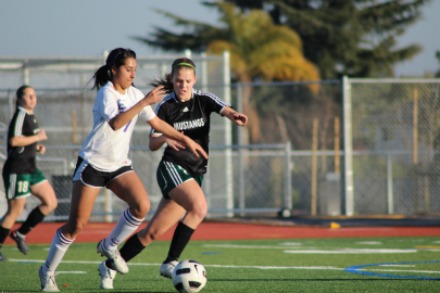 Strong play from the girls help halt losing streak
The Lady Mats faced off against the Homestead Mustangs on Jan. 18, finishing with a score of 1-1 to end a three game scoring drought. Improved ball control and communication allowed MVHS to control the pace of play for the majority of the game.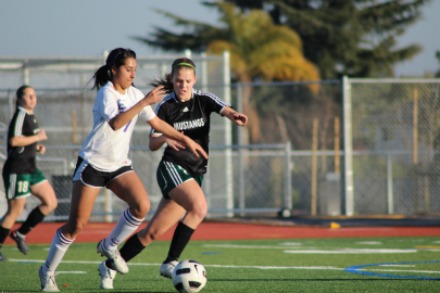 Early in the first half neither team was able to put the ball on goal. The Lady Mats maintained dominance in the midfield allowing few opportunities for the Mustangs to score. Several times, however, the team was hampered by miscommunication and allowed turnovers and negated scoring opportunities. The offense was additionally hampered by the absence of sophomore and starting striker Janaye Sakkas, who was injured during the early stages of the game when she collided with a Homestead player and injured her ankle.
HHS had the first shot on goal near the 15 minute mark but was kept out by a diving save from MVHS goalkeeper senior Gal Haroush. She made multiple saves throughout the game, and allowed the game to remain close for the Lady Mats.
In the 20th minute, the Lady Mats finally got their first shot on goal and they made it count. After dribbling the ball up the right side of the field, junior Amelia Strom outmaneuvered a Homestead defender and passed a negative ball to senior Malvika Mecker who passed it easily into the back of the net, giving MVHS the early lead at 1-0.
The game remained stagnant for the majority of the first half, until a 50-yard through ball caught the girls out of position. HHS was able to corral the ball and maneuver around an MVHS defender before placing the ball in the top corner of the goal. Homestead would have a few more opportunities on goal, but the score at the end of the first half would remain 1-1.
Early in the second half, HHS controlled the ball better and had a few quality opportunities that were saved by Haroush. MVHS, however, kept its composure and eventually regained the control it had in the early stages of the first half.  However, the Lady Mats were unable to convert it into goals.
HHS possessed the better opportunities on goal during the second half, however. Superb goalie play from Haroush along with strong tackling from the the defense allowed the game to remain close. Haroush would finish the game with 11 saves, allowing only one shot to be put into the goal despite numerous breakaways.
The game would end the same way as it did in the first half with the score 1-1. This game ended a three game scoreless streak and also halted a four game losing streak for the Matadors. Coach Alan Kute was pleased with the play from the girls.
"We haven't played well since the Christmas break, so it was good to show up again," said Coach Kute.