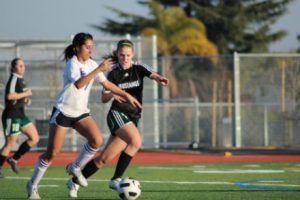 Mihir Joshi

January 28, 2013
Strong play from the girls help halt losing streak The Lady Mats faced off against the Homestead Mustangs on Jan. 18, finishing with a score of 1-1 to end a three game scoring drought. Improved ball control and communication allowed MVHS to control the pace of play for the majority of the game. Earl...
Karen Feng

December 1, 2012
Matadors win first home game despite inconsistency. Read More &raquo
Yaamini Venkataraman

January 6, 2012
Coming from pre-season with a 4-2-0 record, the Lady Mats hoped to secure a win against long-time rival Palo Alto in their first league game on Jan. 4. Instead, the team tied 1-1.The first period shot up to a start by junior Celeste Kim, who scored on a head shot in the first ten minutes. Ho...