Movie: 'Gangster Squad' embellished yet underdeveloped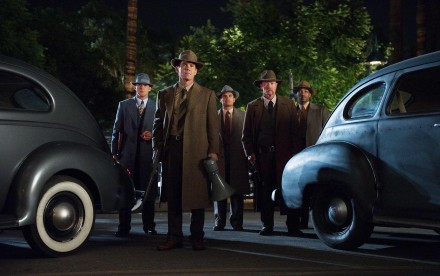 Anjali Bhat
January 14, 2013
Hang on for a minute...we're trying to find some more stories you might like.
Gunshots and glamor oversimplify the problems of a crime-ridden Los Angeles in the 1940's.
OUR GRADE: 2.5 stars
YOUR GRADE: [polldaddy rating="6504463″]
It's 1949. World War II is over and done with, and most Americans are relieved that the violence is finally over. The Los Angeles Police Department, however, knows better. They sense an underground war developing, and they have no doubt that the mastermind behind it is none other than the ruthless gangster Mickey Cohen.
Director Ruben Fleischer's film "Gangster Squad" is inspired by true accounts of the violence in Los Angeles during the mid-20th century, and opens with gory demonstrations of gang torture. Fearing that the violence will only escalate towards civilians, Sergeant John O'Mara, played by Josh Brolin, emerges as the leader of a new police unit –– the Gangster Squad –– whose sole purpose is to capture and arrest Mickey Cohen, played by Sean Penn.
Brolin aptly portrays O'Mara's dedication to his career with a fierceness in his voice and in the way his fists clench at the very mention of Cohen's name. His passion for crime-fighting worries his pregnant wife Connie, played by Mireille Enos. The scenes between Enos and Brolin are perhaps the only instances of heartfelt emotion in the entire film. Connie, devastated by the thought of her baby losing his father, battles her feelings with both tender embraces and distressed outbursts that leave her husband feeling heavy with guilt. The tears shared by the couple are delicate moments with some emotional insight.
The few sincere scenes of the film, however, are overpowered by excessive, almost caricatured on-screen violence. Endless gunshots and car chases are accompanied by shaky camera movements and overly dramatic music. The predominance of such scenes (which are not for the weak of heart) distract from the emotional complexity of violence and are reduced to gratuitous displays of Hollywood's prowess in special effects.
The film does not neglect to include a typical Hollywood romance, either. Emma Stone and Ryan Gosling, whose chemistry sizzled in the film "Crazy, Stupid, Love," are reunited as secret, star-crossed lovers Grace Faraday (Cohen's frightened girlfriend) and Sergeant Jerry Wooters. However, the two characters are underdeveloped and fail to convey the full extent of humor, wit and emotion that Stone and Gosling are known for. The aggressive Mickey Cohen is obviously a serious threat to their love, and while this idea is explored, his effect on their psychological well-being is not established. There are no displays of ultimate despair, insanity or disloyalty.
The rage and greed that Penn brings to Cohen is powerfully dramatic, but yet again,  his humanity seems to have disappeared. He fires hundreds of bullets over the course of the film, but the values that either party compromises or the differences in their opinions of justice are not satisfactorily emphasized. It's evident that Mickey Cohen needs to be caught –– but it's impossible to see why both the gang and the Gangster Squad turn into murderers.
The "true story" behind the film will not be revealed until it delves deeper into the pained heart and soul of Los Angeles in the late 1940's. The backdrop stays true to canon, but the superficiality of the character relationships and plot development leave much to be desired.