DRAMA: 'Hamlet' and 'Romeo and Juliet' to open Oct. 25
William Shakespeare's works are the second-bestselling pieces of literature in the world — the Bible being the first and the Agatha Christie mystery books being the third — according to set designer and MV drama's fall production co-director, Kit Wilder. And just as we witness the wrath of modern-day authors who write about love, passion and redemption, filmmakers begin to experiment with Shakespearean tragedies, bringing them to the big screen. Meanwhile in the black box, drama students produce yet another visual interpretation of "Hamlet" and "Romeo and Juliet."
"I firmly believe that Shakespeare intended for his plays to be seen and not necessarily just read," Drama teacher Holly Cornelison said.
Cornelison, along with Wilder, hopes to give the audience a complete Shakespeare experience, or "Shakespearience." In an "in-the-round" type of theater seating, where the audience surrounds the acting floor, MV Drama will stage a contemporary interpretation of "Hamlet" and a classic Elizabethan interpretation of "Romeo and Juliet." The actors will portray their characters not on the main stage, but in the black box — sharing the same floor and breathing the same air as the audience.
"We wanted to have [the plays] contrast with one and another … 'Hamlet' better lent itself to a modern setting," Cornelison said. "This will be an intimate theater experience …  seeing two of Shakespeare's most famous plays in the same place."
Starring as Hamlet, the vengeful prince of Denmark, junior Michael Goldman will combat senior Grant Menon, who stars as Claudius, the scheming uncle. Followed by "Hamlet," junior Rafael Ruiz, playing the role of Romeo, will address his Juliet, played by senior Kaz Tarshis, in the famous balcony scene.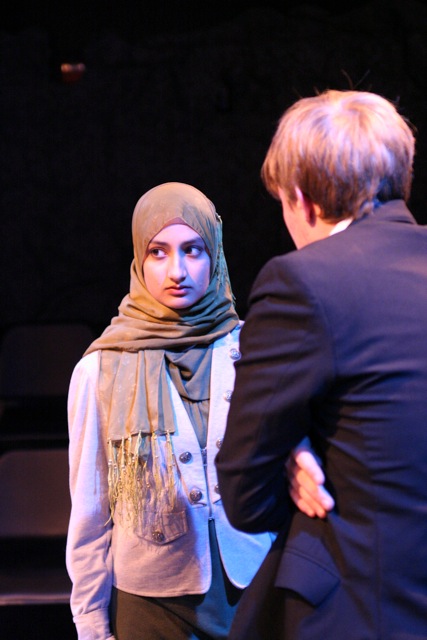 "I was prepared to play a man, but when Wilder and I talked about it, we did not see a reason to make Horatio a guy, because what matters a lot more is the relationship between Hamlet and Horatio, because it's such an unique one," Khurshid said.
Given the fact that the complete Shakespearience will run for approximately three hours, audiences will find themselves living in the action — experiencing fencing duels, love scenes and apparating ghosts.
"People are acting all around you — to the left and right, up and down," Cornelison said. "It's a really unique experience in which [audiences] can live in these plays as they are meant to be."
"Romeo and Juliet" opens Oct. 25 at 7 p.m. in the black box followed by the entire Shakespearience, both "Romeo and Juliet" and "Hamlet," on Oct. 26 and Oct. 27 starting at 7 p.m. "Hamlet" will play the following week on Nov. 1 at 8:30 p.m. followed by both shows on Nov. 2 and and Nov. 3 starting at 7 p.m.
For the opening week tickets can be purchased for $15 for the entire Shakespearience or separately for $10. For the closing week tickets can be purchased for $20 for the Shakespearience or separately for $12. Tickets are available for purchase at www.seatyourself.biz/montavista.