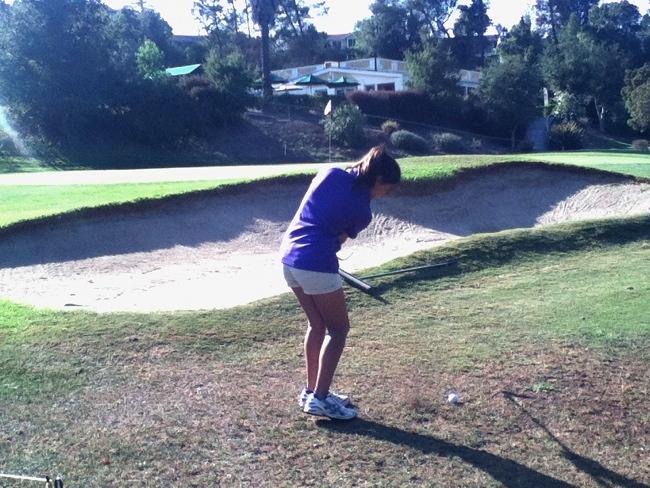 As the CCS championship approaches on Oct. 30, the girls golf team struggles to gain its footing as it continues on its season losing streak of 0-8. On Sept. 28, the eight-member team lost by just two points to Los Gatos High School and by 33 points to Leland High School 223-221-190 at Cupertino's Deep Cliff Golf Course.
Captain senior Prianka Singh scored a 35, junior Natalie Ng took a 41, freshman Anika Singh received a 45, sophomore Valene Tjong shot a 49, junior Shruthi Perati scored a 53, sophomore Harshita Sriraman got a 56 and junior Nicole Cho received a 63.
The entire team continues to learn and develop physically and mentally in its third year. This is its first year of being in the upper league division, Blossom Valley Athletic League's Mount Hamilton Division.
"We're still working on the biggest thing — that's tempo," head coach Brian Sullivan said. "They're rushing a little bit, they're impatient. I think that has to do with nerves, and so we've been working on tempo and their swing, and getting more comfortable putting."
The team's strongest player, Prianka Singh, scored only five strokes above par, giving her the individual win with the best score of the match. She generally scores as the lowest or second-lowest scorer in the team's matches, but believes that she also struggles with consistency.
"I think I was a little off in the beginning and the end," Prianka Singh said. "I parred the third, the seventh, and the eighth, but then I birdied the sixth. So, I mean, my goal is just to shoot consistent pars everywhere."
After a poor tee shot on the first hole for which she received a score of eight, third place scorer Anika Singh also had trouble with hitting consistently. Her normal score of 42 was exceeded by her score of 45 and she worries about the team's prospects as they struggle even as BVAL finals come up in less than a month on Oct. 24.
"I want to hit my driver better, maybe get it to like 200 yards; usually i hit with my driver 175 yards," Anika Singh said. "[My goal for the team is] only to win a couple of games, maybe get to CCS, but I don't know, because we haven't won any games so far."
The team has been troubled throughout the season with scoring, especially after losing their number one player, CCS runner-up junior Grace Park. Her transfer to Cupertino High School last year left the team without a consistent scorer in the 31's, or just one over par.
"Our goal for this season isn't just to be first place in the league or win every match because we're not really close to that," Prianka Singh said. "It's more of just like getting the exposure of being in the upper league for the first time, and just trying to get some consistency in their games."
Sullivan remains optimistic about the team's future, despite the need for general improvement across the board for the girls to qualify for CCS championships.
"I think it's not so much how they did today," Sullivan said. "I think that they're feeling more comfortable … We have two games next week. Saratoga [High School is] another big team, but the way we're improving, we'll see if we can have all six players have a good round."