GIRLS TENNIS: Matadors win first match of season against Redwood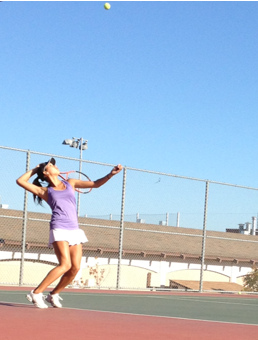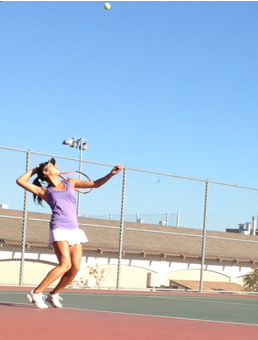 If last year's season wasn't enough to convince all the people who were unsure about the MVHS girls tennis team's skill, Thursday's match proved them wrong. In the match against Redwood High School of Marin County, MVHS won 9-0, kicking off the new season and continuing last year's undefeated title.
"It's a good start to the season," head coach Gene Fortino said. "Redwood's a really, really good team." Out of the six singles and three doubles matches, seven were won within the first two sets and two were determined with a third set as a tiebreaker.

Featured Matches
MVHS juniors Shwetha Bharadwaj and Claudia Kesala vs. RHS junior Ally Lawton and senior Alex Hood
Despite initial worries, second doubles duo Bharadwaj and Kesala defeated Lawton and Hood 6-0, 6-0 in the first and second sets respectively.
"We were a little nervous because this was our first match together, since [Kesala is] new," Bharadwaj said.
There were a number of short rallies throughout the game, with the RHS team eventually making unforced errors and losing the ball. A volley from Kesala clinched the first set. In the second set, Bharadwaj and Kesala kept the momentum going, strategically placing the ball such that RHS could not anticipate the shots. Leading 3-0 in the second set, the duo continued to hit strong rally shots and volleys to take the set 6-0.
MVHS senior Wendi Kong vs. RHS sophomore Keiko Kamei
In No. 1 singles, Kong had a fairly tough match against Kamei, who hit solid power shots that Kong failed to return. Kong fell behind in the first set, losing 4-6. After struggling for the first set, Kong continued to have some problems as she hit out of bounds several times. She later began to play more consistently, managing to pull out a win by leading 6-1, 10-3 in the second and third sets respectively.
"I was really excited because it was our first match as a team and we were all just very pumped up because it's the beginning of the season, "Kong said. "I felt relieved because I won."
"They played really to their potential. I think everyone was up and ready to go," Fortino said. " I think today they were really really prepared … I couldn't be happier with the way they played and their attitude and … being ready to go."
The Matadors' league season will begin with a match against Burlingame High School on Tuesday, Sept. 4.