MVRT holds demo day Aug. 30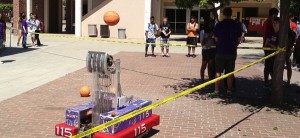 Amrutha Dorai
September 4, 2012
Hang on for a minute...we're trying to find some more stories you might like.
Freshmen basketball enthusiasts Eric Lu and Mark Geha were making their way into the academic court at lunch on Aug. 30 when something caught their eye. Basketballs were flying through the air — and they were being thrown by a three foot-tall red-and-purple robot.
"It's a robot that throws a basketball," Lu said. "That's awesome."
"What is there not to catch your eye?" Geha added.
That was the precise intention of the MV Robotics Team, which held a Demo Day on Thursday in order to attract new members. In the demonstration, MVRT showcased the capabilities of the robot it had designed for the 2012 FIRST Robotics Competition season . The team will also be promoting in math and science classes as well as on Club Promo Day on Sept. 13.
According to president senior Evelyn Ding, the setup for the demo was a fairly simple process.
"It's mostly just making sure the robot is fully functional before [the demonstration]. We also make sure to caution tape off the area," Ding said. "Aside from that, it's pretty routine, because we hold this demo every year."
Although its setup was simple, the demo succeeded at capturing the attention of students such as Lu and Geha, as well as freshman Brownen Hardee.
"I'm not usually a Robotics sort of person," Hardee said. "But [now] I am wondering how it works."
MVRT is building up its team in preparation for the 2013 competition season, which will begin on Jan. 5, 2013 when FIRST releases its challenge for the year. The team will respond to the challenge by building a robot that meets its specifications — and, eventually, competing on both the regional and, if MVRT qualifies as they did last year, the national level.

Until then, however, MVRT is focusing on training sessions and community outreach, including developing its thinkFIRST program at Lincoln Elementary School and its First Lego League program at a number of local middle schools.
MVRT will hold its first meeting on Sept. 17 at lunch in F108.
Correction made at 2:18 p.m. on Sept. 9: Club Promo Day is to be held Sept. 13.