Robotics strives to inspire passion for engineering
Junior Soumith Jonnakuti writes a math problem on the board. "All right, who wants to answer the question?"
"Me! Me! Me!"
"I know the answer!"
On Mondays after school, the art room at Lincoln Elementary school has acted as a classroom for thinkFIRST, a program designed to introduce math and science principles to elementary students through simple experiments. As part of the community outreach effort by the MVHS robotics team, senior Dahyoung Yoon, junior Joyce Yan and Jonnakuti have instructed the group of fourth and fifth graders since the beginning of November.
The FIRST step: Elementary school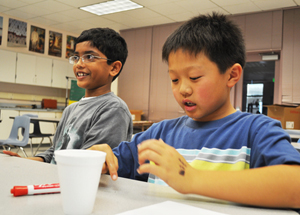 According to president senior Anant Singhania, who worked with the program in 2010, MVRT has hosted demonstrations at elementary schools like Lincoln since its early years. Though MVRT was founded in 1997, the team only officially took responsibility for the after-school program in 2006. The educational Gifted and Talented Program had previously supplied similar educational opportunities; after GATE was cut by the state of California, MVRT stepped in to teach its own curriculum.
"The concepts we're teaching them are pretty challenging, but they are understanding it and asking intelligent questions," Jonnakuti said. "We were talking about sub-sub atomic particles [last] week. We decided just to talk about protons and neutrons, but they asked about quarks and neutrinos."
Lesson plans range from building marshmallow bridges to newspaper roller coasters. Singhania acknowledges that students as young as fourth and fifth grade may not be able to grasp the connection between in-class physics concepts and their application to building a robot. But in the case of the marshmallow bridges, for instance, students recognize the impracticality of placing all supports on the sides, for risk of the entire bridge collapsing in the middle. In other words, they learn about distribution of weight through hands-on work.
"Our goal for thinkFIRST is to try and inspire students to see a new light in science and technology and show them, 'Okay, well you don't always get the chance to apply what you get to learn in school. This is a chance for you guys to take a little bit more of a bigger step,'" Singhania said.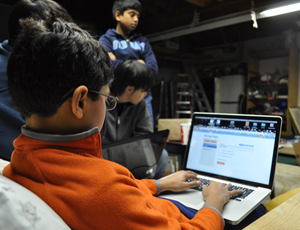 Challenge at the NXT level
The students receive yet another opportunity to further their work with science and technology in middle school through the FIRST Lego League at Kennedy and Lawson Middle School. FLL is an international program, officially created by MVRT's mentor organization, For Inspiration and Recognition of Science and Technology. Like thinkFIRST, the Kennedy and Lawson teams are led by MVRT members and founded on similar goals of inspiring students to pursue science and technology, FLL poses a yearly Challenge: students create a programmed robot with LEGO MINDSTORMS NXT technology and develop a solution for a posed real-world problem, while learning values of teamwork and friendly competition.
The KMS and LMS teams are mentored by two different groups: sophomore Jimin Park and senior Jonathan LaPlain, and sophomore Benjamin Yu and senior Patricia Xu, respectively. Both groups competed amongst 12 teams at their first competition on Nov. 13. KMS was named one of the five teams that will advance to the state competition, to be held on Jan. 28. According to Park, after approximately 100 hours of work over the course of several Fridays and Saturdays, the students display a greater enthusiasm for the program than before.
"Of course, they're kids, they get off-task now and then," Park said. "But now they understand … what they're striving for, because they went to the competition and they feel it. They know now that they're part of the team and they're working hard for it."
In preparation for the state competition, the Kennedy FLL team continues to hold sessions at eighth grader Jeremy Chen's house. There, the members collaborate to build the robot from Lego pieces and program the robot's NXT "mind" with their laptops.
"Well team work, yeah, we've learned how to make compromises and actually have a working outcome. But we're not perfect at it, but it's functional," Chen, nicknamed "Twinky" by his teammates, said. "[Like] a married couple. As in sometimes they're nice to each other, sometimes they're trying to kill each other … we have proven ourselves that we work okay together … the competition, it just brought us together a bit more."
Programming the passion
As noted on their website, MVRT remains "dedicated to fostering a passion in science and technology" in the community, a goal that echos the foundation of their mentor organization, FIRST. As recently as 2010, the team was awarded the Silicon Valley Regional Chairman's Award, an honor that recognized them for embodying FIRST ideals and allowed them to advance to the 2010 championship tournament. Through programs like thinkFIRST and FLL, the team hopes to continue inspiring young students while prepping them for a future in engineering.
"What we've noticed is that as you begin to give the students more responsibility and more of what they can accomplish, their interest level piques a little bit more and their dedication goes up as well," Singhania said. "By the time students reach our team, the students that are dedicated will spend so much time there … it shows that these students really care about engineering as a whole."
Park, described by Singhania as one of the team's most dedicated members, acts as testament to the team's outreach work. As a second-grader at Lincoln in 2003, she noticed an MVRT robot demonstration on-campus. Though her interaction with the PVC pipe contraption was minimal, the experience inspired her to join Robotics.
"If I had never seen that robot, I probably wouldn't have joined," Park said. "I might have joined out of pure curiosity, but it wouldn't be the same dream. It's like that little kid dream you have to be a princess or something, that was my dream, to see that robot and try to make it myself."
Correction at 7:17 p.m. on Nov. 21: Eighth grader Sanketh Hegde was previously  listed with the incorrect grade level.

This work is licensed under a Creative Commons Attribution 3.0 Unported License.