Final Explore Careers! spotlights Business & Other Careers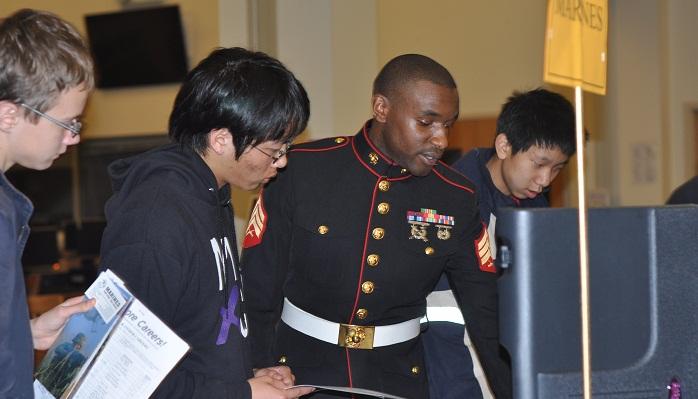 From 7 p.m. to 9 p.m. on March 13, the fourth and final installment of the Explore Careers! series was hosted, this time focusing on Business and Other Careers.
The yearlong Explore Careers! program was initially created to replace the Career Fair. When Career Center Liaison Miriam Taba was informed that construction on the field would prevent the Career Fair from occurring due to the  limited number of parking spots for speakers, she and the PTSA scrambled to create a replacement event. Student PTSA representative senior Peter Choi eventually proposed the idea that soon became a reality. The Explore Careers! program has received a warm reception from both students and administration.
"I prefer the career sessions [over the career fair] because it's more personal. You have the guy talking about his personal experience and how he got to where he did and the path that you should take," junior Alex Wang, who attended both the March 13 Explore Careers! session and the previous STEM careers-centric one, said. "I feel like this is a better experience for the students."
Although the March session of Explore Careers! was initially planned to cover only careers in business, it was merged with the prospective April session on Legal, Military, and Public Sector careers.
"We were told that April is a very busy time for some reason or another. We have students who go out, and so we decided that we might as well combine them together," PTSA Parliamentarian and Volunteer Coordinator Suman Ganapathy said.
Around 200 students who preregistered for the event on School Loop attended their choice of 3 of the 19 offered sessions. The sessions ranged from sales and accounting to the culinary arts and education. Also present were representatives from the U.S. Army.
Speakers included alumni Naho Minato, Justin Van Buren, Deepak Sarpangal, Jesse Yang, Ashley Roybal-Reid and Jonathan Yang, as well as parents Nancy Lim, John Korges and Jeffrey Moe.
Though the previous two Explore Careers! nights were centered around careers in STEM and healthcare fields, the March 13 event introduced a more eclectic field of professions, including culinary arts, firefighting and entrepreneurship.
"You grow up here and you kind of think, that's what you do. Obviously, science and technology are also really important fields," Roybal-Reid, who gave a presentation on her career as a congressional aide to Congressman Mike Honda, said. "But I think a lot of people here get into the mindset that those are the only ones."
Though around 200 students attended the event, a drop from the previous two sessions, this decrease, according to both Ganapathy and Taba, may be attributed to both the inclement weather and the MVHS mindset mentioned by Roybal-Reid. Nonetheless, for Ganapathy, both the March 13 event and the program as a whole have been successes.
"Every student we can reach is a good number," Ganapathy said.
The Explore Careers! program will return in the 2013-2014 school year, after a year of the Job Shadow program.