"All right let's try it one last time. I'm not gonna help you. You guys are doing great, but I still need to see more smiles, all right?"
A few kids move their attention back to the mirror the small Academy of Chinese Performing studio on De Anza Boulevard, rented out by the Mona Khan Company for this class. Bollywood music blares in the background as the 17 tiny kids, separated into two rows, sway their hips back and forth.
Junior Anu Varshneya, in her oversized sweatshirt and tights, travels to the back of the room. She is not much taller than
the five- to eight-year-old students in the 6 to 7 p.m. class. The tallest one in the room is actually her eighth grade assistant instructor, Anya Mathur. Despite being the only high school student instructor in the company and that height difference, Varshneya carries a clear aura of authority as she watches the energetic, bouncing kids continue the routine.
After the first 40 seconds of the song, Varshneya pauses the music and addresses the parents in the doorway, who are invited to watch the last ten minutes of each class. The kids continue to mindlessly spin around while Varshneya reminds the adults that the kids need sneakers and water bottles. The children finally run to their parents, who congratulate them on their dancing.
A long-time dancer of the Mona Khan Company, Varshneya started in the Junior Performing Company with Naach when she was five. Two and a half years ago, she decided to stop taking lessons and put on the instructor hat, teaching kids twice a week on Mondays and Wednesday and cleaning up her own technique at instructor trainings on Tuesdays for two and a half hours.
As the teacher, Varshneya picks the songs she will teach, creates the entire choreography and presents it to others in the company for approval before the class quarter starts. This past fall quarter, Varshneya taught a basic level class a disco medley and an intermediate level class a star-themed dance, complete with gold stars worn on their hands. Both classes performed last year with all the other students in the company for the bi-annual show.
"They don't get tech rehearsal so the kids had no idea what they were doing on stage," Varshneya says while chuckling. "They were really confused and scared but they had fun, I got good feedback!"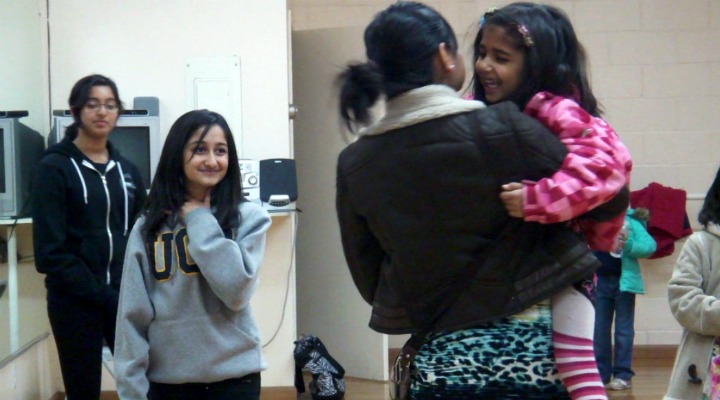 In the past, Varshneya has even taught adults, which proved to be much more awkward than any of her other classes.
"These are all people I would [see] at parties and call aunties and uncles … I would be called beti, [for daughter,] in class! [That was] hard but with the five to eight-year olds it is so much more fun because there is so much energy."
That energy from the kids has required Varshneya to develop her teaching skills over the years. She, like Mathur, started out as an assistant of class of 2011 alumna Aneesha Amarnath for a couple of quarters.
"She is actually really good with kids so it was easy to pick up," Varshneya said. She explains that teaching dance to children requires patience and concise communication skills.
______________________________________________________________________________________________
"It's easier to give instructions if they look up to you. Getting the information out in a way that it's easy to absorb and understand is a lot harder than it sounds, especially when the kids are so young."
-Junior Anu Varshneya said
______________________________________________________________________________________________
"If you say, 'Have your hands like this', they don't know what 'this' is. You have to say, 'Make sure your fingers are completely spread out and completely straight.'"
But being clear to the kids is not the most important aspect of being a dance instructor.
"When you are teaching five- to eight-year-olds, you are dealing with the parents more than you are dealing with the kids."
Although many parents are sweet, according to Varshneya, some are picky about where their child should stand while others are concerned with how young Varshneya is. Her first quarter, six or seven kids were pulled out because their parents thought she was too young.
As time passed though, Varshneya has received more and more positive feedback about her teaching. Mathur explains that she has a fun and outgoing teaching manner while parents are impressed with her ability to teach the kids as if they were her friends.
"It's easier to give instructions if they look up to you," Varshneya said. "Getting the information out in a way that it's easy to absorb and understand is a lot harder than it sounds, especially when the kids are so young. You can't use difficult words. You can't say 90 degree angle because they don't know what that is."
Despite all these difficulties, Varshneya adores how much love, action and fun the kids have when they enter the dance studio. She mentions that a lot of that attitude is because they enjoy being there so much  — something that very much resonates with her.
"It's definitely kind of nostalgic because I remember being on stage," Varshneya said "[Mathur] and I were cracking up the entire time [back stage]. It's just a lot of fun — seeing these kids."