Hidden signatures painted on the walls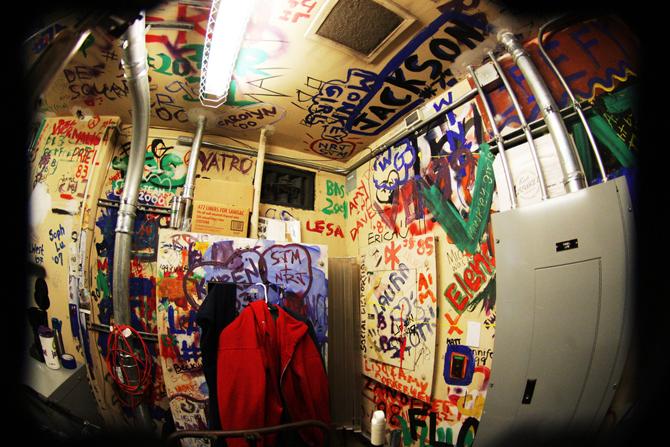 An inconspicuous door in the gym lobby leads into the electrical room — one of many, only opened occasionally by custodians. But its colorful past is written on the walls. When the school first opened in 1969, the closet functioned as a hub of student activity, housing tempura paint for rally posters and the sound system for school activities. ASB officers, drama department technicians, spirit girls and football players passed through the doorway in the midst of their projects — often leaving their mark upon departure.
According to attendance technician and class of 1999 alumnus Calvin Wong, the electrical room was very student-accessible back in his day. Though it was often left open for student use, only a select few knew of its existence. But those who did enter the secluded space often added their painted name and class year to the growing collection of graffiti on the walls.
"I definitely went in there many times to use that sound system, and when I was a senior I decided to leave my name on, I think, the right wall. But … my name was probably covered about two, three years after I graduated," Wong said. "Every now and then I have to go in there — [you] always take a peak to see if your name's still on there."
Campus supervisor Ruben Delgado has been working at this school since 1997, and is now one of the longest-standing staff members on campus. Even he does not know the precise origins of these closet cave paintings. But he has seen signatures from as far back as the class of 1974, and maybe even 1972, scrawled by students participating in the tradition.
"It's just that excitement that you're doing something that you probably shouldn't be doing, but so many people have done it before you," Wong said. "You wanted to leave your little mark, where if anybody opened up that closet door they'd go, 'Oh, who are these people that left their names and the year?'"
Now, the closet no longer serves as storage space for the stereos or paints; instead, it houses equipment like circuit breakers and mops. But sometimes custodians unlock the closet, the door swings open — and students standing by may get a glimpse of the graffiti from the past.
To see more photos, visit the photo gallery.

This work is licensed under a Creative Commons Attribution 3.0 Unported License.