Girls Tennis: Makes first definitive CCS win over St. Ignatius
Rachel Lu
November 10, 2011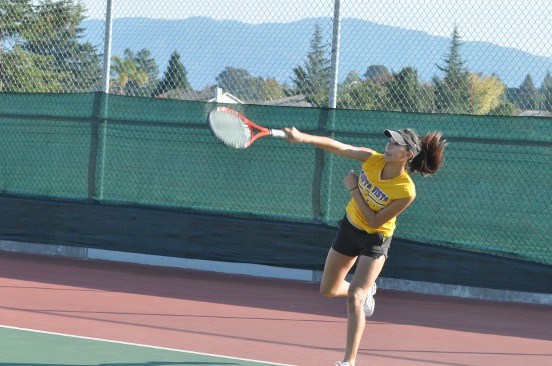 With a winning record of 21-0, the varsity girls tennis team is the top seed in CCS this year. Their expectations were high as they went into their first CCS match on Nov. 9, winning 13-3 over St. Ignatius at MVHS.This year, the CCS rules have changed to a round robin style of play. Since there are three singles players and three doubles pairs for each school, each person or pair plays three sets against the other team. The first team to win ten sets total wins the game. Previously, there would have been a total of seven matches, with each player or pair playing only once with the best four out of seven winning.Despite the change, the girls took off to a quick start, all three doubles pairs winning their first sets, two of them winning 6-0, and one winning 6-1. The singles players had a rougher start. Co-captain junior Wendi Kong had an evenly matched competitor, stretching out the set to 12 games. After catching up to a 5-4 lead, she lost the set 7-5. Fortunately, she was able to come back with a win against her next opponent.
Co-captain junior Jody Law was able to win her first set 6-2. She and her next opponent seemed to have a previous relationship as they both shared laughs and smiles with each other throughout the entire set. They even gave each other compliments after each game ended. The lighthearted mood nevertheless ended in Law's loss 6-2.
Despite a few bumps for the singles sets, the doubles pairs stayed strong with two teams winning their second sets.
"Since it was our second year together, we know each other pretty well so we can know where the other person is going to go. That is how we have good teamwork," sophomore Kelsey Chong said about her partner junior Ruri Kobayakawa.
Though there were supposed to be three sets each, the girls' strong lead combined with an earlier sunset allowed the first CCS game to end with only two games played each with a final set count of 13-3.