Varsity girls volleyball toughs it out against Mountain View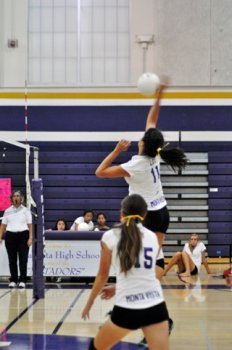 Girls varsity volleyball loses first game against strong opponent Mountain View High School
On Wednesday, Sep. 9, the girls varsity volleyball team had its first pre-season game at home against Mountain View. The Mountain View team had the advantage of height over the Matadors, which allowed for an impenetrable defense and offense, with larger players setting up strong blocks and hard spikes. One of Mountain View's key players, Brittany Howard, is on the USA High Performance team. The High Performance team is described as a "pipeline" for young players looking to advance on to the Olympic level.



In the first game, Mountain View had a lead of 5-13 at the first timeout. After a short talk, the MVHS girls began to push forward, starting with senior Angela Moe's three aces in a row, closing the lead down to 15-17. Mountain View's tall blockers held off the Matadors and they took the game 25-22.



Mountain View kicked off the second game with some powerful spikes, controlling the lead from the beginning. One of three team captains, senior Nicole Dao, was taken out due to a minor back injury early in the second game. Removing one of the team's strongest hitters subsequently slowed down the Matadors' offense significantly. Mountain View kept up the strong blocks and took advantage of MVHS's lack of offense, winning the second game 25-12.




The third game started off with MVHS's first lead of the match, rocketing off early with a 12-7 lead. At the first timeout of the game, the score was tied 13-13. After a few rallies, senior Victoria Lee had two giant blocks, putting the Matadors up 19-15. Lee later finished the game with a spike, winning 25-19.


However, Mountain View came back and dominated the fourth game, continuing their rock wall of blocks .They shut the Matadors down, with well-placed hits winning the match with a game score of 25-9.



The overall score of the match was 3-1, in favor of Mountain View.



The MVHS girls lost their first non-league game of the season, and they hope that some of their star players will recover from their injuries to get the team back on track. Seniors Victoria Lee and Nicole Dao fought through the game, both with minor back injuries.
"Once [the] entire team gets healthy again, we will be really strong," Dao said.
The teams' next game is at home on Sept. 22 against Cupertino High School and the players expect to perform much better, as all the players will be well enough to play.