Royal waves and smiles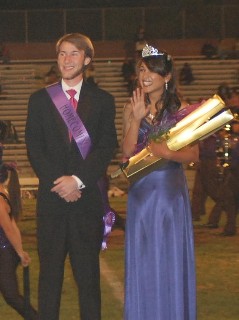 Homecoming court experiences a once in a life time event.
Last Friday, seniors Brian Miller and Vrinda Gupta were crowned Homecoming King and Queen as the Pixar floats came to an end.
"I don't think I have words to explain. It's really an honor. I never would have expected this," Gupta said.
Class of 2008 alumni Matthew Whitehill and Katherine Hu, last year's Homecoming King and Queen, returned to Cupertino to visit the Homecoming court. Hu and Whitehill also crowned the King and Queen.
"I was very impressed with [this] year's Homecoming Court. I think that the MVHS students made great selections to represent them as their Homecoming Court and [I] truly believe that any one of the princes and princesses would have been an excellent choice for king or queen," Whitehill said.
Hu agreed with Whitehill and expressed that coming back to relive Homecoming was enjoyable.
"It was so great being with this year's court and seeing them experience all the nerve-racking excitement that we did last year. Seeing all the floats, class officers, and just being in that state of rush and chaos was all really familiar and brought back memories," Hu said.
The rest of the court consisted of the princes and princesses. The princes were seniors Tarun Galagali, Brad Chew, Keaton Chiu, Neil Raina, and Ryan Satterlee. The princesses were Seniors Adrienne Young, Natasha Desai, Connie Wu, Connie Ng, and Sofia Liou. Each couple arrived to the stage in T-bird convertibles.
Homecoming King was announced by math teacher Skip Mueller while the Homecoming Queen had something different.
Each of the princesses was handed a long box with a white or red flower inside. All of the princesses had a single red rose in their box—with the exception of the Homecoming Queen, who had a white rose. The suspense built up in the audience as each princess tried to pry her box open.
"The girls never really discussed how to open the boxes. At first we tried taking the tape off with our nails and we didn't get all the tape. I just ripped the box apart and I had to turn it over to see the color and I couldn't see what color it was. I think Vrinda was the last one to open it," Desai said.
Though it may be hard for the King and Queen to feel like they deserve it, others predicted the King and Queen before it was even announced.
"I'm happy for them and I saw it coming. Tarun and I predicted it in the car," Liou said.
Satterlee and Raina also believed that the two deserve the title.
"I'm excited [about who won]. I knew Brian a long time ago but didn't really get to know him until this year. He brings a different perspective to the campus. He does a lot for our school, through drama and through ASB," Satterlee said.
"Brian won court; Vrinda won court and they are the two people I wish would win court," Raina said.

The rest of court was equally enthusiastic about the night and the Homecoming experience.
"I love everyone on court this year. The last week was just '09's explosion of emotion time," Ng said.
"I feel really speechless. I'm usually good with words but now I don't know what to say. We were thinking in the car [that] we were never going to forget this," Galagali agrees with Ng, "That was an incredible experience."