From the Stands: Losing hurts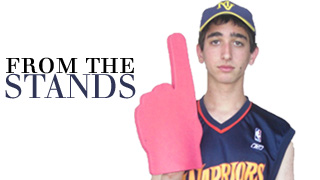 When the 49ers lost to the Patriots, I was watching in the crowd, slowly sulking to the back of my seat.
I look to one side, Patriots fans. Look to the other side, more Patriots fans. I constantly hear chants of "Let's go Patriots" from all around me and seeing Patriots jerseys and signs everywhere. Sadly, I was at Monster Park watching a Niners game.
I was at the San Francisco 49ers football game on Oct. 5 where they played against the New England Patriots at Monster Park in San Francisco, but I noticed that there was an overwhelming number of Patriots fans in the Niners stadium. And they weren't just quietly sitting in their seats, respectfully watching the game.
I noticed this even before entering the stadium, while I was walking to the entrance. There were Patriots fans in cars, tailgating in the parking lots screaming in support of their team or starting arguments with home team fans. I couldn't let them just tear my team apart, so of course I joined in with many Niners fans and began cheering and arguing in defense of my team.
It's difficult to argue and show pride when you are trying to support such a disappointing team. So I kept saying, "Just wait until the game. That's why they play it out." Unfortunately, that didn't go my way either.
The Niners got off to a good start with two quick touchdowns which helped me talk smack to the Patriots fans. But this didn't last. And as soon as the Patriots came back and took the lead, their fans went crazy. They were now more vocal than ever, rubbing in every moment of it, and they had good reason to do so. I was forced to sit in the back of my seat, ashamed by my team.
This went on for the rest of the game, as the Niners' play didn't really improve at all. The Patriots fans were all in our faces, encouraging us to leave our own stadium, and there was nothing we could do about it.
And as though the results of the game didn't shove it in our faces enough, after the game the taunting and arguing continued.
It was a free poster distribution day in honor of Steve Young, a 49er great whose jersey was retired in a halftime celebration that day. This was something I could proudly display in my room reminding me of a time when the 49ers had some success: their golden years.
After the game, I went to pick up my poster, but by the time I got there, they had run out. I was slightly disappointed at the moment, but it soon turned to anger. As I exited the stadium and looked up, I noticed many Patriots fans with the posters, trashing them with disrespect in front of my face. Once again, there was nothing I could do about it but watch them in humiliation.
This was all so painful, but then again, when I'm like that fan of the road team, I do all those same things. I make sure the home crowd knows I am there. I am as loud and obnoxious as possible to show my team pride. When I went to Stanford stadium to watch a UCLA versus Stanford game, I went in support of UCLA. I joined in with other UCLA fans in my section, chanting to make a Stanford fan remove his red shirt. In his own stadium. And then when my team wins, I make sure that sticks in the opposing team's fans heads for a while longer. I do all these things and I'm sure they complain about me, too.
So although it was painful and difficult to watch, all this cheering was appropriate in the spirit of the game. But then the Patriots fans even began chanting "Let's go Red Sox" after the game in support of the other Boston team. Sorry to let you know that the Red Sox are actually playing a different sport in a stadium about 3,000 miles away.
Okay, well I guess it's fine if they cheer for the opposing team, as long as that team is actually playing the same sport in the same game.