MVHS awarded at Washington DC as a top school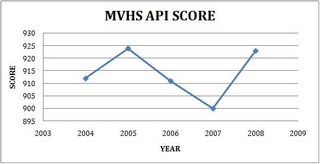 MVHS wins prestigious Blue Ribbon Award, a second time since 1998.

MVHS students started the school year with many presents: an Academic Performance Index score of 923 and a federal Blue Ribbon award gift wrapped with over 2,000 Smarties candies handed out during fifth period. In 2007, MVHS was named a California Distinguished School and listed in the top 100 high schools by Newsweek. This year, the school's once dipping API score took a jump by 23 points and brought the school national recognition.
The Blue Ribbon award is an invitation only program run by the US Department of Education for 20 years. It is awarded to schools that have either made great strides in improvement or have continuously performed well. This is measured by the Adequate Yearly Progress (AYP) score, a national version of the all-familiar API score.
The AYP score is a complex calculation done by looking at continued improvement in English and Math in a school's subgroups. MVHS' subgroups include Asian, Caucasian, Special Education, and ELD. Other factors include the number of students scoring proficient or above on STAR test scores, the number of students passing the high school exit exam, and a decrease in the amount of students taking lower level math like Algebra. Rigorous courses and AP classes are not taken into account but do fit into the distinguished school status that make a school exceptional.
MVHS won the award back in 1998 and hopes to receive the award again in the near future.
According to Principal April Scott, most schools have a lot of areas to improve in where they can pick an area of focus each year. At MVHS this is not very pertinent as the school succeeds in many areas.
"The challenge at a school like MVHS is that it's very easy for us to become a little complacent and relaxed. Saying, 'What do we need to worry about?'… The minute we do that, there's someone right behind us," Scott said.
However, MVHS administration has a rough idea on how to go above and beyond in the following years. Possible areas of improvement include branching out courses of study, such as offering Art History or looking at better teaching methods. Other ideas include updating technology in the classrooms, especially in science classrooms to make the school more current and up-to-date.
Scott and one other teacher are expected to tour the capital and have luncheons with congressmen in October for one week.
Blue Ribbon schools do not receive any special subsidy or monetary award, but instead receive a plaque and a specially embellished flag.
"It's kind of like the big pat on the back. It's the public recognition of the hard work we do," Scott said.