Growing up, sophomore Nolan Yiu remembers stumbling upon YouTube videos of people solving Rubik's cubes. So, when one of Yiu's friends brought a cube to school in the second week of third grade, he was immediately intrigued by how his friend could solve it in a minute. Yiu bought his own cube that same week, learning how to solve it with online resources like the Rubik's online tutorial.
"I think the first time I tried to learn it, I saw that there was a lot of steps and it kind of demotivated me," Yiu said. "So I saw the tutorial the first week I got the cube, but I didn't finish learning until maybe a month later. [After solving the cube], it was pretty euphoric. It was definitely a major moment in my life."
Emboldened by this milestone, Yiu committed to improving his cubing skills. After learning about cubing competitions in the Bay Area, he started honing his skills through practice regimens in his free time, learning the CFOP algorithm that many top solvers use to solve cubes and utilizing online programs to compare his times to other people. After three to four years of practice, Yiu achieved a time of seven seconds solving a traditional 3×3 cube. Now, Yiu participates in local competitions and occasionally travels across the country for national competitions, such as the CubingUSA Nationals in Pittsburgh.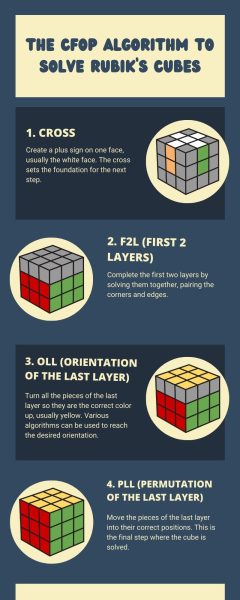 After Yiu recently finished a streak of 69 competitions with a personal record achieved, freshmen Theeran Sathish Kumar and Seongjun Kang, both long-time friends of Yiu and avid cubers themselves, celebrated this accomplishment with him. Kumar says that he supports Yiu's cubing endeavors, as celebrating accomplishments with others is part of the cubing experience.
"[Cubes are] basically like any other puzzle, but it is very fun, and you never want another person to lose," Kumar said. "You always want them to do better [unlike] other competitions [where] you want the other team to lose. There's really [no] teams in cubing."
Aside from the classic 3×3 cube, Yiu has started tackling other challenges such as the Megaminx, a puzzle shaped like a dodecahedron with 12 sides. Additionally, Yiu has approached the traditional 3×3 cube in new ways by solving multiple of them blindfolded, something he has spent the last few years improving.
"I started out not that great [at blindfolded solving]," Yiu said. "I wouldn't solve all of them, and you don't have to solve all of them to get a success at a competition, but if you solve less than half of them, it's a 'did not finish.' Recently, at U.S. nationals, I [solved] 23 out of 28 cubes blindfolded in under an hour, which I think got me top 10 at the competition."
After the pandemic, Yiu started to take a more active role in the cubing community, looking to help run competitions. After being promoted to a trainee delegate for the World Cube Association, the organization responsible for governing cubing competitions, Yiu spends his time with fellow cubers to facilitate regional competitions.
"When I started out, I was mostly just focused on solving, getting better and attending competitions," Yiu said. "That was really fun, but more recently after the pandemic, I've been getting more into organizing competitions and delegating competitions, which has taught me a lot about leadership experiences, and it's definitely helped me appreciate what work goes into making sure competitions happen."
Over the years, Yiu has made numerous friends and memories at competitions around the country. Kumar says that his memories with Yiu include spending afternoons going out to get boba and celebrating personal best times. Additionally, senior Cameron Miller, who met Yiu at a competition, recalls fond memories.
"At every competition, we go to [hang] out and eat lunch together [which] is fun," Miller said. "[We help each other out] with small things like completing a step of a puzzle more efficiently. Online, we chat frequently and call frequently too. Everyone's really supportive of each other."
Kang, who has helped Yiu during competitions, hopes to help him organize one at MVHS to make them more accessible for the local cubing community, as many competitions are more than an hour's drive from Cupertino. Similarly, Yiu is interested in starting a cubing club at MVHS to introduce students to the activity. While Yiu hopes to improve his times and attend more competitions, he says his ultimate ambition is deepening his role in the cubing community he cherishes.
"I think [cubing] encourages competition, but it's also really accepting," Yiu said. "Even if you average maybe a minute or 10 minutes, even if you don't know how to solve a cube, I think it's a very open community. Everyone is encouraging each other. Everyone just loves solving cubes."