A B building bathroom wall was graffitied with the words "Kill all n******" on March 10, 2022. A video of a student saying the N word was sent to MVHS staff on Feb. 28, 2023. Although MVHS has established a Student Equity Taskforce, diversified reading material in literature classes and improved transparency in emails in an effort to address racial inequity, these incidents serve as reminders of the discrimination that Black students still face at MVHS. 
Despite previous efforts to mitigate racism on campus, sophomore and Black Student Union (BSU) president Ekundayo Davies says he has experienced an "abundance of racial bias" at MVHS, specifically recalling a voice screaming the N-word into a locker behind him while he was getting dressed for P.E. class.
"I just remember feeling like I had done something wrong, even though it was just the bias around me," Davies said. 
In an effort to "[provide] new support for Black students," Principal Ben Clausnitzer announced in an email on July 31 that starting this school year, MVHS would be partnering with the African American Scholars Project (AASP), which is a part of Project Sankofa. A parent initially recommended the program to Clausnitzer, who determined it would be a good fit, as it enables MVHS to join a network of AASP-connected schools in the Bay Area.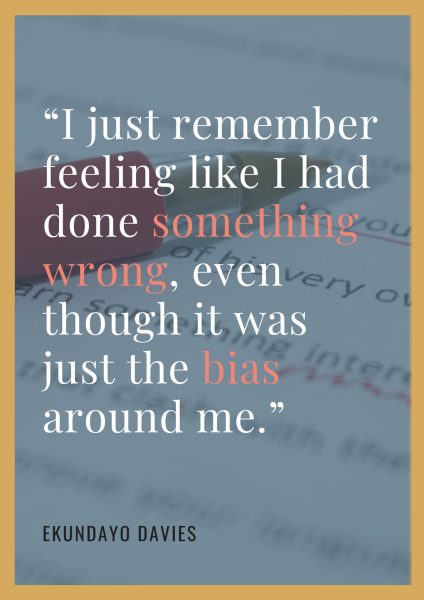 According to Dr. Maisha Beasley, founder and executive director of Project Sankofa, AASP involves workshops for Black students led by an accredited facilitator. These workshops include a series about agency and self-efficacy in academic spaces and an online and synchronous program on the college application process for families of Black students. Beasley recalls her own experience graduating in a small town with just three or four other African American women in her class, and the importance of having representation in administration and faculty. 
"I felt very alone in the process that I had been [in]," Beasley said. "I wanted to make sure that other students and other communities where they were not the majority and maybe not even sometimes the full minority, felt supported and were provided with a resource of representation that looked like them in the communities that they were in."
Beasley says AASP is not a "cookie cutter organization" — typically, the staff hosts a discovery day to meet the administration, students and families in a new space and curates workshops depending on the needs of the community. 
"What I didn't anticipate was the way it brought students together," Beasley said. "It's opened up dialogue in the home, too. It's finding a space for acceptance throughout a community where you might not feel accepted. And it was creating an opportunity for support in multiple ways — both from a district level and from a student level that we hadn't really even considered before."
Clausnitzer adds that AASP will "bring in the family resource," involving on-site weekend activities with families of MVHS students. The program will allow Black students to work closely with AASP staff on campus every other week.
Davies says the MVHS Black community expressed feelings of excitement and positivity for the program. He says it brought Black students together and gave them hope, as it provided an outlet for them to meet more often outside of BSU meetings.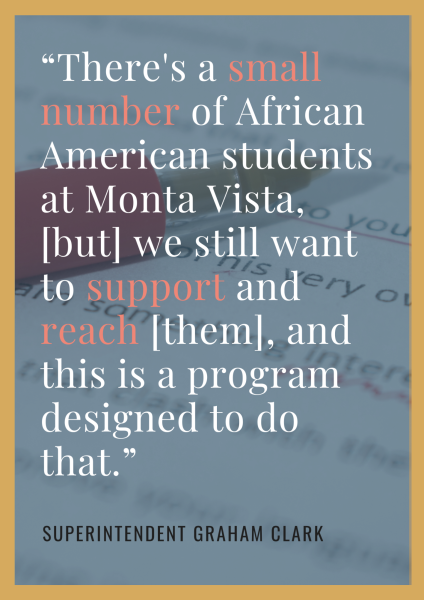 "A lot of Black students have already had the experience of just meeting with them during a third period one day," Davies said. "I'm very excited to be working with them and I have a lot of faith in what they'd be [doing] moving forward."
FUHSD Superintendent Graham Clark explains that oftentimes, the small numbers of a group of students on a campus displaces the gravity of the issues they face, as they might not feel supported enough to report their situations. 
"What happens in many of our schools is there's something called 'not a significant number' — but that doesn't mean they don't need help and they don't need us reaching out," Clark said. "There's a small number of African American students at Monta Vista [but] we still want to support and reach [them], and this is a program designed to do that."
Davies says both the small percentage of Black students at MVHS and Cupertino's sheltered environment has "[forced] people in the Black community to separate themselves." He recognizes and appreciates the assistance from the district administration in supporting this group, especially after the incidents of racism he has faced. 
"It's great to see that the people that normally you feel are against you are actually working with you," Davies said. "That was a very comforting feeling, and it made me feel a lot more comfortable going into MV."
In addition to providing a safe space for Black students, Beasley hopes AASP will encourage other students to advocate for and support that space and raise conversations on "how to see each other's differences as strengths as opposed to something to chat about."
"In other spaces, we've heard students say, 'Oh, you're going to the Black kids club,' or, 'Oh, how come you get to do this extra thing?'" Beasley said. "And what I would say to that is, if there's one space where someone can feel like the thing that they don't have to talk about is their race or their culture for an hour, wouldn't everybody want that? What if that was the [equalizing] piece for everyone? Doesn't everybody deserve that?"
Ultimately, Davies says he's grateful to the AASP program for "not only nurturing the Black students at school, but also protecting [them]." Especially with the recent incidents, Davies says he is glad that the program is providing comfort for MVHS's Black community. 
"There's been a lot happening, especially with the release of that video of that student saying the N word, so it was a period where it was more difficult," Davies said. "But what I've loved was [that the] staff, especially Principal [Ben] Clausnitzer, [have] done a lot to make us feel way more comfortable and let us know that that type of behavior isn't tolerated in this environment."