Studying cinema
Exploring the works of the Contemporary Literature film unit
As the final unit of the senior Contemporary Literature class, the film unit introduces students to the vast world of cinema. During the unit, students learn to analyze films and study filmmaking and editing techniques. These practices culminate in the task of creating their own short films. Contemporary Literature teacher Jireh Tanabe aids her students through this unique opportunity.
"One of the things that I think is really special about this unit is [seeing] that [students] actually analyze it very much the same way that they would analyze texts, but they're using films to do so," Tanabe said. "Being able to visually see and tap into that part of your life that we normally use to analyze books is pretty powerful. It's another way of practicing the same skill — analysis — and to have the creative power to create something on your own."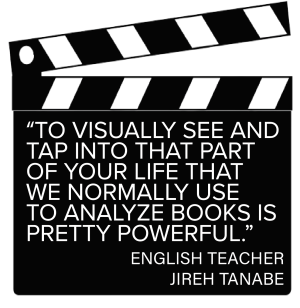 Students have full creative liberty to tell any story in any genre. Utilizing the intensity of the thriller-mystery genre, senior Katherine Chui's group wrote a script containing heavy themes of social media's impact. The story follows a teenage girl being peer pressured to maintain a social media presence – but as a result, she catches the attention of an online stalker who infiltrates her life. 
"We were researching the dangers of social media and how it can affect your life," Chui said. "We decided to call out social media because it's a really prevalent issue in today's society."
In the same vein of peer influence and social media's impact on mental health, senior Joey Bloom's short film team, a group of avid gym-goers, felt compelled to explore the issues they have experienced in gym culture. Wanting to address its self-destructive nature, they began creating a story that follows a gym-goer who sets out on self-improvement and physical transformation, but is swept under the influence of online gym influencers who promote eating disorders and unhealthy habits as means of reaching physical goals.
"We wanted to be a little more serious because obviously mental health is an important issue, but also make it something that people can relate to," Bloom said. "We also want it to be an awareness movie of [how] putting in the work to better yourself doesn't mean you have to harm yourself. [We want you ] to be [more] motivated to shape [a] better version of yourself [while still] keeping your values and your morals intertwined in that, so you don't push things aside to reach [your] goals."
Similarly, senior Krupa Shanware's group wanted to highlight the detrimental effects of competitive high school sports. Shanware describes the story as a portrait of a student athlete who is catapulted into stardom and overshadowed by his talents. Unsettled by his lack of genuine connections, he embarks on a period of self-discovery, encountering life-altering revelations along the way.    
"I'm hoping that it's an insight into someone's life more than anything," Shanware said. "I hope anyone who's watching can connect with [it] if they are an athlete, and it's a movie that makes you reflect a little bit about people you would consider celebrities."
As the director of her short film, Shanware is tasked with the management aspect of filmmaking, as well as directing for an impactful visual experience. Shanware shares that the assignments given in the film unit not only give students the knowledge to create their own films but are also personally rewarding.
"I'm realizing so much about what I watch," Shanware said. "When I make my own movie, I'm realizing there's an infinite amount of conscious choices I have to make and it just makes the film so much cooler."