Time Out! Ep.3: Clara Fan
Exploring Clara Fan's journey throughout track and field and future plans in the sport
LJ: Hello everyone, my name is Lily Jiang and this is episode three of Time Out! Each episode, we will be diving into the sports scene here at Monta Vista High School and explore the journeys of athletes from various sports. This episode, I'm joined by sophomore Clara Fan, who participates in various sports both here at MVHS and outside of school. I will be diving deeper into her journey in participating in track and field along with her other sports. Let's get into it.
LJ: What sports do you participate in?
CF: I play soccer, basketball and track and field and in Monta Vista I'm on the basketball team and track team.
LJ: How and why did you start track and field?
CF: I started track and field in sixth grade. All of my friends were doing it, it was more of a social thing, and I was pretty good at it. But then COVID hit, so I didn't train for track in the time of the pandemic, I was just doing my other sports. And then once we got to high school, and it was track season, I decided to do it again, hopefully I'd pick up where I left off or better. And also my family has done track and field. My dad used to do high jump as well, so it's just a social, family thing.
LJ: Do you feel like [COVID] changed anything since before when you did that?
CF: Before COVID, when I competed in track, I was in sixth grade. So obviously, I was a lot stronger coming back in high school. I tried to do the same events. In high school, it was definitely more serious, or the training [was] more intense. I didn't actually train in middle school, I would just check in to the practices, do some relay handoffs and then leave for soccer practice, so I'd stay for like 15 minutes. But for high school, to keep improving, I had to put in a lot of training.
LJ: Do you think that the other sports that you participate in affect your performance in track and field?
CF: Yes, I definitely wouldn't be where I'm at with track if I didn't play soccer or basketball. Soccer helped a lot with my conditioning and my strength overall and then basketball, same thing. Also, they're team sports so I could kind of carry that mentality I had to come into track with to improve and just want to be better every day. Because with a team sport, you don't want to let your teammates down, and for track, even though there isn't really that same sort of thing because a lot of it's pretty individual, I still didn't want to let myself down and held myself to higher expectations.
LJ: How do you manage to balance all of these sports?
CF: I definitely prioritize one sport over the other two in whatever season it is, so for school basketball season, that's really intensive practice, like two to three hours a day for six days a week. So during that time, I didn't train much for track. Soccer season overlaps with all of them, but I just learned to manage my time, especially with homework, I'll do it in the car or just try to be really productive during school hours. Even though I'm not training specifically for track during basketball or soccer seasons, that type of training is more just like workouts, so you get what you need from your other practices.
LJ: So how do you think the training is similar or different between the different sports?
CF: Soccer we definitely do not do as much conditioning because they expect us to do it ourselves and go to the gym ourselves. So we do more technical things at practice for soccer and work on our chemistry as a team. With basketball, we practice our plays. We do conditioning, though, especially in preseason. For basketball, we practice our shooting, passing, all that. And then with track practice, since I do four events, I usually prioritize or I usually focus on one or two per practice. So this week, I did high jump on Monday, triple jump on Tuesday and then today [Wednesday], I'm going to be doing high jump again. So it's just easier to focus on one thing a day with track so that you can really put all your effort and focus into it.
LJ: What goals do you have for track and field in the future?
CF: Shorter term, my goal is definitely to make it to state again. I made it last year in high jump, and this year I have the possibility of qualifying in triple jump or high jump, because last year I didn't do triple in the postseason much. I would definitely like to make it to state this year and get on the podium for whatever I can at CCS. Long term, I would want to compete in track and field in college for sure.
LJ: How do you think that this season is going?
CF: This season is going pretty well, I'd say, considering I broke my ankle over the summer and I had surgery. The coaches and everyone were like, "You shouldn't expect to pick up off where you left off." Especially because I do basketball and soccer. All these other girls that I've been competing against, like the really, really good ones, they do track year around or they're part of a club for track. So my coaches have just been emphasizing that it's OK to not be where you are, where you left off last season because I have to catch up, but I understand that it's important to peak at the right time. Last season I started my high jump with like 4 feet 10 inches, and then at the end of the season, I was able to get over 5 feet 5 inches, so that's obviously a really big difference. So I was peaking at the end, which is good because that's when it matters the most so you can qualify for the next round. This season I started off with a five foot jump, and then from there I've been kind of staying around that range 5 feet 2 inches to 5 feet 4 inches. And I'm really hoping that I can up those marks with the coming two meets. And they go by odd numbers at the CCS final so that's where I could get the 5 feet 5 inches hopefully.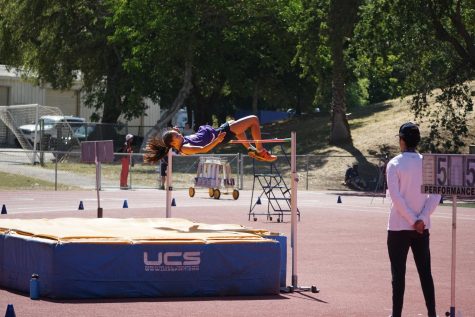 LJ: How do you think that your coaches and your team support you or influence you?
CF: Last year I was really close with my high jump coaches, and they're not coaching at Monta Vista this year. So that was definitely a big change. My new coach, she did track at UC Davis and she has a lot of experience as an athlete. It's all really fresh in her mind. So that's good because she understands the mental aspect a lot and if I don't get a mark I'm supposed to she understands that I'm stressed and she helps me with that. She specialized in triple jump, so that's really good because that was my weakest jump last year and now it's arguably my strongest or pretty close up there. My coaches always support me. Coach Flatow — he's the head coach — gives a lot of motivational or inspirational talks and he always has a lot of experience behind what he says and so I trust whatever he says and when my coaches tell me to do something different, like technique wise. I try to just trust it as best as I can because I know that they're more knowledgeable about the technique than I am, and even if the results don't show directly after trying that new technique, it'll come because they obviously know what they're saying, so I just have to trust them.
LJ: How do you think that your family supports you?
CF: My family really, really, really supports me in all the sports I do. They always come out to my meets. My brother does too if his schedule allows. My dad did high jump in high school, and he really likes to analyze my jumps and he always takes videos or brings his camera out to take pictures at my meet. My mom also videos, so it's a lot of support, a lot of videos, and whether I do good or bad they're always there to cheer me on and give me a hug after. They drive me to practice and from practice every day. [At] the rainy meets, they're standing there in the cold with an umbrella, so I definitely really, really appreciate all the love and support they give me.
LJ: What is your experience traveling to compete?
CF: For track we don't have to travel much, same with most other school sports. The farthest I've gone was for State: it was at Buchanan High School, which is in Clovis. Coach Flatow recommended this hotel, and he was really nice about it. The hotel had breakfast and everything, because Clovis is kind of in the middle of nowhere. It was definitely a good experience. Other high schools have electronic scoreboards, it's really cool. And the stadiums are super packed. There's like 10s of 1000s of people, which was really intense. Other than that, CCS was in Gilroy. So after both the CCS trials and finals, my family and I went shopping at the outlets. Last summer, obviously, I couldn't do track because I broke my ankle and was recovering from that. But this summer, I hope to get into some summer meets [that aren't] school affiliated so I can travel with that. Some of the girls I know that go to other schools did track over the summer and they went to Oregon and competed at the Nike stadium, which was really cool and they stood on like this really cool podium in the middle of the field. And this meet was all professional athletes too, so I thought that was really cool. Even just watching that if I can't compete this summer would be awesome. So I look forward to hopefully doing that.
LJ: So you mentioned wanting to continue track in college. Do you want to continue any of the other sports that you do in college?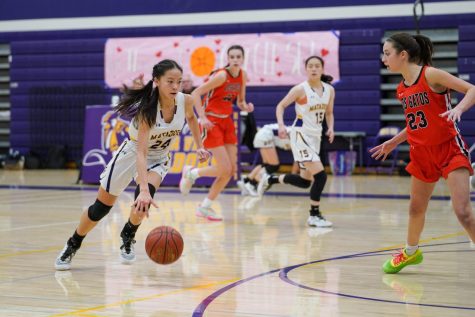 CF: At first, I was definitely trying to go to college for soccer. My club is really serious about that. We've been setting up recruiting profiles and sending emails since we were in middle school. But that process seems a little slow and coaches can't email us back until sophomore year summer. We go to all these showcases but we don't really see the progress of the recruiting — you don't see the results very quickly. Basketball, you can get recruited earlier, but I never really considered doing that in college as much as my teammates, because over summer I would do AAU (Amateur Athletic Union) club basketball and a lot of my teammates have offers which is really cool. For track, it's just a number because for soccer and basketball, you have to play in front of the coaches a certain number of times, it's kind of subjective what the coaches think about your playing. But for track, it's a number. If you jump this you jump this if you run a certain time, that's just what it is. You can see potential but it's less subjective because again, it's a number. I've contacted some college coaches and my head coach, Coach Flatow, also knows a lot of people. He's really involved with the track world, especially in college and beyond. He's been really helpful with that. I've had some coaches email me back, but they can't officially say much until this upcoming June. I'm really excited about that.
LJ: That's it for episode number three of Time Out. Thank you so much Clara for sitting down and talking to me. I'm Lily Jiang. Thanks for tuning in.