Hidden Secrets of Cupertino
MVHS Math and Computer Science teacher David Greenstein 
While walking to school each morning and seeking out local restaurants has contributed to his bond with the city, the finding of several hidden trails throughout Cupertino's hills that made math and computer science teacher David Greenstein truly appreciate his hometown.
Sitting on the Parks and Recreation Commission for eight years before becoming a teacher exposed Greenstein to several trails within Cupertino that he never knew existed, one being from the local 99 Ranch Market to a small neighborhood. 
"You can see the whole Bay Area from up [high on the trails]," Greenstein said. "[The trails] make me appreciate Cupertino [because] we live right next to the hills and [can] get to them within a bike ride. I can't say that about a lot of [other] places, like San Jose or even Sunnyvale."
Despite his 24 years living in Cupertino, Greenstein is constantly amazed by its beautiful greenery and feeling of community. With Blackberry Farm right by his house and Jollyman and Linda Vista Park nearby, Greenstein does anything from running by himself to taking strolls with his family in these lush locations, surrounded by the sounds of the creeks and wildlife amongst the woods. Being on the trail almost every other day has inspired Greenstein to look beyond his work to enjoy the outdoors, a mindset he feels many students should also apply.
"I think it's really important that people connect with the trails because then they get to see Cupertino, the real Cupertino," Greenstein said. "If you walk or bike [around Cupertino], you really get a feel for the place — the smells, the weather, feeling the terrain and going up the [signature] hills."
Sophomore Aster Nguyen
Hidden off to the side of the train tracks, covered in dust, graffiti and mud, lies the BMX biking location where sophomore Aster Nguyen goes a few times a month. With his earbuds wired in and sketchbook in hand, Nguyen sits by the train tracks on chairs and ladders left behind by townspeople. Nguyen loves hopping over a certain broken fence to get a view of the highway, listening to the sounds of nature and society to destress. 
"I like to go around and check the place to see what's changed," Nguyen said. "It's like a scavenger hunt to see who has been there and what's been left behind by the people in your community." 
As a child, Nguyen first stumbled upon the barren location while on a run with his father, and immediately felt entranced by the beauty within the bumpy, dirt-filled path. Finding anything from a stack of movies left behind to a wall of graffiti built along the inside of a wet tunnel in his years visiting the area, Nguyen enjoys the feeling of community established by the spot, despite his physical solitude. 
"It's peace surrounded by chaos," Nguyen said. "You can tell there's a lot of things going on [at the BMX park]. It's calm in the way that if you're lucky enough and no one's around, it's very serene. [Visiting the area so often] helped me feel like a part of something in my neighborhood — it was obvious that people in my community would go there like a part of this whole little subculture."
Senior Kira Sun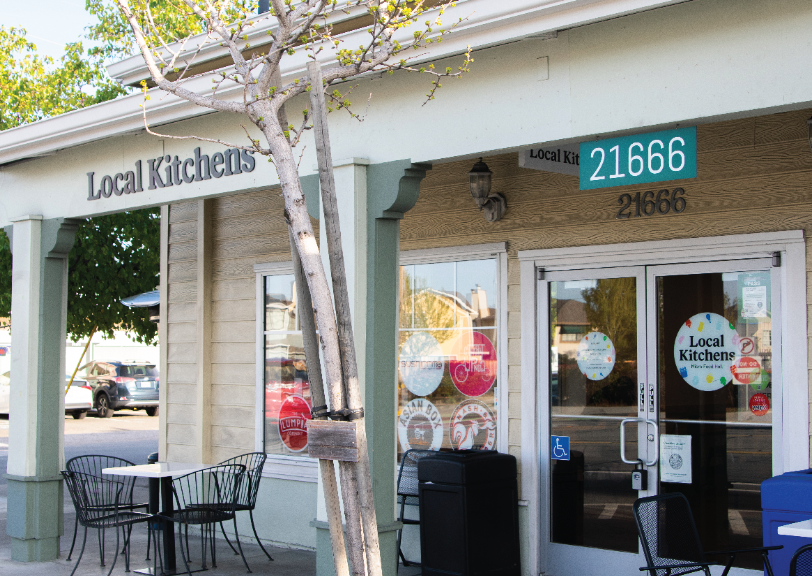 After a late night at sports practice, senior Kira Sun knows the perfect place to unwind  — Local Kitchens. Sliding into a booth with her friends, and biting into hot garlic fries, feelings of warmth and comfort encompass her. Sun remembers many of her best memories in the restaurant, sitting with her friends and surrounded by laughter. 
Sun found Local Kitchens on a Friday night her junior year. Sun and her friends had just finished watching a football game and were all hungry, and in urgency, they all walked into the nearest open place and discovered the micro eatery. As time passed, what was once a one time visit quickly became one of Sun's and her friends' default places when they wanted to hang out, relax and talk. 
"[My friends and I] wouldn't even get tired of [Local Kitchens] because even if we got the same thing, a lot of times, it was really good," Sun said. "But also, if you wanted something else, you could get something else. Their menu rotates a little bit, so it's been exciting to try new things as they arrive on the menu."
While Sun enjoys the restaurant's food, the main reason why she holds the place dear to her is that it strengthens her relationships with her loved ones. Specifically, Sun's favorite memory was on a late night with her best friend, and she recalls them digging into a tub of ice cream, bonding while sharing laughs and food. She explains that the restaurant provided her with a comforting environment
"We go there so often, the people there know us and then can greet us by name and we will just chat with them for a bit,"  Sun said. "So it's definitely one of our most frequently visited spots."