Women in performing arts: Rachel Millar
MVHS Alum '20 Rachel Millar has been surrounded by "creative energy" all her life, growing up with a father who crafted large metal sculptures in his free time and a grandmother who performed in a theater improv group with her friends. Fostering her love for attention, Millar followed in her older sister's footsteps by partaking in theater productions in middle school. Seeing the audience's hysterical reactions to her performance as Ms. Hannigan in a production of "Annie Jr." made her realize that being on stage was all she wanted to do. Despite discovering her passion and exploring it through the MVHS Drama Department as she got older, Millar decided to major in sociology when entering college because she believed she would have an easier time getting a job.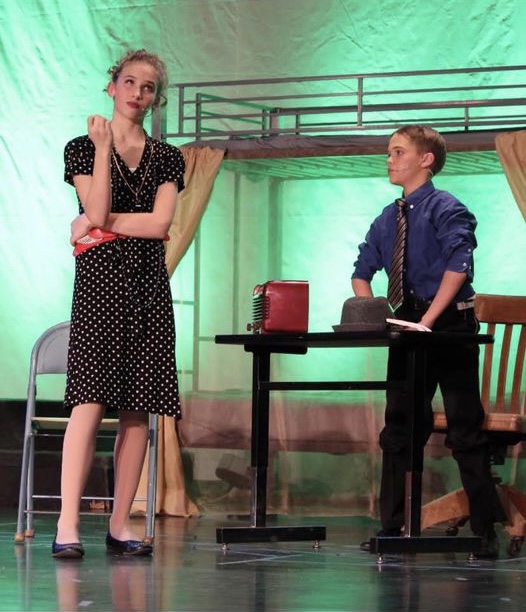 ​​"'Theater is not an adult major' — that's what I kept [telling] myself," Millar said. "I said, 'Okay, sociology is the closest thing [to what] I'm interested in. Even I, like, I love theater more than anything and even I was like, 'Can I have a theater degree? I need a sociology [degree],' like, I don't know. And so, that kind of inner monologue even within yourself of just 'Am I going to be able to make a living off of this? Am I going to be able to get a steady job is this you have to think like okay, do I want to go full throttle and try and pursue film or stage or something like that?'"
To fuel her love for theater while pursuing a sociology degree, Millar followed her professor's suggestion to audition for a virtual drama production her freshman year. Auditioning not only provided Millar with an "in" to the drama department, but also a new community of like-minded, creative individuals she became close with, despite only interacting through Zoom. Millar's realization that she needed to constantly fuel her passions, rather than simply pursuing them as a hobby, motivated her to switch her major.
"[I love] the community you build, because theater as a field is unique, [and] because theater as a business is [rooted in] human interaction and emotions," Millar said. "That also means that all of the best and most vulnerable moments are shared within this cast, [who] agree to create a safe space [and an] area where people can express themselves [and] be vulnerable and work through things in a really honest way without judgment. You connect with people really intensely in a really short amount of time. Most of my absolute best friends I've met through theater, because it's such a bonding experience."
Millar currently studies Theatre Film and Digital Production at the University of California, Riverside with a focus on acting and directing. Millar commends UCR for emphasizing undertold stories with its "initiative about decolonizing theater." She finds that theater is one of the few fields dominated by women, allowing her to gain unique experiences with assistant directing and performing. Learning from female film professors and directors has allowed Millar to feel comfortable playing around with her characters, an aspect of the field she immensely appreciates.
Despite the comfort and community that theater provides for Millar, she constantly finds herself hesitant to mention her major around those in Silicon Valley. Growing up in a STEM-focused environment solidified Millar's mindset that scientific majors were the only acceptable career paths, even though her family encouraged her otherwise. 
"Coming from Silicon Valley, pursuing anything in [the] arts is already [looked down upon]. It's just not what people do there," Millar said. "There's not a big emphasis on arts and if you're in the arts community. It's so small that everyone's fiercely bonded, [and] there's definitely something beautiful about that. I'm a little hesitant to say that I'm a theater major. Every time I say it, I kind of say it with a laugh. Everyone gets really tense, because they're like, 'Oh no, does she know how hard of an industry it is?' like, 'Oh, honey, I know.' That's something I've thought of, but wouldn't it be so stupid for me not to try?"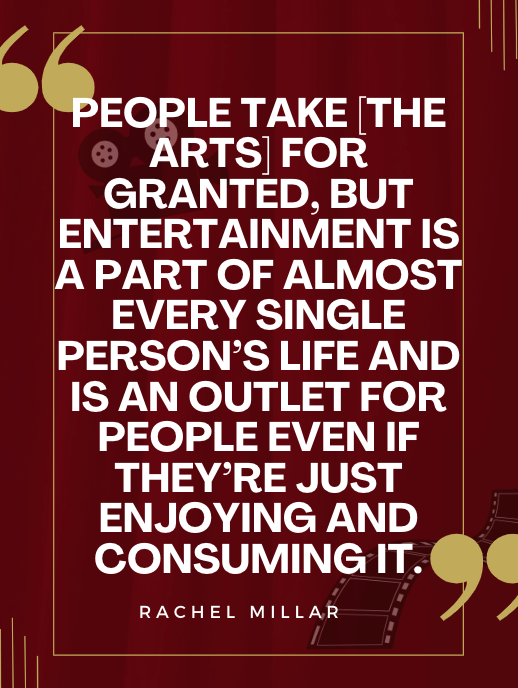 While Millar is encouraged by her family to pursue the theater arts, she acknowledges that many others may not have the privilege to do the same. From former MVHS Drama teachers Jeff Adams and Sara Capule to her artistic family, Millar is grateful for the support she has received in pursuing her dreams and encourages others to also support individuals who wish to pursue artistic careers.
"Put emphasis [on the arts], especially in spaces that are so STEM-focused," Millar said. "Art is subjective, so there's no bad art. You just do it. If it's good and you feel it, then it's great and it's served its purpose. My biggest focus is trying to emphasize STEAM, not STEM, because the arts are so important. I think people take it for granted as just entertainment, [that it's] not like a serious industry, but entertainment is a part of almost every single person's life and is an outlet for people even if they're just enjoying and consuming it."