Drama Queen
"You're so dramatic!" yells my mother as she attempts to shove me into her car.
"I don't want to go! I would rather die!"
Any fourth grader should spend their Saturday night playing with toys at home, not watching their mom's friend's daughter's school production of "The Little Mermaid." Kicking and screaming, I reluctantly sat in the car as my mom bickered about me being a "drama queen," my arms crossed and expectations low. This was not fair. Cranky amongst a swarm of rushed parents and friends, I followed my mother to a seat in the front row and prepared myself for a night of torture. 
Flick. The lights went out, and the audience and I sat in the uncertainty of the pitch blackness. But as the familiar, comforting overture of "The Little Mermaid" began playing, my drowsiness disappeared — I had been instantly transported to a new world where anything was possible. Mermaids could grow feet, eels could sing, fishes could fly, and a nine-year-old me was changed forever. An urgency swept through my body, like nothing I'd ever felt before — I had to be up on that stage. 
Even more desperate than the way I begged my mom to not watch the play were my pleas for drama summer camps and theater courses in the days after experiencing "The Little Mermaid." 
And when I sang in front of my elementary school as a dancing hot dog, my first ever role, all in the world seemed right. As I posed amidst the rising cheers of the audience, my years of singing too loud at the wrong times, dancing in place when others were standing, and cracking jokes every second all suddenly seemed to make sense. I finally felt good at something.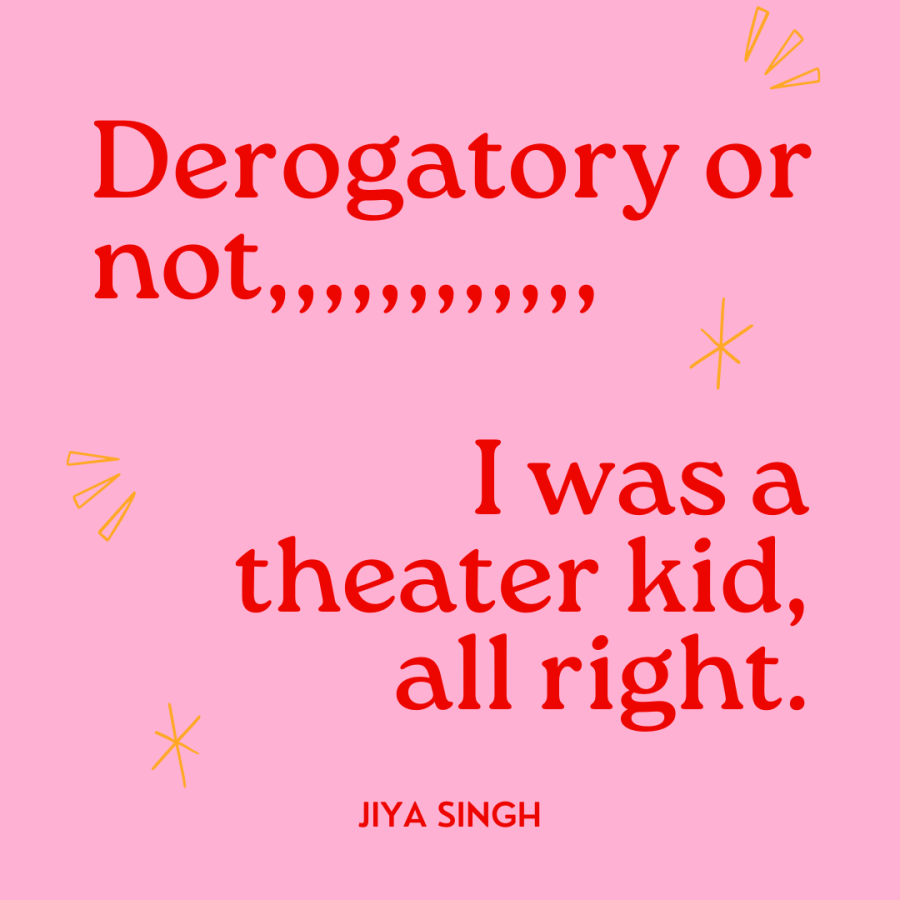 Immediately, I submerged myself in my new passion. I spent hours memorizing the raps in "Hamilton" and stayed up until 3:00 a.m. each night of middle school to rewatch "Hairspray," providing me with the unfortunate (but much deserved) nickname of "theater kid." I could deny it all I wanted, but the sheer joy I experienced when I made my eyebrows purse up or curl down for the approval of the audience spoke for itself — derogatory or not, I was a theater kid alright.
I have to admit: the external praise I began receiving upon acting in middle school productions filled me with greater pride than ever. After every performance, hearing variations of "You were absolutely amazing!" and "Can I get your autograph before you become famous?" by everyone from my strict teachers to strangers in the hallway made me feel like a mini celebrity.
However, my years of "fame" were accompanied by a growing stress of the future. As my evenings were spent making lifelong memories at rehearsal, my classmates' evenings were spent "preparing for their future" by competing in Girls Who Code and Science Olympiad competitions. I was left behind, and I couldn't "make believe" the future wasn't happening to stop it.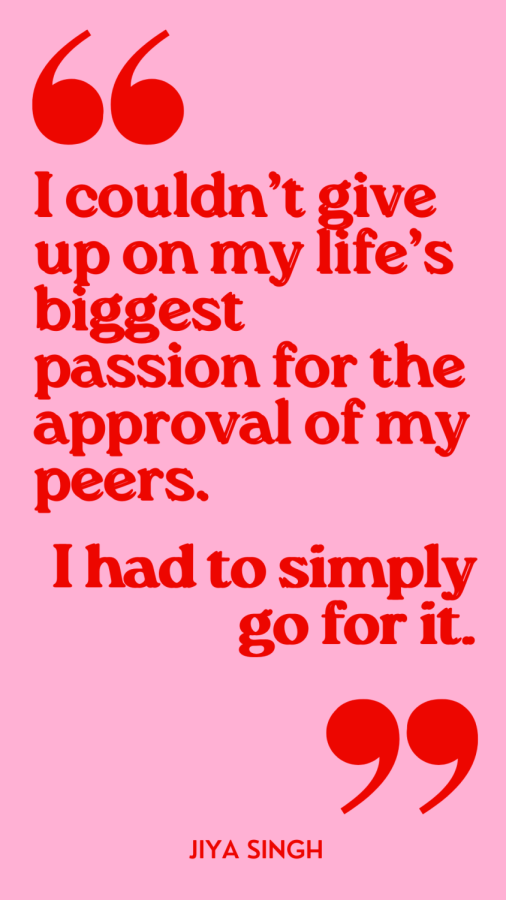 I've heard it all my life — passions cannot become careers. A career is for making money, and drama — well… let's just say there's not too much immediate cash in that department. But still, drama was pulling me in its direction the same way it entranced me when watching my first production. I felt stuck on whether I should reach for my dreams or resort to the safe, practical option that everyone expected me to choose. Yet the more I thought and cried about it, the clearer it seemed — I couldn't give up on my life's biggest passion for the approval of my peers. I had to simply go for it.
Playing the drunk orphanage caretaker Ms. Hannigan or the looney pirate Captain Hook were nothing compared to playing the hardest role of all — myself — to finally tell my family of my deeper desire to pursue acting seriously. 
And while I've learned how to quickly cry on cue when onstage, I've never cried more than when the decision letter for my dream drama school came in a few weeks ago. Suddenly, the Broadway posters on my walls, hours I spent recording my acting and singing auditions, and Lin Manuel Miranda cutout in my car didn't seem like such an embarrassment anymore — it was proof of my years of dedication.
Many times, dreams seem intangible — becoming an Oscar or Tony-award winning actress was mine. People can and will continue to talk about what I should do, what I should say, what I should pursue. But, at the end of the day, when I come home to my inner nine-year-old, I know I will be proud that I chose to chase after what I love instead of confining myself to the words of others.
As it turns out, my mother (as always) was right — I truly am a drama queen.