Fantasy fanatics
Looking into fantasy sports and its influence on the MVHS community
Journalism teachers across the country play in a fantasy baseball league together, one of them being Palo Alto High School Journalism teacher Rod Satterthwaite. Over a decade ago, one of Satterthwaite's friends asked him to join a fantasy sports league. Unfamiliar with fantasy sports but interested in following and occasionally playing sports, Satterthwaite found he enjoyed staying in touch with distant peers through the hobby and has continued playing since.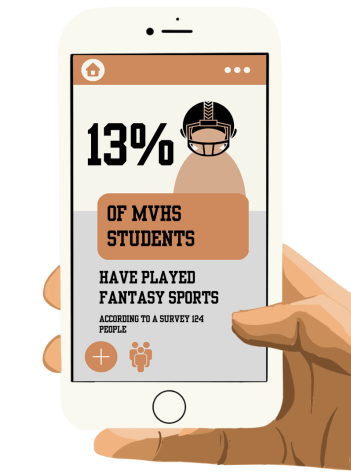 "[Fantasy sports has] created a chance to connect with those people and get to know them a little bit better," Satterthwaite said. "And then when I see them, which is usually at journalism conventions, it's an icebreaker too — 'I don't really know you that well, so I'm not sure [what] I'm going to talk to you about. Oh, let's talk about our fantasy baseball league.'"
Senior Jaebeum Cho also feels that playing fantasy sports has given him the opportunity to "make conversation out of nothing" with others and become closer with them. He recalls calling fellow senior Jeremiah Moli while he was at work and convincing him to make a trade, which Moli came to greatly regret, causing Moli to "go through the five stages of grief."
Cho is part of a fantasy sports group chat with his friends where they send each other sports related news, and it is his main source of updates about sports news and player injuries. Cho plays fantasy basketball, soccer, hockey and baseball, and has been playing for just over a year, after being introduced to it by his friends.
On the other hand, Satterthwaite gains information about sports from his son and from watching sports on TV. He says fantasy sports have renewed his interest in watching sports games. Although Satterthwaite has always loved watching sports, he finds that fantasy sports has made him more aware of certain players and care more about the results of a game.
"I think [fantasy sports has] made people more likely to watch and find out about players who they might not know anything about, like 'Who's the third string utility player for the Texas Rangers?' — no one cares," Satterthwaite said. "But if you're playing fantasy sports and you need a utility player, you want to know those things. It's just created [a] search for knowledge that people didn't really care about before, but now [they] do care about [it] because they have these teams that they're a part of."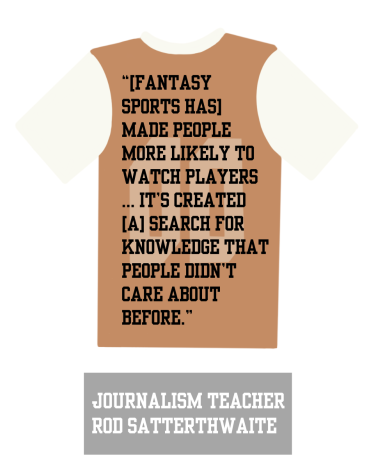 On the other hand, junior Anay Putty, who was also introduced to fantasy sports by his friends, does not believe that fantasy sports have affected his knowledge of sports. Putty finds information on players through a fantasy league website, which has information such as player injuries or suspensions. However, he says that his familiarity with sports has not changed much since he started playing fantasy sports due to already having extensive knowledge on soccer and football.
Cho also follows some of the fantasy sports he plays but says that for sports like hockey and baseball, which he is not as enthusiastic about, he "just looks at the numbers." Though he enjoys following and playing soccer and basketball, he says that one of his main incentives for continuing to play is initiating punishments for being in last place or forfeiting and being rewarded for winning.
"For the basketball league, [the punishment] was getting a buzz cut, but [I doubt anyone will] follow through," Cho said. "For the hockey league, the punishment was that [the person in] last place has to buy dinner for everyone."
In Cho's hockey league, the winner is granted the ability to make everyone else do something they don't want to. According to Cho, if he won, he would want to send everyone in the league to different high schools for a day, similar to FUHSD's IDC Exchange program.
In Satterthwaite's league, small monetary awards are involved depending on rank and money required to join the league. However, Satterthwaite does not view money as an important part of his fantasy sports experience.
"I say that from a place of privilege, but the baseball league is $40 to join, and the Football League was $20 to join, so it's not very much money, and the money really has nothing to do with it," Satterthwaite said. "It's more like bragging rights to win. I think in our baseball league, the winner gets $350, but money isn't the motivator to do it."
Apart from competing in the league, Satterthwaite's main purpose in playing is the personal bonds he creates and maintains with other members. The winner of his league receives the Casey Cup, a trophy named in honor of one of Satterthwaite's friends, a Journalism teacher who passed away in 2022 due to COVID-19. Satterthwaite recalls that being in a league with him was one of his most memorable experiences in playing fantasy sports.
"[Casey] was sort of the elder statesman of the group," Satterthwaite said. "He had been teaching and advising journalism the longest, and he was just a super kind, generous human being. Having this Casey Cup in his honor, I think is a good way to memorialize him and it's just a reminder, just keep him in the forefront of our minds."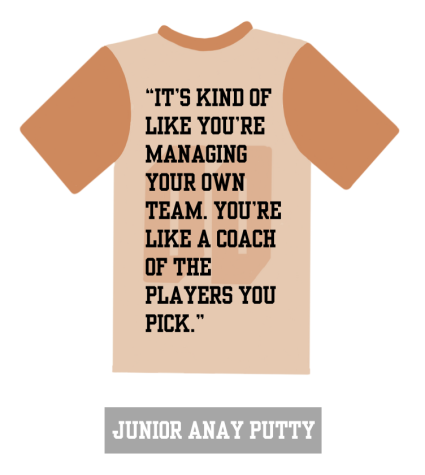 Putty says that besides being a way to connect with others, fantasy sports is also "a better experience for sports lovers," due to the unique perspective it brings towards sports. He states playing fantasy sports makes him feel more involved in the sports he follows.
"It's kind of like you're managing your own team," Putty said. "You're like a coach of the players you pick, so it kind of gives you that sports experience [of] having to be a manager or coach."
Putty believes that because of this new experience, fantasy sports will be played by even more people in the future. Satterthwaite agrees that fantasy sports could become more popular over time, especially due to people being able to earn money from it. He also references the variety of fantasy sports made available by media companies.
"I hear a lot more people now talking about fantasy sports leagues than I've ever heard before, and now almost every sports organization and even media companies have leagues," Satterthwaite said. "Yahoo has its own sort of sports leagues in pretty much every sport, so now even in lesser known sports, you can do fantasy golf, and you can do fantasy volleyball. It's good to see there's women's fantasy sports now too. It seems to be growing, and I would imagine it will continue to grow."