Facing financial aid
Exploring the stigma against applying for financial aid in Silicon Valley

Home to burgeoning tech companies, Silicon Valley is often perceived by outsiders as an affluent region. The cost of housing and inflation, however, can negate the high salaries earned by parents. In fact, Silicon Valley has the highest housing costs in the U.S. As Bay Area students submit their college applications, many are faced with the question of whether or not they should apply for financial aid. 
Junior Vedavi Kavoori says the cost of tuition will be among the deciding factors when it comes to selecting which colleges to apply to and says she will not be applying for financial aid. When Kavoori and her brother — currently in college — were born, their parents started investing, which Kavoori believes should cover most of her tuition. However, if the tuition exceeds $65,000 per year, she would rather not apply, citing concerns over garnering student debt. 
Kavoori notes that there is a stigma around applying for aid in Silicon Valley, especially considering that it is known for its booming tech businesses, which causes many families to have high incomes in order to be able to live here. 
"There's a reason it's a stereotype that we're rich," Kavoori said. "It's no surprise that we have a lot of money, so applying for something with financial aid comes with the ideology that you just don't have enough money to pay for college."
All California seniors must complete the Free Application for Federal Student Aid to graduate. The FAFSA is open to students of all backgrounds and acts as a gateway for students to gain access to grants and receive federal financial aid. For example, COVID-19 Emergency Grants and programs such as the Merit Scholarship and Federal Work-Study have made completing the form mandatory in order to be eligible. 
Senior Aris Yang, however, opted out — a decision his parents made, as they did not find it necessary. Yang supports their choice since his parents are able to afford his full college tuition.
"It's a graduation requirement to apply for financial aid, which is kind of strange because we live in a really rich area, and we don't really need [aid] that much," Yang said. "I'm really, really thankful that I don't need extra money, but it's just that I think there are other people that could benefit from it more."
MVHS alum '22 Dominic Wang, who attends UC Santa Barbara, also chose not to apply for financial aid given that their parents were willing to pay. Wang agrees with Kavoori and says there is a "stigma around being poor in the Bay Area." According to Wang, a conservative group called Turning Point USA "makes fun of people [at UCSB] who get FAFSA."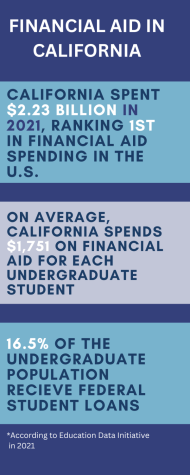 "[Turning Point USA] reflects the attitude that a lot of people have about financial aid," Wang said. "I think that there's a certain amount of shame that comes with getting financial aid because that just means that you can't pay for [tuition] on your own, and that's supposed to mean something about your ability to work."
Kavoori shares similar thoughts about the way some people perceive themselves and others when applying for aid. She adds that those who qualify, even in more wealthy communities, should be comfortable enough to do so. 
"It's the idea that getting help is going to make you weak, but that's not true," Kavoori said. "If it helps, it helps. Just take the opportunity and take advantage where you can."
Wang says those who come from lower-income families and have disabilities should be given priority when it comes to financial aid, especially since they believe that the price of receiving college tuition today is unjustly high. 
Yang says tuition cost was not a significant factor when he applied to colleges. Moreover, he acknowledges that sometimes lower-income families are living in areas that are more well-off, which makes it important to recognize the various circumstances that qualify someone for financial aid.  
"Everyone's income is different, regardless of where you live," Yang said. "So, it's really not based off communities and where you live. It's about your family, and what they can afford."
Kavoori says plenty of students in Silicon Valley who are concerned about student debt are not qualified for financial aid because of their parents' high salaries. She recognizes the pros and cons of both sides, taking into account the problems with student loan debt that around 43.5 million students faced as of 2022, regardless of their background. According to Kavoori, her family — along with many other MVHS families — barely makes it over "the barrier." 
"The pro is that money goes to kids and students who need it more than we do and who will benefit greatly from not having to have student debt and loans and a lot of the issues that come with financial aid because their education is hindered by [debt]," Kavoori said. "But on the flip side, that doesn't mean that we're also not hindered by it. It still causes stress. We still have student debts, [and] we still have student loans. Just because we come from more money doesn't mean that doesn't affect us. It just affects us less."