Crossing the line
Exploring the effects of swearing in sports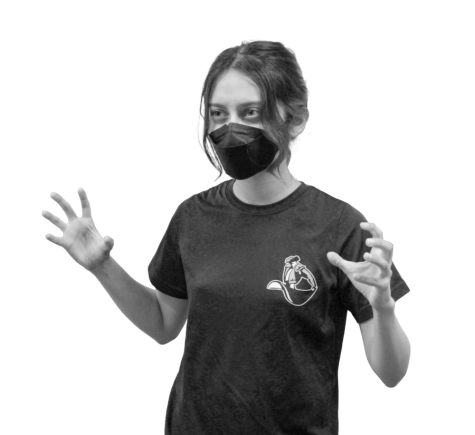 Junior Marim Abdelrazek's feet followed the bright white outlines of the field as she sped through the laps that her soccer coach had assigned to her — punishment for using cuss words. For Abdelrazek, swearing is a normal part of conversation. However, her coach isn't tolerant of that, and after running the laps, she apologized to him. 
Abdelrazek finds that her coach generally acts reasonably regarding profanity as he lets it go if she swears in the heat of a game. But, when it becomes a recurring event, she is faced with consequences such as running laps. Her coach also provides an alternative for swearing and tells her to use "damn" as a replacement for other swear words. 
"If we're in a game, profanity shouldn't be used," Abdelrazek said. "But if you're with your friends and you're joking, a little bit of profanity wouldn't hurt — it's what teenagers do."
While Abdelrazek's teammate, senior and Varsity Girls Soccer captain Ishita Pesati, doesn't find profanity extremely disruptive, she understands the implications it may have on the field, especially since referees don't tolerate swearing — even mentioning that profanity can lead to yellow cards. 
"One thing that the refs say is that the field is an extension of the classroom, so I try to show my intensity through playing instead of language," Pesati said.
Pesati finds that players usually swear at themselves under their breath if something regarding their play does not go their way. Assistant field hockey coach Serena Yoo agrees that athletes tend to swear if they make a mistake, although she believes that it is unnecessary to use profanity on the field. 
"People decided to create some words which express strong emotions [in English], which may not be accepted in a professional setting," Yoo said. "Profanity is just a way that people express their stress or let out emotions of frustration [in] that moment. It's usually directed at someone or at an event that happened, like if you miss a ball or a hit."
While the Varsity Boys Basketball team also directs their swear words to themselves, freshman Sean Foo finds that the team has a different mindset when it comes to using swear words. The team regularly uses profanity, making swearing a part of the game. 
However, Foo discerns between the use of profanity to show anger during team talks and as a form of disrespect. On the other hand, Yoo has witnessed other coaches swear at the referee when there are calls that are not in their team's favor, which often results in the coach getting carded. 
Yoo hasn't seen any field hockey players using obscene words in games to offend anyone, which ties in with the team's sportsmanship. She finds that sportsmanship is especially important in a team sport like field hockey, and that players exhibit these qualities by conducting themselves through their actions and words. 
On the other hand, in club soccer, Abdelrazek has seen her teammates get heated, and one of them swore at a referee due to a call that didn't favor their team. The teammate's outburst led her to face a red card — a permanent removal from the field. Abdelrazek says that the teammate had better options to face the situation, such as discussing the referee's decision on the side, but ultimately let her emotions overcome her.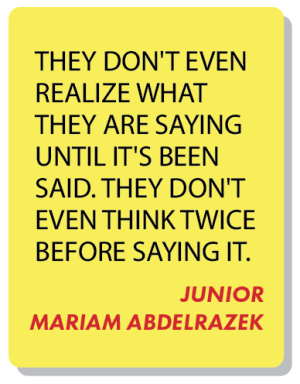 "If you're calm, then you make sense of the situation," Abdelrazek said. "But if you're mad, then you're just blinded with rage [and] some people, they don't even realize what they are saying until it's been said. They don't even think twice before saying it." 
Abdelrazek notices that swearing often doesn't help situations because despite it allowing a player to express their intense emotions, it doesn't allow them to successfully communicate with others involved in the situation. Pesati agrees with these sentiments and highlights the importance of having a good attitude.
"If you're going to swear, you should probably do it under your breath, not to anyone in particular, even if they are making you mad," Pesati said. "I just think that, it is a game first of all, it's not the end of your life and respect is important in sports."