Boys Basketball defeats Basis Independent Silicon Valley 71-46
Matadors outclass BHS in a must win game
Varsity Boys Basketball defeated Basis Independent Silicon Valley 71-46 on Tuesday, Jan. 31, bringing its overall season record to 8-11. Despite BISV's efforts to make a comeback, MVHS maintained a steady lead throughout the game. MVHS capitalized on the momentum and energy within its team to enforce its dominating performance.
Sophomore Stanley Du led the team by scoring 22 points, including four 3-pointers. However, he notes that "[MVHS] gave up too many wide open shots" as well as "some defensive lapses where we lost our man."
"I think [we can improve on] just staying aggressive for everyone, making sure we know which shots are good, ball faking against their zone and just not turning the ball over too much," Du said. "That's usually what causes us to lose, but today we had good ball security."\
Throughout the game, MVHS displayed an offensive prowess, allowing it to rotate the ball to its open man. The Matadors' improvements in protecting the ball allowed them to capitalize on each possession and make the most out of each offensive opportunity.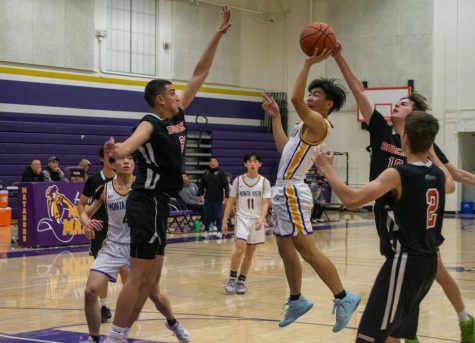 Du attributes MVHS's success to the team's composure when BISV was on runs. Du also mentions the importance of his "shots [falling through]," noting especially that the game against BISV was an important game that they had to win. 
While the team supported each other with good communication, junior and forward Ruchir Banerjee believes that Du "carried the team through the first half." 
"We got out-rebounded by a little bit, and we can get a lot better on that," Banerjee said. "Our coach always tells us 'We have nothing to lose now,' we just got to improve every game so that's all we're trying to do.'"
Sophomore and forward Ninad Suresh adds that the steep win was possible due to several of the players stepping up during the game, including senior Itai Lavi in the fourth quarter. However, he believes his personal performance can be improved for upcoming games.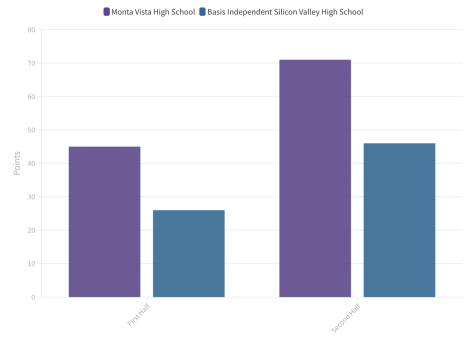 "I think I performed pretty subpar," Suresh said. "I think I did my best to contribute to that [win]. Overall, our teamwork was great. We were able to out-rebound the other team which is something we struggled with previously. Stanley, with his 20-point game — better than any game this season."
However, overall, Du believes that the biggest factor leading to the team's success was its mindset, as the players' desire to win the game motivated them to try harder and allowed them to maintain their initial momentum throughout the game. 
"It was a must-win game so it felt good that our shots were going down and it felt like calls were going our way too," Du said. "But just going in with the mindset that we'd win and that we couldn't lose helped us play hard and have way more energy than them."