Girls Volleyball beats Hillsdale High School 3-1 in the CCS Semifinals
Matadors advance to the CCS Finals against Aragon High School on Nov. 5
The Varsity Girls Volleyball team faced off against Hillsdale High School on Thursday, Nov. 3 in the CCS Division II semifinal match, defeating HHS with an overall score of 3-1 and set scores of 25-20, 20-25, 26-24 and 25-20. HHS senior Rianna Liu led the way for her team with a hitting percentage of .417.
With this victory, the team will advance to the CCS Finals for their second year in a row and their second time since 1998. They will face the No. 1 seed Aragon High School at Gunn High School at 12:30 p.m. on Nov. 5. This match follows AHS's 3-0 win over Lynbrook High School in their semifinal match.
Going into the semifinals, junior and libero Mithila Chaudhari knew HHS would be a tough opponent to play against. However, she says the preparation the team underwent prior to the game resulted in its confidence in their performance against HHS.
"We knew they were good but we also knew that we have been practicing really hard," Chaudhari said. "We've been using serving machines, but they're not machines. They're just girls."
In the first set, the Matadors started off with a strong lead. HHS caught up part way through, but multiple timeouts allowed MVHS to secure the set. However, the second set began with HHS taking the lead after MVHS struggled with serve-receive, leading to HHS winning 20-25.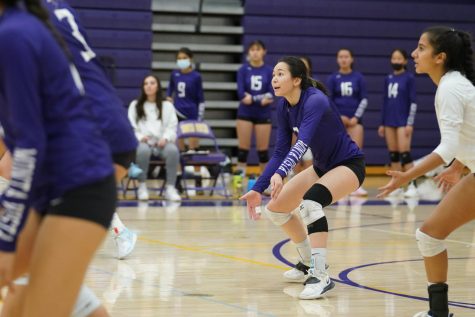 In the third set, MVHS managed to improve their serve-receive and brought the set to 24-20. MVHS only needed one more kill to secure the set win, but it allowed HHS to win four points in a row before ultimately winning the third set with a close score of 26-24. Despite the slight setback, Chaudhari attributes the success in the third set  towards the end of the set to the team's ability to work together.
"Second set we lost we got really close, [and when] you come that close and lose, it's kind of tough," Chaudhari said. "So, emotionally we were kind of drained a little. But I think we really came together as a team in the third set and we really stepped it up."
However, as the team had entered the game with the goal of "not going to five sets," Chaudhari says the players hoped to end the game at the fourth set, and they did just that, clinching the overall win after taking the fourth set 25-20.
 "[Five sets] is physically draining and I think our number one problem was that as the sets go on, and you lose, you get really upset," Chaudhari said. "So it was definitely tough, but I think today we finished it in four sets and I'm extremely proud of us for getting through them."
Sophomore and outside hitter Kiana Mark said that another factor that influenced the win was home court advantage, and "having some of [the] student body there, cheering them on really made them feel like they could do it." She said the carryover energy from the 3-0 in their quarterfinals game was also a large motivator.
 Chaudhari expressed excitement about moving on to finals for the second year in the row. Although she is elated to be able to attend NorCals once again, Chaudhari's goal is to reach even higher.
"It was more than a decade since we had even [went] to CCS, so I think we already broke a record last year, but just want to keep breaking more," Chaudhari said.
Mark also has high hopes for their finals game, and has faith that their newfound experience and motivation will carry them to victory.
"I honestly don't know what to expect, but I know that we're gonna all work hard and push through because we were in the situation last year and it didn't go in our favor," Mark said. "But we can learn from that and we can improve and we can come up with a win."