Varsity Girls Tennis wins 4-3 against Mountain View High School
The outcome of the last match allowed the Matadors to secure the win
Winning their third consecutive game of the season, Varsity Girls Tennis defeated Mountain View High School 4-3 on Tuesday, Sept. 27. The Matadors started strong, with sophomores Varsha Iyengar and Arianna Fu winning the first match of the game. Afterwards, sophomores Niranjana Sankar and Diya Sammanna also won their match, continuing the team's momentum. Though the team lost the third match, freshman Jillian Yang and sophomore Lucy Yung secured the Matadors' third win by the end of the fourth match. However, with the opposing team winning the next two matches, the game's fate depended on the very last match — freshman Lelani Laruelle's match against a senior from the opposing team.  
Laruelle and her opponent played well throughout the game, with the two being neck-and-neck by the time the fifth match ended. According to junior and captain Varshetha Senthilkumar, the final rallies were intense since both players were playing to win the overall game for their school. At this point, the two teams were cheering on their respective player.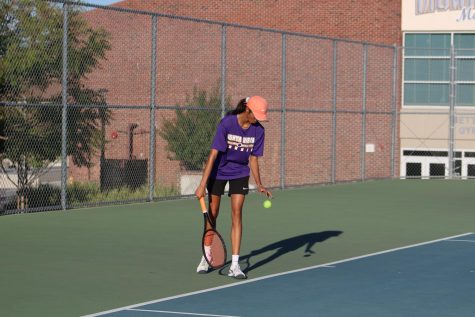 "[The match] was probably a bit intimidating for her in the beginning, but [by] the end, she forgot about [it] and [focused on playing] her game," Senthilkumar said. "[We] helped [raise] her spirits, [but] she's just a really good player overall." 
Yang believes that team morale has improved this year, creating a more positive, productive environment. She and Yung exemplify this, as Yang goes on to explain how her chemistry with her partner — on and off the courts — has strengthened their overall gameplay.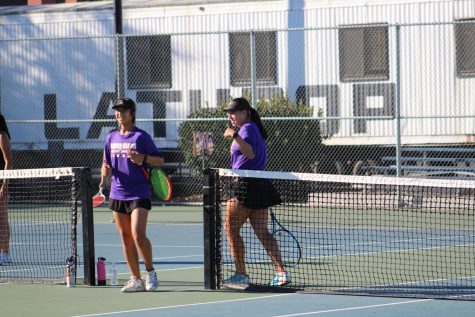 "[During the game,] Lucy told me I had to serve to [the opposing players'] backhand side because they tended to make more mistakes on the[ir] backhand side," Yang said. "With her advice, we were able to win lots of points. We help each other out; if someone doesn't notice something, the other one notices and that can help us win." 
Senthilkumar says the strengthening of team relations has increased the respect that players have for one another, allowing the team to feel much closer to each other and improving team's overall chemistry.
"[When] we have practices, we're always communicating [with] each other, and every time we're out on the court, no one leaves early," Senthilkumar said. "Everyone's always out [there] supporting everyone until the last player finishes. [Overall,] I think our team's just really supportive [of one another]."