Main gym renamed
Honoring Harry Bettencourt's 32 years of service to FUHSD
Monta Vista's main gym was renamed the Harry Anthony Bettencourt Jr. Gymnasium on May 7 in honor of former FUHSD principal and administrator Harry Bettencourt, who passed away in 2020. Assistant Principal Mike White and Superintendent Polly Bove held a naming ceremony to unveil the new signage and a bronze plaque for the public. 
The event, held in the Rally Court, began with a performance from the MVHS Jazz Band led by band director John Gilchrist. MVHS Principal Ben Clausnitzer, Superintendent Polly Bove, FUHSD Trustee Bill Willson, Bettencourt's wife Paula Bettencourt and his son Matt Bettencourt then spoke to the audience describing his impact on the school and district. The event concluded with a viewing of the new signage in the gym lobby and an ice cream social — one of Bettencourt's favorite bonding activities, according to White.
The naming process began at Fremont High School, where Bettencourt had briefly worked as a principal. After starting as a business and social sciences teacher at MVHS, Bettencourt served as an assistant principal at Cupertino High School and FHS, a principal at FHS and the Student and Community Services and HR director for the district office, totaling over 32 years in FUHSD. 
"One of the [people] on the [class of '82] tour reached out to me, and they wanted to know how to have something named after Mr. Bettencourt," White said. "I emailed Associate Superintendent Trudy Gross, and I got [an] email back from Superintendent Polly Bove saying 'Oh Mike, let me call you.' There was a process to name something for Harry at FHS because he was a principal there."
However, after considering both sites, Paula and Matt Bettencourt, ultimately decided to name MVHS's main gym, where Bettencourt was the advisor to the first graduating class.  Following their decision, a request for facility naming was submitted and approved by the MV School Site Council and the FUHSD Board of Trustees.  
"I think it's very appropriate that the building that will be named after my dad is at Monta Vista," Matt said. "My dad was one of the first teachers ever at the school when it opened. That's where he started his career with the district, and then obviously, my dad lived in the community for his whole adult life. It's where I was born and raised, I went to high school there, and my dad had a long standing presence and relationship with the campus and with the community. And I really think that a lot of the things that my dad and his coworkers did set the table so [MVHS] could be the high level academic institution that it is."
When Matt first heard the news, he recalls feeling both happiness and sadness. On the one hand, he was "thankful and really grateful" that the school had decided to honor his dad in that way. However, Matt also describes experiencing "a formal feeling of complete loss" because it cemented the loss of his dad.
"I think it would really mean a lot to my dad to have a building named after him in a place where he actively tried so hard to help so many people and to positively influence so many people," Matt said. "But it also made me really sad because I'd rather have my dad back than have a building named after him."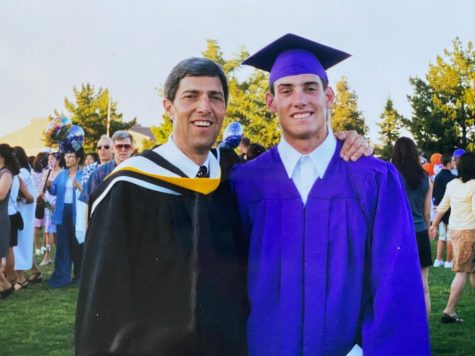 Homestead assistant principal Brian Dong, who was best friends with Matt since kindergarten and throughout high school, describes Harry as both a parent and friend to him.
"He had seen me grow up at Monta Vista and [had] given me opportunities because he was employed by the district," Dong said. "When I graduated from college, he helped me get a job in the district and more importantly, helped me become a school administrator. He was a mentor when I was hired and someone I knew and loved dearly for a long time."
When Dong learned about the dedication of the gymnasium to Harry Bettencourt, he describes being "hopeful" and "happy" that a plaque will inform visitors about the details of Harry Bettencourt's life.
"I was really happy to hear that the district was going to honor him in some way," Dong said. "To me, more than just having the name on the building, when there are times to tell his story [at] senior games or rallies or when that gym is being used, the story of Harry Bettencourt is also being portrayed there."
Similarly, Matt hopes renaming the gym will provide students with the opportunity to learn more about his father. When he was a kid, and Harry was the principal at FHS, Matt recalls asking Harry about the history and namesake of Diesner field, the football field at FHS.
"Hopefully that's something that'll happen for my dad too," Matt said. "Down the line, some kids will ask their parents, 'Who's Harry Bettencourt, and why are we here at the Bettencourt gymnasium?' and hopefully that'll give people a chance to talk about my dad and reinforce what a positive role he played for so many people and how other people like him and his co workers and their generation really gave a lot of themselves, not just to the classroom, but to an entire campus and entire student body and community."