"Heartstopper" is everything it was expected to be
The Netflix series is nothing more than a cute queer rom-com
"I wish I'd met you when I was younger … I wish I'd known then what I know now," Kit Connor's Nick Nelson said to Joe Locke's Charlie Spring, perfectly describing the bittersweet aftermath of figuring out and accepting significant aspects of one's identity. 
Following the experience of two queer British boys, one who is openly gay and one who is coming to terms with his sexual orientation, "Heartstopper" is a beautiful piece of queer representation. Released on April 22, the Netflix original show is based on Alice Oseman's graphic novel series. The acting, plotline, editing and atmosphere do a fantastic job of paying homage to its roots.  
The most impactful part of "Heartstopper" is how the series depicts the complete reality of being queer — the happiness, pride, pain, confusion and fear. The audience sees the entire process of characters growing and learning to accept themselves — even when the world around them seemingly does not — which engages the audience and causes them to feel a range of emotions from deep plunges of sadness to rapid rushes of joy in mere eight episodes. 
Queer representation, though increasing in occurrence, is still rare, thus "Heartstopper" appeals to a vast number of queer individuals around the globe as they can finally see accurate queer representation.
I've never seen such beautiful LGBT representation on tv before. I couldn't stop watching and was brought to tears with how real it felt. Incredible job to everyone that worked on this. And obviously 1000% recommend to everyone. ️‍️‍⚧️ #Netflix #Heartstopper pic.twitter.com/mGWvvweRxW

— (@messy__ness) April 23, 2022
Rather than being stuck in toxic relationships, a trope that has often been promoted in other popular pieces of queer media (such as Netflix's "Sex Education," where characters Adam Groff and Eric Effiong began dating despite Adam being homophobic to Eric in the past), the characters are in loving and stable relationships. Not only are their relationships healthy, but they are heartwarming and enviable as well, straying from painful queer experiences and edging towards an endearing romance instead. 
Additionally, in an attempt to accurately represent transgender women of color, the showrunners cast Yasmin Finney to play the role of Elle Argent, a transgender woman of color. Finney does a stellar job in her role as Elle, portraying the experience of many transgender women in a very raw, touching way and only improving the overall queer representation seen in the show. 
Due to its all-encompassing representation, "Hearstopper" serves as an accurate piece of queer media, heartwarmingly tugging the heartstrings of many queer individuals.
It was because of its all-encompassing queer representation that I instantly fell in love with "Heartstopper." It felt incredibly validating to see a coming-of-age television series focused around the experience of queer individuals, instead of inserting a queer character in a minor role and calling it a day — it was absolutely beautiful to see the relationship between two boys being the star of the show, and all I felt was pure happiness.  
However, while on the lookout for a particular detail, I have a bone to pick with Netflix's "Heartstopper." And although the blame mostly falls on the source material, it is important to address the lack of racial diversity in this series. As a pansexual woman of color, I could feel my excitement deflating like a punctured hot-air balloon as I delved deeper into the show. Following the appearance of the characters in the graphic novels, a majority of the relevant characters are white — Elle Argent, Tao Xu and Tara Jones are the only exceptions. Why, in content that finally has comprehensive queer representation, is representation on all other fronts so blatantly lacking?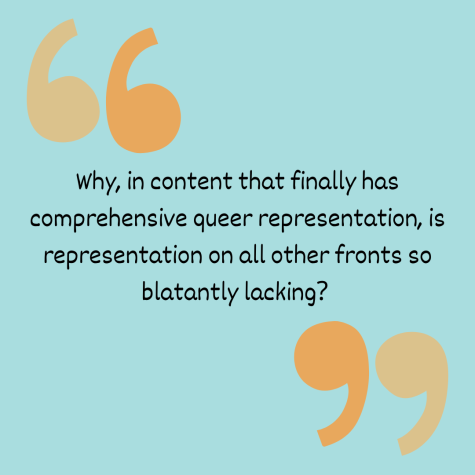 It may be unfair for me to say this, as decisions for casting the show were based on the graphic novel, and thus introducing diversity may be controversial with loyal fans of the series. After all, the show never made any promise of having racial diversity; it was advertised as a queer romantic comedy, and it flawlessly fits this label. But, though it breaks my heart to say this, "Heartstopper" has the potential to be so much more. 
If all one wants is to watch a cute romantic comedy, then "Heartstopper" is the perfect option. Each episode leaves the viewer wanting more, taking them on a rollercoaster as they experience the highs and lows of Charlie Springer's love life. Having very accurate representation and a heartwarming plot, "Heartstopper" is a beautifully validating and addictive piece of queer media. However, if someone desires a television series that represents other minority groups in addition to the LGBTQIA+ community, they may be better off watching something else. 
4/5