Refuse to lose
Girls Basketball goes 12-0 in league and competes in three rounds of CCS playoffs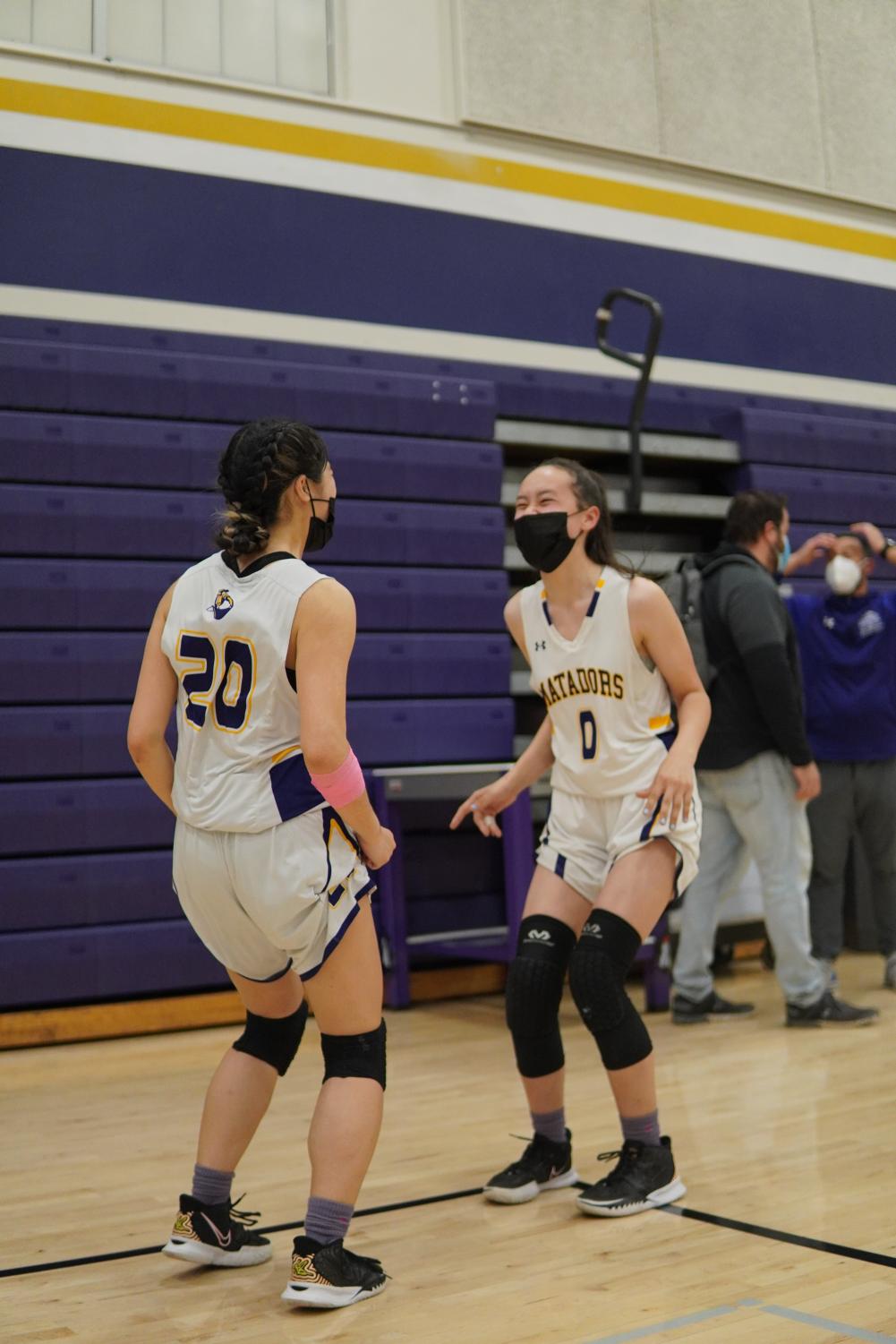 Refuse to lose.
That's the motto that guided the Varsity Girls Basketball team through arguably its most successful season since 1999. As the buzzer sounded to mark the end of the team's final league game against Saratoga High School on Feb. 15, the players exclaimed with joy 一 they had just won 53-43, winning the league championship undefeated with a 12-0 record.
Entering the 2021-22 season, the team had three main goals: to win the league championship, be undefeated in league and make it further in CCS than in the previous season. Although they accomplished the first two goals, MVHS was eliminated in the CCS quarterfinals for the second season in a row, losing to the No. 2 seed Evergreen Valley High School 50-30. Head coach Sara Borelli and fourth-year varsity player senior Siri Adusumilli agree that the team was having an off day, and that its shooting was especially impaired.
"It was a very surreal moment," Borelli said. "It just felt like our team wasn't there. [That's] how I felt at the last CCS game against [EVHS]. Something was not right — like the stars weren't aligning."
Junior Varshini Peddinti's performance in the game, however, was especially exceptional. Out of the team's 30 total points, she scored 16, 12 of which she scored in the fourth quarter. Reflecting on the team's overall record, Borelli notes that different players "step up" in each game. 
"If you look at our book, it's several people scoring in every game consistently, and it was different people," Borelli said. "One game Siri stepped up. One game Vivian [Ong] stepped up. One game Varshini, Julianna [Kimm]. The key is having that camaraderie with their friends on and off the court. It's [not] like, 'Oh, I didn't get my points today
.' When you're on the court, you have to have each other's back. That was the mentality and they were so supportive of each other."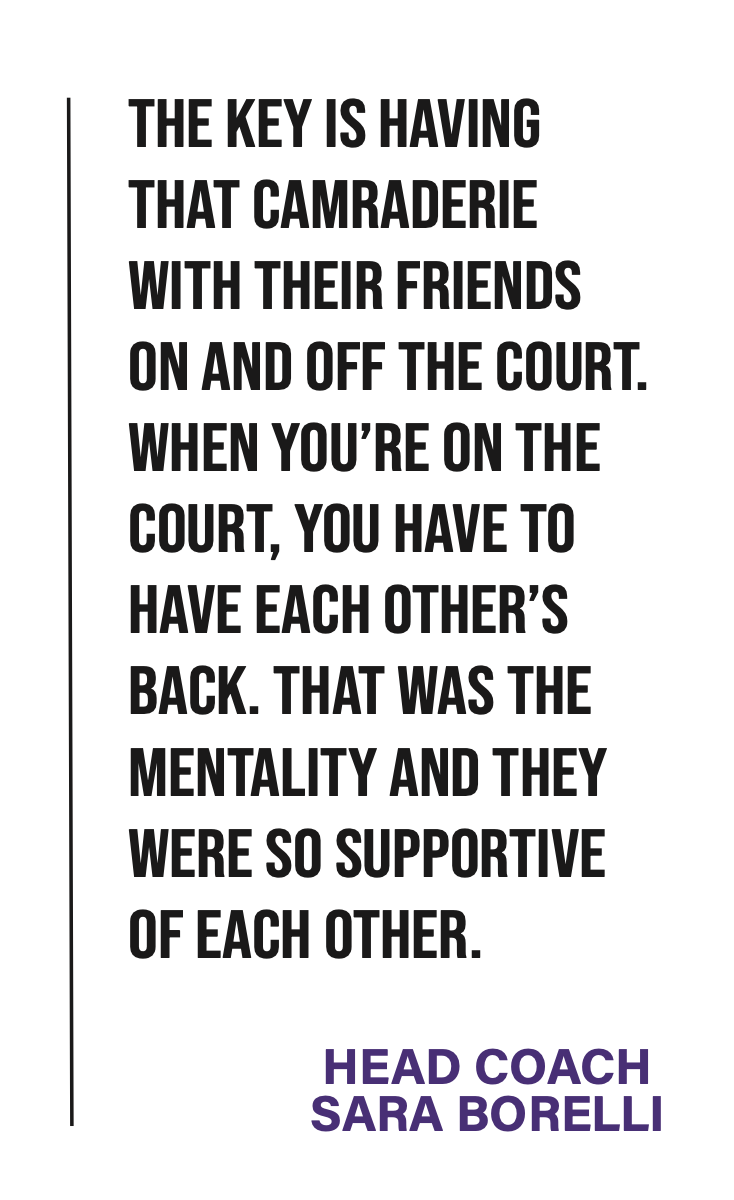 Borelli points to the team's game against North Salinas High School in the second round of CCS, where the team won 80-73 in overtime, as a time when the team chemistry allowed them to shine. After entering the fourth quarter up by 13 points, the team faced multiple fouls that Borelli described as illogical. However, Borelli says that after NSHS tied up the score and pushed the game into overtime seconds before the fourth quarter ended, the players "didn't put their heads down." Rather, they adopted a resilient mentality that led to their win. Adusumilli and Peddinti both agree that defeating NSHS was the highlight of their season.
"We went into overtime for the first time and it was the [loudest], craziest gym I've ever played in," Adusumilli said. "It was ear splitting. Three of my teammates had fouled out and we were just giving it our all and I've never felt so hyped and angry about anything in my life. We played as a team and it was one of the most defining games I've ever played in. It was the first time that [NSHS] lost in their home gym." 
Due to being league champions for two seasons in a row, MVHS will move up to the De Anza league from the El Camino league for the 2022-23 season, which is the upper division of the Santa Clara Valley Athletic League. This means that next year, the team will face stronger teams in league play, such as Homestead High School, which defeated EVHS in the CCS semifinals. Peddinti states that she is excited for the change, as it will allow the team to "bring what they've accomplished from previous seasons and channel that into a new environment and setting."
"I'm glad we are moving up," Peddinti said. "I think it will be challenging, but it's also a good way to test our new skills. Coming in as a senior, I know there's more expectations knowing it's my last year, but I'm definitely inspired and empowered from previous seniors and memories that I've had from games from previous seasons. I think we just have to have fun, play hard and just do what we love, which is to play basketball."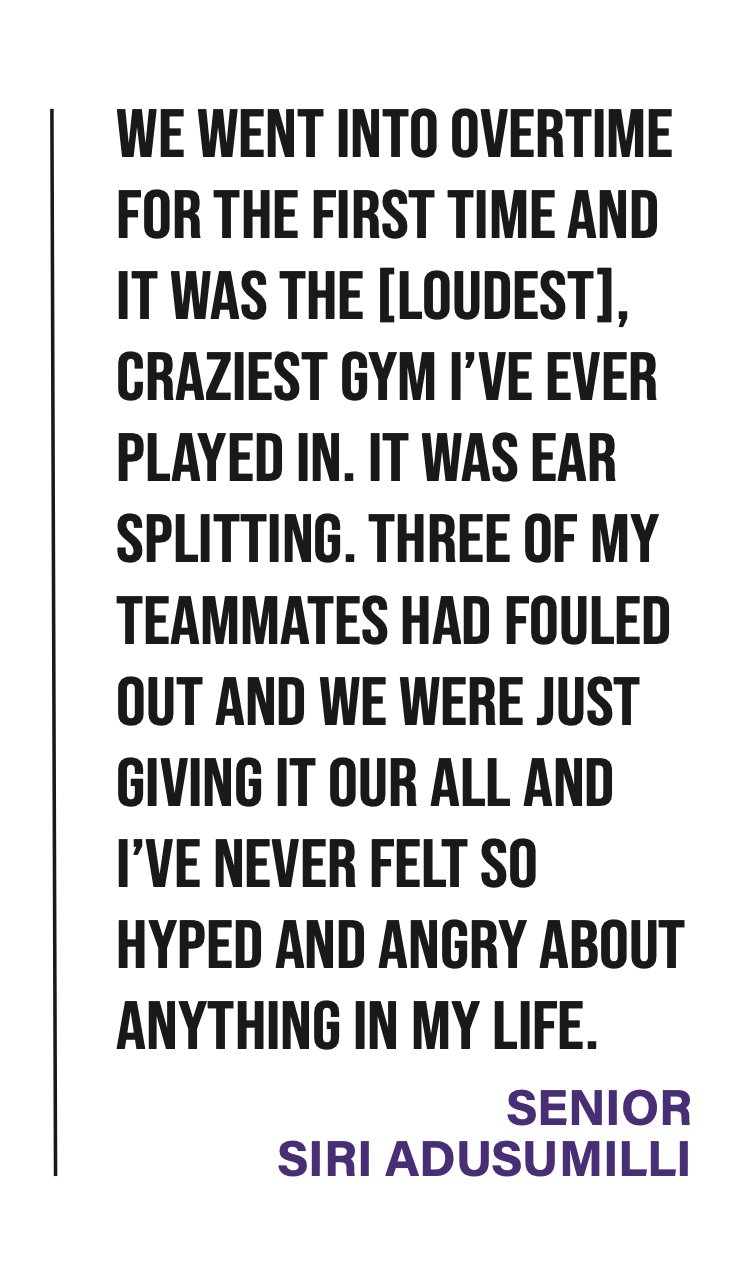 Borelli says that although the team's league championship and 11-1 record in the 2021 season should technically have been enough to move them up a league, the team's hard working mentality allowed them to repeat its success.
"[Not getting moved up] was disappointing," Borelli said. "But we were like, 'We'll [win in league] again.' So we did it again. I think what we need to address is the work ethic that these young ladies had because our preparation for the season actually started in September of 2020. We were out there practicing in 104 degree weather. I don't think people really recognize how much work these girls have put in to be as successful as we are."
Reflecting on the close of her four years on the varsity team, Adusumilli says that the team's CCS run and successful season overall was an unforgettable experience for her.
"You only get four years, and especially the pandemic made me realize how much you should value those moments," Adusumilli said. "Basketball is like a second family to me. I see them so much in the span of four months and my teammates, I can't imagine [not seeing] them. So I'd say cherish the people around you, because there's very few moments that it's quite that perfect. It's never gonna be that perfect again."
About the Writers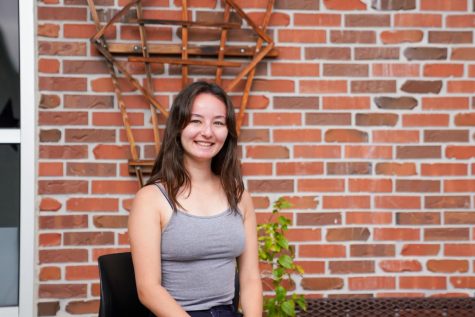 Anna Jerolimov, Co-Editor-in-Chief
Anna is currently a senior and a co-editor-in-chief for El Estoque. She also plays field hockey at MVHS. In her free time, she enjoys playing the piano, reading memoirs and taking photos of her family and friends.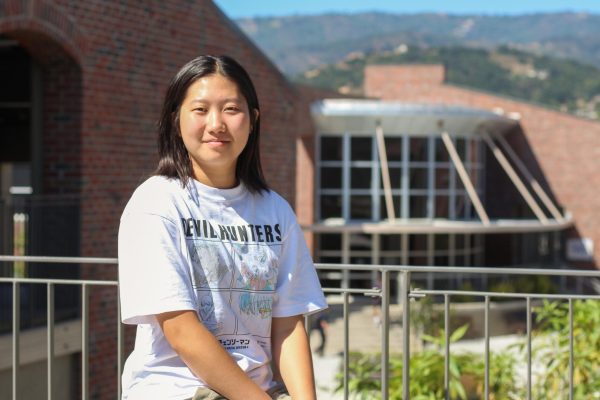 Michelle Zheng, Managing Editor
Michelle is currently a senior and a managing editor for El Estoque. In her free time, she likes to try new restaurants and watch dramas.