Cupertino's best boba destinations
El Estoque finds the best boba in Cupertino by visiting select establishments.
Cupertino is a major hub for Asian cuisine, especially bubble tea, also known as boba. Many of us grow up visiting and trying boba from various stores in the area. 
To find the best boba locations, El Estoque visited Hechaa, Tiger Sugar, Ten Ren, Teaspoon and Happy Lemon, reviewing each establishment's top-rated offerings and customer experience. Continue reading for a comprehensive look at each store.
$ = $4.00 – $5.50
$$ = $5.50 – $6.50
$$$ = $6.50 + 
Hechaa – $
Jasmine Milk Tea
7.5/10
The jasmine flavor was strong and fragrant and it didn't just taste like plain milk. After ordering 100% ice and sweetness, we concluded that both had a perfect balance — the sweetness did not overpower the drink, and the drink itself was chilled without being purely ice. On the other hand, the boba itself was slightly hard and was difficult to chew. 
The experience overall met the expected standards, but didn't go beyond them in any sense. While the drink was quite delicious, the store and its ambiance were neutral. The inside was pretty empty with just a couple tables and chairs. That being said, the service was relatively fast and took appropriate COVID-19 precautions.
Tiger Sugar, Cupertino – $$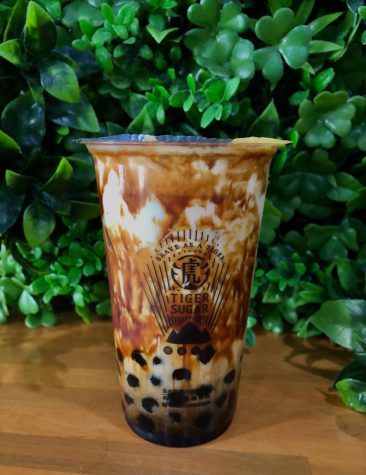 Black Sugar Boba Milk Tea w/ Cream Mousse
6.5/10
Upon first sip, the milk tea was quite bland and tasted similar to chocolate milk rather than brown sugar. With a 100% sweetness order, the brown sugar was overly sweet, overpowering any other flavors. The boba itself was served warm, which was a particularly nice touch. However, the boba was tough and difficult to chew.
The overall ambiance of Tiger Sugar was pleasant, with a friendly staff and decent service time. Additional COVID-19 precautions to ensure customer safety, like having hand sanitizers available and plexiglass between customers and employees, made for an even safer trip.
Ten Ren – $
Black Sugar Boba Milk Tea
8.5/10
From being perfectly sweetened, having soft, easy-to-chew boba pearls and rich flavors, the Black
 Sugar Boba Milk Tea was fantastic. 
The staff was kind and welcoming, with intimate knowledge of each product. After forgetting to add
boba pearls to the initial order, they replaced the drink immediately. Unfortunately, due to COVID-19, there was no indoor seating. However, there were other options to sit within Cupertino Village
Teaspoon – $$$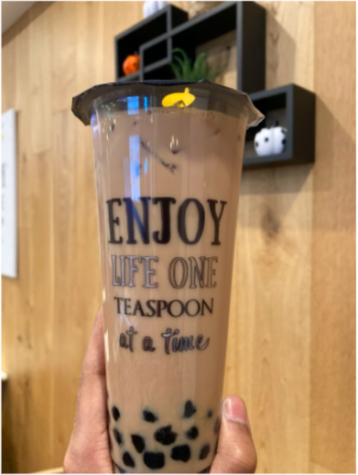 House Milk Tea
5.5/10
After the first sip, it is clear that Teaspoon features tea-flavors with limited sweetness. Although the tea tasted good, the aforementioned limited sweetness made the drink taste bland. 
However, Teaspoon sports a pleasant environment with a fantastic ambiance, wood paneling, a plant aesthetic and modern music. Their service was homely and compassionate, and employees notified customers once the drink was finished.
Happy Lemon – $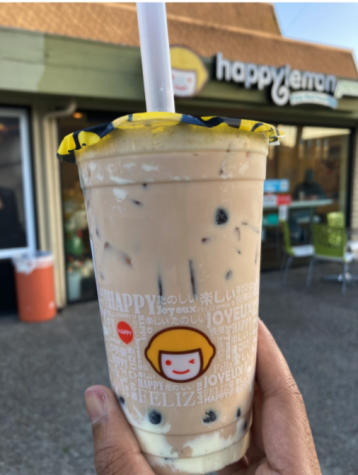 Boba Milk Tea w/ Puff Cream
7/10
The Puff Cream Boba Milk Tea was rich with a vanilla-like flavor added to the initial flavor of the cream. Despite this, the milk tea itself was relatively tasteless and unsweetened.
Happy Lemon fails in terms of providing memorable and unique boba flavors but does bring a satisfying experience for an outing with friends, having perfect seating options: tables inside or a green lawn outside for people to sit on. Inside, the open kitchen allows customers to see their drinks prepared, an added bonus.
After a successful taste tour of Cupertino's boba, El Estoque was able to conclude the top 3 boba locations in Cupertino. Be sure to visit Happy Lemon, Ten Ren, and Hechaa in Cupertino to satisfy your boba craving or for a fun time with friends.