Tracking COVID-19
Exploring the process of managing cases at MVHS
Every afternoon before she leaves her office for the day, MVHS Assistant Principal and COVID-19 Designee Sydney Fernandez sends an away message through her work email requesting people contacting her to be patient. According to Fernandez, a collection of emails usually awaits her when she returns the following day, either asking questions about COVID-19 or notifying her of a possible positive test result.
Though Assistant Principal Janice Chen was the COVID-19 designee for MVHS during the first semester, the role was assigned to Fernandez at the start of the second semester. Due to a rapid increase in cases, both designees have frequently worked on contact tracing. Fernandez believes that the biggest challenge of being the designee this semester has been learning and managing the role during an outbreak of Omicron cases.
"Last semester, we had six cases, now we're at 97 cases [as of Jan. 21]," Fernandez said. "So it's exploded since I took on the role, and I would say it's been challenging to keep up with the COVID work, let alone all of the other work. The biggest challenge was being able to be very responsive to all the new cases, and follow through on each of them. That has been very hard; it's just a lot of work and organization that is involved."
Fernandez is responsible for tracing the spread of COVID-19 on campus, a process that involves tracking individuals who are required to test weekly, such as band students, athletes playing indoor sports and staff members who are unvaccinated or not reporting their vaccination status. On the other hand, Fernandez also has the job of managing new cases of COVID as they arise.
Senior Neel Suresh tested positive for COVID-19 on Jan. 13, 2022 and remained positive for the full 10 day period.
"I think the school managed [my] case really well," Suresh said. "Right after I tested positive, they sent me an email and clearly detailed everything about what I needed to do. I feel like the process was really clean and well managed."
Similarly, senior Ishaan Gupta also tested positive on Dec. 26, 2021. Gupta felt that he was "taken care of" in terms of school, with specific instructions and his attendance being cleared for the next few days. Additionally, Gupta believes that his return to school was also smooth.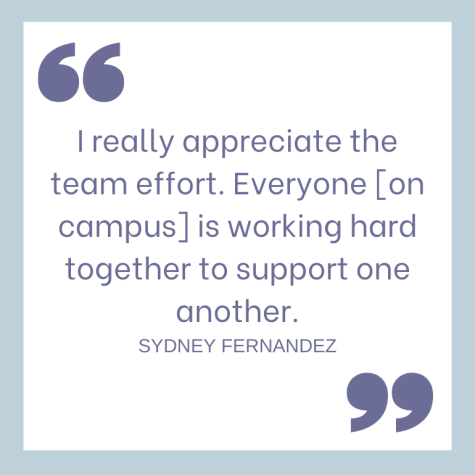 "My quarantine period definitely went well, and coming back went better than expected," Gupta said. "I was coming back having missed more than a week of school, but all my teachers were really understanding of the situation and helped me catch up to the rest of my class."
Fernandez provides new information regarding COVID cases to the district office, which is then shared with the Santa Clara County public health department to help in their tracking as well. She also logs cases herself and relays information to MVHS parents, students and staff through email. 
"[It's challenging] managing those different layers and then trying to stay up with all the other work that I typically do," Fernandez said. "The first two weeks, I was getting a ton of phone calls from parents and community members. So just fielding questions and reassuring people, I'm also trying to help with that."
Fernandez acknowledges that she has not received the same training that others in administration might have, so she describes her experience as "constantly learning." Despite the challenges of her role, she believes that the support she has received from her colleagues as well as the community has helped her greatly. 
"The huge uptick in cases has made me really appreciate [the] team effort I feel on campus," Fernandez said. "Everyone is really working hard together to support one another in terms of teachers being flexible with students who are absent. And in terms of this team, because I've had to do so much COVID stuff my co-workers have really helped me with other stuff. And I'm just so appreciative of all of the help that we are giving each other."