Rapping provides escape
A look into the FUHSD rapping scene
I'm just a kid who wants do this as a profession in the future, and probably having something as a backup if this fails.
In a pandemic-ridden 2021, Fremont High School sophomore Swayam Rayanker created a new personality, taking on the name YNR Sway as an Indian rapper focused on carrying the Indian community beyond its academic and STEM-centric stereotypes. Starting out with a phone and an autotune voice editor, Sway rapped his way into prominence within the FUHSD community. 
So tell me more about your title name, YNR Sway. What does it mean?
"Officially it was supposed to be young and reckless, but then I took it because of the brand, Young and Reckless, but apparently when I was watching these YouTube videos I found out that YNR was apparently a gang in Florida, which I was not affiliated with at all," Sway said. "So I thought instead of Young and Reckless, I chose Young and Restless, because I don't stop."
After breaking up with his then girlfriend, Sway premiered his first-ever song "Cold Heart" on YouTube. With 1,400 views, it became the most viewed video on his channel to this day. Empowered by the positive reception, he went on to release "Tokyo Drift," another autotune single which was met with such a negative response that Sway threatened to delete his channel if people wouldn't support the video. But with his diligent supporters leaving positive comments and providing him with the encouragement he needed to persevere, Sway continued making new singles and releasing more albums over the next seven months.
A mixtape and debut album later, Sway continues to rap due to his previous successes. He shoots for mainstream recognition and the popularity of his idols like NLE Choppa and Juice WRLD, with an end goal of signing onto a major record label. But Sway recognizes the risk he's taking by pursuing a music career, so he first wants to complete high school and college and have a stable enough income to support his goal. While that seems to be a multi-year process, he's already started to make steps toward his dream.
"Basically, I just do my [own thing], what I have right now or what I have in the future," Sway said. "There is zero cap in my s—. What I have right now is what I want in the future."
On the MVHS campus, another rapper is growing a following. Initially starting off as a YouTuber, sophomore Ethan Wang gained traction on his debut single, "Circles Around." Posting the video on his YouTube channel, Wang's debut currently holds over 2,100 views and is the most viewed video on his account. Later, he would publish his first-ever music video for a remix of his hit. 
"I like to rap about my life and problems I have," Wang said. "I also like rapping about circles around, because it's really easy."
Wang started his career three years ago on Soundcloud and Spotify under the name Ethanerino, where he continues to publish his latest singles and records. As his career has progressed, he's found a clear objective in finding recognition for his art, as well as a focus on life and its problems in his lyrics. 
"My goal is to become more popular and make music and be inspired by more people, so I can do better in what I do," Wang said. "I like hearing advice from other people, or what I should do with myself.."
Wang often takes criticism around his muffled voice and refrains from putting any thought to it, instead taking comfort in his open supporters at MVHS instead of focusing on the vulnerability that musical criticism brings. Wang finds people to be entitled to their own opinions, and states that the hate makes him "do better." 
"I'm looking forward to getting signed to a record label," Wang said. "Or maybe meeting more people in the music community."
Senior Arune Sarma's rapping origins actually began with an audience, when he rapped a verse during a dance portion at the 2019 Homecoming skit. 
"Someone, in 10th grade, asked me for my homecoming skit can you rap for our skit," Sarma said. "I'd never done anything like this before, and I was like, 'OK, sure,' and it just became a thing."
Since then, Sarma has been expanding his horizons in the music scene by starting a group with four other students known as the Cupertino Mafia, where they created energetic and comedic songs. 
"How this whole thing started was when we were at school one day and it was at lunch or something, and OK you know what we should do, we should create this group and call it Cupertino Mafia," Sarma said. "It was five people and we had some dudes who made beats, and we just got together one day and recorded just one random song, which is actually pretty decent, and that was the start of it, but it was always something for fun, you know."
By the beginning of the lockdown however, Sarma had begun to split away from this group to collaborate with fellow friend and producer Joshua Kim, aka JMoney, with whom he would release his first mixtape titled "Quarantine Tapes." 
"I was Sarma, and people still do call me that, but it was really just in the height of the quarantine time," Sarma said. "[Music] was something you could attain when you really couldn't attain anything, because in quarantine you couldn't do anything." 
After his experiences rapping with Cupertino Mafia and JMoney, Sarma concludes that rapping comes with steps forward and backward, and instead focuses on the fun that comes with the journey of channeling the narrative he wishes to tell in each of his works, instead of focusing on trivial aspects like angst.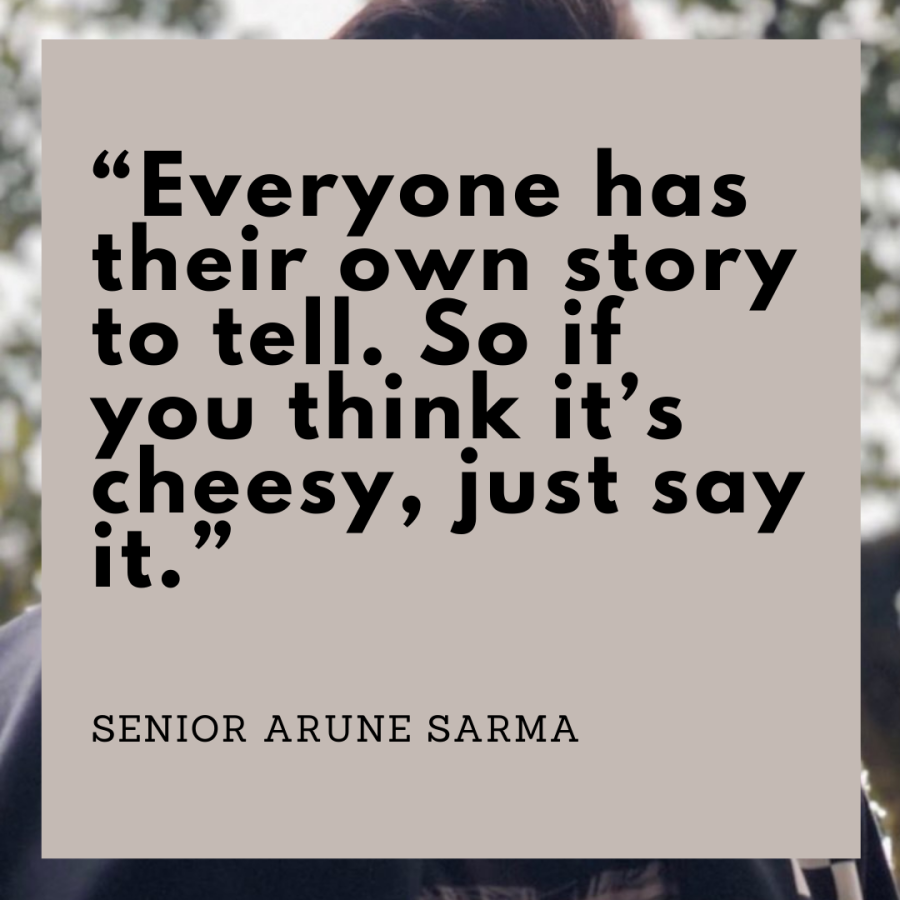 "I was driven with a goal, you know," Sarma said. "Just producing something. It wasn't necessarily to be the best — I was trying to make the best thing I could make, but it wasn't supposed to be this super well-polished [piece], but a fun expression of all of us."
Following the release of Quarantine tapes however, Sarma's interest in making music waned, and he eventually came to stop altogether. While Sarma admits his music making skills were not up to par with mainstream appeal, he also notes that it was enough to make his experience    enjoyable. Looking back, Sarma finds confidence in his music, noting the unique lessons he learned from those times.   
"You think about the stuff you make and you start thinking it's starting to sound cheesy," Sarma said. "But then reflecting on it with my mind now, I think everyone really has a story to tell. It can be anything, but everyone has their own story to tell. So if you think it's cheesy, just say it."