TikTok challenges influence crime in school communities
Examining social media's role in school crimes
Across the nation, threats to initiate school shootings and bombings circulated on TikTok the week of Dec. 17, 2021. As a popular social media platform, TikTok enabled the spread of this trend through its "for you" algorithm and video sharing capabilities with more than 1 billion active users. Although this TikTok "challenge" originally encouraged students to skip school that Friday, it evolved to threats of students bringing weapons to school and committing violent acts. Some of these TikTok posts attempted to spread awareness about this threat and encouraged students to stay home, while others threatened to instigate the violence. Although the credibility of these claims was unclear, the severity of the threat prompted schools throughout the U.S. to respond.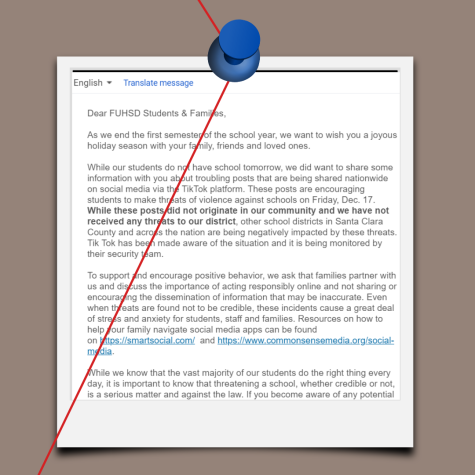 On Thursday, Dec. 16, the day before the threatened attacks, coordinator of communications Rachel Zlotziver sent a district wide email addressing the TikTok challenge. The email described the negative impact of posting threats, including fake ones, on social media and encouraged families to discuss the importance of connecting on social media in a safe way. Even though students in the FUHSD did not have school on Dec. 17, Deputy Superintendent Graham Clark explains that the district felt it was still important to spread awareness about the threat to the school community.
"When we get a threat like that, we have to decide [if it's] a serious and specific threat about one of our campuses. If you have a location and a time, that's a little more concerning to us [than] more of a general threat," Clark said. "And we thought it was something because it was getting a lot of media attention, but we didn't really think it was a serious threat to our campuses."
Although MVHS students were not on campus on Dec. 17, nearby middle and elementary schools did have in-person classes on that day. After receiving a message from the Cupertino Union School District school district about the concerning TikTok challenge, Cathy Chen, whose daughter attends Kennedy Middle School, recalls discussing with other parents whether or not the situation was dangerous enough to keep her daughter home. In the end, she decided that it was safe for her daughter to attend school that day.
"There's so many days of school, you don't even know what's going to happen on a regular day. I think the day when they announce something — when everyone is [on] high alert is probably the safest day," Chen said. "I did have a talk with my daughter and said, if anything happened, just be alert and know where to run, where to hide. But [I wasn't going to] have [her] stay at home just because we're afraid that something might happen."
Chen points out that harmful TikTok trends existed long before the one on Dec. 17 and cites examples such as the "Slap a Teacher" and "Devious Licks" challenges, which encouraged students to commit violence and vandalize school property. She believes that social media's growing presence has made online influence unavoidable, especially for students as they enter high school. Instead of sheltering kids from them, she emphasizes the importance of trying to understand and connect with students.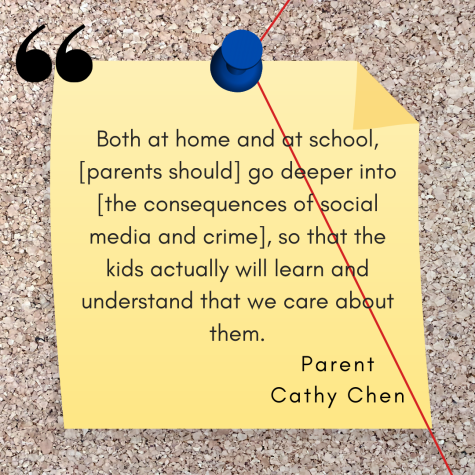 "I think the better way to do it is to really jump into that world with them," Chen said. "If I hear something, I usually ask my kid, 'Hey, I heard about this. What do you know about it?' And if the parents can show less judgment, or really understand what's going on, then the kids will be more willing to share with you. Both at home and at school, they can go deeper into [the consequences of social media and crime], so that the kids actually will learn and understand that we care about them."
Clark also notes that there are also limitations to the district's involvement in activity on social media. Specifically, administrators do not monitor activity on social media — instead, they rely on students to report it.
"Phones are people's private things," Clark said. "As administrators, we certainly want to respect people's privacy, so if we think something's happened, there has to be a nexus between what's happening [and] what's reported to us. We don't encourage school employees necessarily to be actively on students' social media pages, but they will report to us something's going on and they will show us that and then we can take it from there."
Another limitation of the district's ability to regulate activity and crime on social media is due to the parties involved in the conflict. According to Clark, school administrators only have jurisdiction over current students at their school, complicating the situation if the incident involves recent graduates or students from other schools involved.
"As a school official administrator, you have a lot of authority with the students in that school to maintain a safe educational environment," Clark said. "But as soon as you start involving people that are outside the school, you as a school administrator don't have very much authority over those groups, you can really only impact the people that are students at your school. So as a school administrator, you have to turn that over to the police or you have to involve those other schools because you can only really deal with the kids on your own site."
Aside from instigating violence, social media can also be used to find evidence for crimes or alert community members on a threat. Thus, Chen believes that social media is a neutral tool that can be positive or negative depending on its usage.
"When you have this easy way to connect with people, then it really can go either way. Whether it is to help people, like through a neighborhood website, or organizing crime," Chen said. "It definitely has two sides. Social media is just a vehicle; it's a neutral thing. It [depends on] the people that use it, and how they use it."
Similarly, junior Anjali Sharma agrees that social media can be used positively against criminal activity. She recalls how she saw instances of evidence resurfacing on social media while crime cases were being investigated.
"[Social media] can help positively because it raises awareness about the cases that some people might not know about," Sharma said. "I have seen news articles where people try to find evidence [on Tik Tok for] prominent cases [that] are happening. And that's when people started realizing the importance of social media and how it can affect cases in a major way."
Because of the wealth of information on social media sites, it can be an important tool in preventing crime. Clark advises students to report anything suspicious to authority figures at school immediately.
"A good phrase that they recommend is 'see something, say something,'" Clark said. "If you see something on social media, and it's concerning, you should report it to a school official — it could be a teacher, a guidance counselor, a school administrator. Students are in some cases the first to know, and if somebody is seriously being harassed, that's an important thing … If somebody is boasting to a lot of students about doing something violent on campus, then reporting the student as soon as you can, that's helpful."