Skaters glide on ice
Figure skaters reflect on their journey in the rink
Frosty wind from her teammate's spin brushes past then 7th grader Sophia Chen's face as she begins to gain momentum on the ice for her next spin jump. After months of team training, off-ice practices and strength conditioning, her team competed in Ice Sports Industry Worlds in Minneapolis, Minnesota — Sophia's first competition as a synchronized skater. 
"My feelings of skating have been very consistent since I started," now senior Sophia said. "The exhilaration and joy I feel when I'm on the ice has honestly remained the same since when I first started the sport. There was just some connection I had to the ice, and I never wanted to step off as soon as I stepped onto it."
When she was younger, Sophia recalls being envious of her friends who were allowed to host their birthday parties at the ice rink, often begging her parents to let her do the same. At 7 years old when she convinced her mom to sign her up for classes, she trained as a solo skater.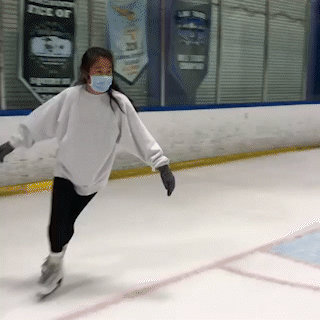 However, Sophia endured an injury on her right foot that hindered her ability to do jumps with more than one rotation when she was 11 years old. Understanding that synchronized skating would be less physically demanding than the heightened pressure she faced as a solo skater, she decided to join a team in San Jose. Since synchronized skating places more emphasis on team elements, Sophia describes the change as "less of a challenge."   
To improve her skating techniques, Sophia dedicates 16 hours per week practicing at the rink, a level of commitment that has steadily increased since the beginning of her skating journey. Being left-footed also presented various challenges with choreography when Sophia joined synchronized skating, as the sport is dominated by right-footed skaters. She had to relearn figure skating from the start, which she describes as a "difficult transition" since she had to force her body to rotate in opposite directions and spin on a different foot.
In addition to Sophia, junior Yvonne Chen (no relation) also enjoys figure skating every week. Yvonne practices at the Cupertino Ice Center recreationally, which she started in fifth grade after watching the U.S. Figure Skating Championships. In hopes of refining her moves, especially her spins, she originally practiced about four times a week, as she is "really passionate" about the sport. Now, since she is busier with school, she goes to the rink once a week.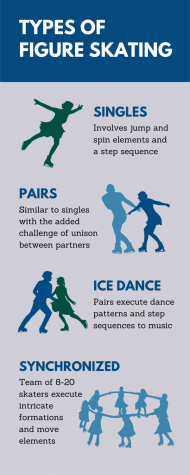 "When you're skating, the air, the wind, I like the feeling of being in the ice rink and being in the cold," Yvonne said. "It's really satisfying after you're able to do a bunch of moves. Whenever I'm struggling with being able to get it right and then doing it perfectly, it's a really nice feeling."
Sophomore Jasmine Tjon agrees that mastering a skill is a "really big step" because it is often difficult to keep a positive mindset while practicing the same skill over and over. Since Tjon is a solo skater, she describes the differences between individual and team sports, sharing that it was "challenging to try to find how [she] could make [herself] not depend on others." However, when she started figure skating in fifth grade, she immediately felt connected to the sport. 
"It is my way of expressing myself and releasing all my stress," Tjon said. "When you're moving around, you don't really think — you are just moving. It's not like walking [where] you have to put effort into taking steps — you [glide across the ice] with just one step."
Tjon shares that seeing others on social media executing complex tricks makes her more intrigued to continue the sport. Likewise, Sophia mentions that figure skating was the first sport that she wanted to pursue.
"Synchronized skating is my passion," Sophia said. "I've practically grown up with a lot of my teammates too, so I think our bond, the team camaraderie is very close. We all trust one another. Our coaches used to say, it doesn't matter how good an individual skater is, you have to work together as a team. And I think the fact that my teammates and I trust each other both on and off the ice is basically the foundation of our success as a team."