'An Evening with Silk Sonic' shoots high with honeyed nostalgia
Shimmering flares of soul and funk enthralls in this Bruno Mars and Anderson .Paak debut
Digestible two to three minute singles with a predictable genre-defining sound are the hallmark of mainstream works built for the masses, riding the high tides of popular success to millions of dollars and even more streams. These songs find themselves at the top of the charts, a tour-ready piece that a whole crowd can recite with ease, the very defining quality of "pop music" that makes invested listeners avoid it like the plague. But sometimes, a mainstream work shines brighter than the rest — so bright that not even hostile music critics can ignore the impressive presentation of its concept and theme. 
This idea is what makes "An Evening with Silk Sonic" such an extraordinary project. The Nov. 12 debut released by music duo Silk Sonic combines two forces from different ends of the music industry: rising underground multi-instrumentalist Anderson .Paak (Brandon Paak Anderson) and prominent singer-songwriter Bruno Mars (Peter Gene Hernandez). Together, they create something that is comfortably within the confines of 'mass' music, yet also a hearty and rich exploration of both Paak's and Mars's roots. The music travels through time to integrate the old R&B swagger and recreate the lively settings of old 60s soul performances. Catchy rhythms and secular blues, staples of a once prominent era, are brought to the modern stage with stunning clarity. 
Each of the nine tracks in this record wears its colorful suit in style; elements of funk and soul are paired with the duo's impeccable chemistry, allowing pompous energy to permeate throughout.; There are punchy drums and crunchy basslines, hazy harmonies and loud falsettos, all backed up by a string section to flesh out lively choruses. 
The opener, "Silk Sonic Intro" is an immediate teaser of the duo's prowess. Following a vocal chorus ("Who y'all came to see tonight?/Who gon' get the ladies feelin' somethin'?") paired with isolated handclaps, the instrumental crescendos into a show introduction reminiscent of an old 60s concert presentation. Over this, soul legend Bootsy Collins gives a charismatic entrance to the band, as the trumpets and guitar chords blare out high into the void:
The band then starts its performance of "Leave The Door Open," the first of the three teasers released for this record. With delightful vocals  given by Paak, the track follows Mars singing an emotional chorus over a detailed instrumental layering. While Mars is known for his vocally dramatic performances, they're often unsupported by instrumental choruses. On this track however, Paak's instrumental prowess is the missing puzzle piece that makes Mars's performance whole. Staccato chords form a bond with a soaring string section that dances in the background of the chorus, backed up by crisp drum licks by .Paak. Over this, Mars's "Tell me that you're comin' through" chorus rises higher and higher, and .Paak's snare rolls come alongside. 
While Mars and .Paak brought in an infectious energy for "Leave The Door Open,", their musicality stretches beyond such a bright theme — the duo dips its toes into funk and smooth balladry as well. "Fly As Me" introduces its funk flavours with a bass lick into an instrumental breath, where .Paak and Mars's proclamations of, "I'll bring that fire and desire, baby / All you gotta do is meet me halfway there" is an impassioned complement to the high octane attitude  under the duo's "I deserve to be/With somebody as fly as me" chorus. More funk energy is found in the sassy "777", where .Paak and Mars again show their electrifying chemistry with their various vocal tunings and tradeoffs completing each other with each transition. A massive instrumental break follows the loud "Let's Go!" chorus from the duo with a loud and voracious cheer, signaling its celebratory attitude and high energy pace.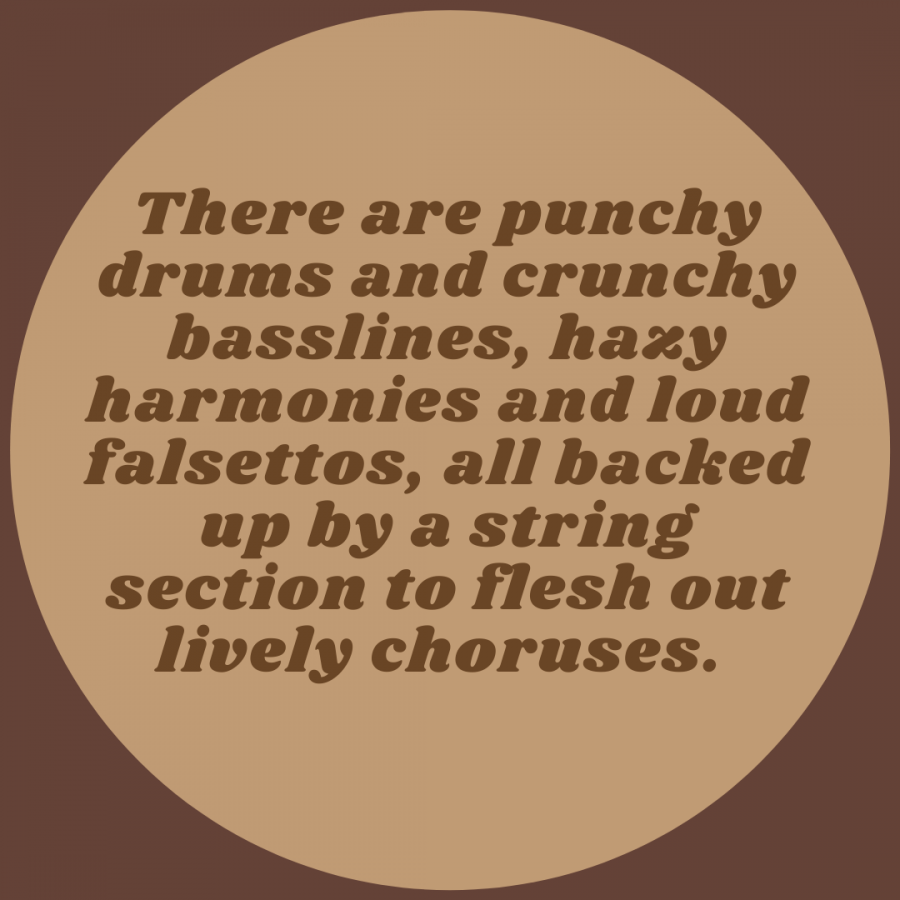 The finale "Blast Off" is the most extravagant of the already grandiose record. Putting the strings at a more prominent position on the record, .Paak and Mars elevate themselves above the stratosphere with the instrumentals and lyricism ("Oh, let's tiptoe to a magical place/Blast off and kiss the moon tonight"), unifying their vocal performances on the choruses with wispy tones. Following their announcement of "It's time to take this party up and beyond," the song drops its drums and instead adopts a more ethereal quality. Chords become thicker and denser, with a piano summoning heavier notes with a luxurious quality. Mars harmonizes over a soft base and chords, followed by him echoing "can we take it higher?" into the void as the song changes to a higher pitch with each rendition. Along with this, a string section provides a counter melody to these vocals, glittering with symbol rolls and wind chimes, becoming more and more prominent the higher Mars goes. After a quick word by Collins ("All the way from the stratosphere / Sendin' love from up above / Happy trails, baba"), the instrumental glitters away. 
"An Evening With Silk Sonic" represents a combination of both mainstream appeal as well as underground elements. This amalgamation gives birth to a record that pours out its heart for soul and funk, refining and bottling its essence into a tight 31-minute spectacle that never ceases to showcase its love. The chemistry between the Mars and .Paak is shown to great levels in these nine tracks, and are enough to set this record as one of the best albums released in 2021. 
4.5/5