Bringing out the child in everyone
Reflecting on how pointless the socially perceived age cut-off of Halloween is
A
s I passed through the muted hallways of the A building five days before Halloween during my sophomore year, I imagined the Halloween chatter emanating from the classrooms I weaved in and out of while delivering passes from the office.
"What costume are you wearing tonight?"
"Thursday is going to be great!"
Despite my expectations, this time the chatter was different.
"Trick-or-treating is for kids bro."
"Yeah, are you still a kid too?"
That was the sound of my heart, and my confidence escaping through my throat. My surroundings turned into a blurry smudge of watercolor, and everything sounded like I was six feet underwater as I walked away from the group of students. What did I just hear?
I felt like a scrap of seaweed after that, drifting to and from the rest of the day's classes. I just couldn't stop thinking about the conversations I had just heard. I could picture myself as a moody, five-foot-tall 15-year-old, Cat in the Hat — my planned costume for that year — voice cracking as I asked for candy amongst skeptical and notably younger Cinderellas and Harry Potters. Yeah, those people were right. What the heck was I thinking, even considering still trick-or-treating?
That year, I was so close to losing my childhood early … if not for a single tutorial.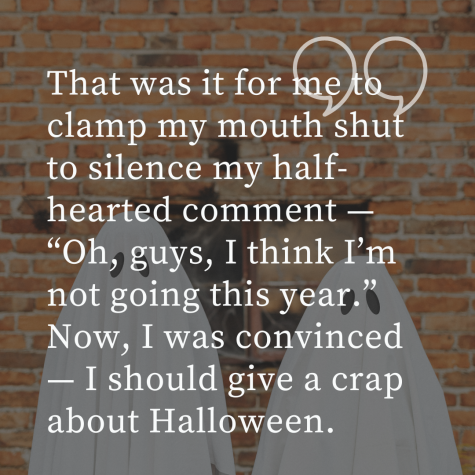 My friends were having an animated discussion about trick-or-treating, and it was the passion and anticipation I could feel radiating from my friends that sold it. Watching them, the words from the passing students I'd heard earlier just faded into background chatter. The rapid flurry of hand gestures and the breathless tone in all their voices just elevated the detail they were putting into cosplay, makeup, clothing, props, and that was it for me to clamp my mouth shut to silence my half-hearted comment — "Oh, guys, I think I'm not going this year." Now, I was convinced — I should give a crap about Halloween.
The truth is, it's not about age, but about passion and enjoyment.
Halloween is an event that is entirely about socializing — an opportunity for everyone to express their creativity through costumes and play around with their imagination. Oct. 31 has a way of bringing out the child in everyone.
Somehow norms have shifted to dictate that it is abnormal to enjoy the magic of childhood and trick-or-treating when a teenager. The encroaching fear of taxing responsibilities and burdens in the adult years causes teenagers to fall into the unfortunate fixed mindset that puts future obligations above all.
I've also noticed a misconception of teenagers celebrating Halloween that seems to add to this unofficial mandate that trick-or-treating is off limits for teenagers. Teens are apparently always bullying the younger children, stealing candy, toilet-papering houses, putting on low-effort costumes for easy candy and overall just being a drag to the Halloween spirit.
And it's that Halloween spirit that matters the most — there's a pretty big difference between giving out candy to some moody teen demanding some Reese's Peanut Butter Cups and disrespecting hospitality to a polite and cheerful group of seniors rocking some unique costumes. Age shouldn't even be a part of it — my friends and I make the effort to add to the spirit of Halloween with costumes worth looking at rather than taking away from the highlight of Oct. 31 every year. That is worth candy.
Look at it from the other side — teenagers have it hard. Climate change, financial worries, bullying, exams, college, jobs are all part of our inevitable future, sometimes even the present, and it definitely keeps me awake at night. The adult years bear down rapidly, especially as the end of first semester as a senior approaches. So why shouldn't we enjoy Halloween, and have a night to experience being kids again?
Now, the answer to this million dollar question relies upon two choices: if I would rather sit at home on Sunday stressing over supplementary essays and deadlines this year, or partake in the spooky season with my friends getting candy and showing off our hot digs. To me, it's a no-brainer.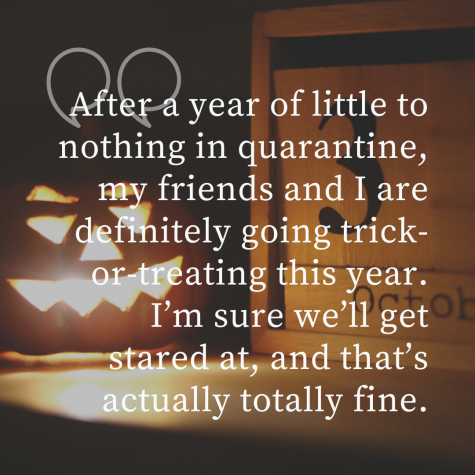 After a year of little to nothing in quarantine, my friends and I are definitely going trick-or-treating this year. I'm sure we'll get stared at, and that's totally fine. What'll be drawing their attention will be the fabulous costumes that my friends and I have spent a lot of time picking out, rather than inconsequential characteristics like our height.
Oct. 31 for me will always mean enjoying the quiet chatter of other trick-or-treaters in the night, making memories with friends through the neighborhoods, getting a nice haul of Tootsie Rolls at the end, and overall being a kid again. So, skipping trick-or-treating? Not a chance.