Bike lane separation on McClellan Road named "project of the year"
Silicon Valley Chapter of the American Public Works Society calls the construction "a key step in combating climate change"
The City of Cupertino announced in a press release that phase two of the Separated Bikeway Project, a multi-part project that installed barriers for the bike lane on McClellan Road, was named "Project of the Year"  by the Silicon Valley Chapter of the American Public Works Society on Oct. 21, 2021.
"I feel good about the award," Mayor Darcy Paul said in an email. "While you don't want to get caught up in a cycle of seeking affirmation for its own sake, it's also nice to recognize the positive things that are happening in the community. Overall, we're a community of people getting things done and so it's nice to have positive feedback."
The project has two phases — phase one, which began on May 20, 2019, included the construction of barriers that physically separated bikers and motor vehicles on McClellan Road from Imperial Avenue to Stelling Road. 
"The McClellan Road Separated Bikeways Project implemented much needed accommodations to provide safe alternatives to vehicular travel on a primary east-west connector which connects City Hall, the library, and several schools," APWA Silicon Valley Chapter President Daniel Gonzales said in the press release. "The project reinforces the City's commitment to promotion of mode shift, a key step in combating climate change."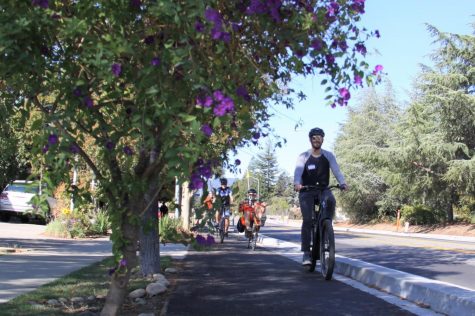 Phase two aims to increase the scope of the project by adding more separated bike lanes between Stelling Road and De Anza Boulevard, and along Pacifica Drive between De Anza Boulevard and Torre Avenue.
The first phase was completed last year and the ongoing second phase won the award in the "under $2 million" category. 
"The safety of our community remains the City Council's top priority," Paul said in the press release. "The installation of this 3,500-foot-long protected bikeway creates a safer environment for our students, families and residents, particularly those who bike to school and work. Working with our Public Works Department, which completed this project in less than a year from start of design to completion of construction, the City Council will continue to adhere to Cupertino values and ensure that safe infrastructure is built in an efficient manner."
The project created a physical barrier between the car traffic and bikers using a curb and raised bars with reflective strips. In order to do this, roadside car parking was prohibited after the construction was finished, but Paul believes that the city has a positive mindset and responded appropriately. 
"For the City of Cupertino, we have a lot of good things happening," Paul said. "We have an inherent sense of wanting accountability. This comes from multiple sources, and to the extent that people get impatient and want to take shortcuts, or operate more exclusively on principles of self-gain, this is a community that on the whole sees through these attempts. I'd say that the award is well-deserved and much appreciated. At the same time, I think what it means is that we'll keep doing what we're doing well, and that we'll take up invitations to share best practices."