Opting out of queer literature
FUHSD Board of Trustees host a study session on excusing students from novels with LGBTQ+ themes
The FUHSD Board of Trustees held a panel discussion in the MVHS Student Union and over Zoom on Sept. 21, 2021 regarding the opt-out policy for the curriculum in literature classes. This opt-out policy, as outlined by the California School Boards Association, states, "upon written request of a parent/guardian, a student shall be excused from an assignment dealing with basic instructional materials (e.g. core literature selection) when the assignment conflicts with religion, beliefs, or personal moral conviction."
According to FUHSD associate superintendent Tom Avvakumovits, within the district, the policy has been invoked a handful times to opt students out of queer literature ─ namely Aristotle and Dante Discover the Secrets of the Universe, a coming-of-an-age novel read in freshman Literature and Writing that explores the struggles of two teenage boys with their racial/ethnic identity and sexuality. Panel attendees, such CHS Principal Kami Tomberlain, expressed how parents who have chosen to opt their children out of this book or other queer literature believe students are too young to be learning about LGBTQ+ experiences.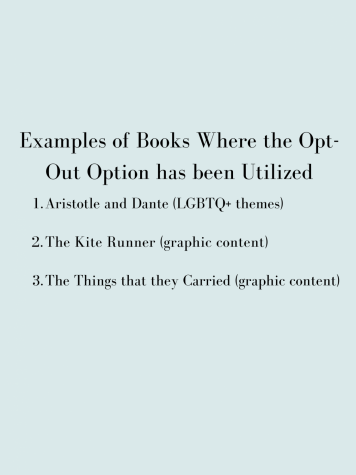 MVHS Principal Ben Clausnitzer says that the first step school administration takes when the opt-out policy is invoked is to have a meeting with the parents, teacher and English Department Lead to understand why the family is requesting to be excused from the text. The parents are asked to read the novel themselves, so that they can engage in conversation about reasons behind why they want to opt out.   
If a student proceeds with the opt-out after dialogue with the school principal, they receive an alternate assignment created by their English teacher or a dialectical journal developed by  FUHSD English Curriculum Support Lead Greg Merrick. Clausnitzer notes that students who opt out of core literature selection will not receive the same quality of education as their peers, as they will be isolated from the classroom environment. 
After the panel discussed background information on the opt-out policy, the floor was opened to members of the FUHSD community to provide their input on the policy and how the Board could change or remove it so it couldn't be invoked for discriminatory purposes.
MVHS English Department Lead Julia Sattherthwaite expressed that invoking the opt-out policy harms not only queer individuals by indirectly supporting the bias they face, but the student who is being opted out as they lose exposure to content that explores the experiences of queer individuals. Furthermore, she said that the whole class will be harmed since they will not have that student's perspective in class discussions. 
Satterthwaite believes that one way to ensure the policy isn't being used in a discriminatory way is to change the policy wording to clearly state that students cannot opt out of queer literature if their only reason is because it discusses LGBTQ+ experiences.   
FUHSD students also expressed their objection to the opt-out policy, including junior Angelica Wang and senior Rose Yang, who voiced their thoughts on why this option is harmful to the LGBTQ+ community.
"We can't equate books with LGBTQ+ characters … [to] books that may [trigger] students' trauma ─ that's extremely homophobic," Wang said. "We shouldn't be permitting people to opt out because of their own personal beliefs, [because] these books play a pivotal part in helping young people open their minds and understand the struggles that queer people face."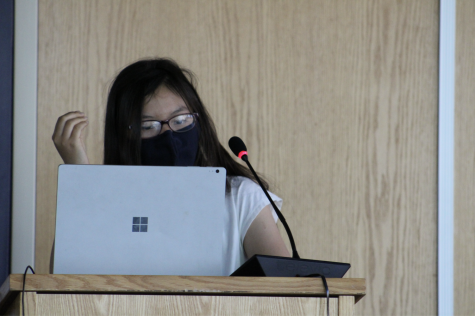 Similarly, Yang questioned the role the board and district administration plays in protecting students and supporting diversity and equity, claiming the leadership been incompetent in protecting students.
"The right of the queer community to exist is not one that is up for discussion, and personal beliefs do not change this," Yang said. "The school board has policies in place for protecting homophobes ─ where are the policies protecting the victims of this homophobia? Where are the policies protecting our queer students?"
Board President Bill Wilson concluded the meeting confirming that the board will further discuss and review this policy, as well as the wording surrounding it, in order to maintain diversity of opinions and culture as well as maintain a safe environment within the district. 
"The wording on the current policy needs work," board member Jeff Moe said. "It's too inviting, [and] begging the questions. That needs to be adjusted in one of the ways that was discussed [today]."