'Shang-Chi and the Legend of the Ten Rings' is a refreshing entry for a new phase of Marvel hits
The newest addition to the MCU successfully tests the waters of classic martial arts flicks
A
n exploration of a new corner of the Marvel Cinematic Universe, "Shang-Chi and the Legend of the Ten Rings" is the MCU's origin story of the superhero of the same name. Released on Aug. 3 and directed by Destin Daniel Cretton, the film follows Shang-Chi (Simu Liu) and his friend Katy (Awkwafina) as he finds himself confronting the past he left behind in the Ten Rings Organization, led by his father Xu Wenwu (Tony Leung).
The fight choreography in "Shang-Chi" is a deviation from the basic combat seen in previous MCU titles, instead utilizing intricate martial arts set pieces with grace and skill reminiscent of 80s Bruce Lee films. The camera angles and raw skill displayed during a brawl on a moving bus and a skirmish on skyscraper scaffolding are particularly compelling.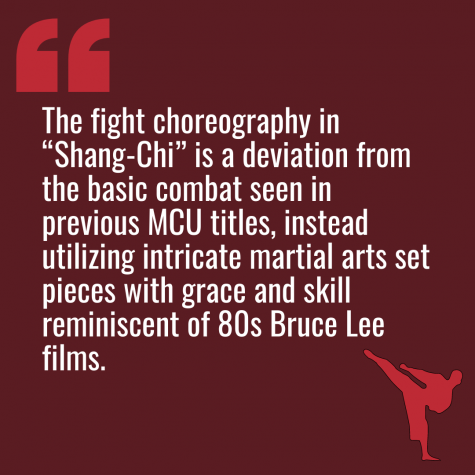 The cast performances of "Shang-Chi and the Legend of the Ten Rings" shine throughout the plot. Liu's charisma is ever-present throughout the film, and Awkwafina's performance as Katy serves not only as a refreshing source of humor but also as an anchor for Shang-Chi.
On the other hand, Leung's portrayal of Wenwu may be the best villain in the MCU since Michael B. Jordan's Killmonger in "Black Panther." What could have easily been an one-dimensional, power-hungry antagonist is instead a compelling and sympathetic character pushed to the limits of grief and guilt, who will go to any length to bring his family together.
"Shang-Chi and the Legend of the Ten Rings" is, at its core, a story about family. The film exceeds expectations when it focuses on its characters' personal stories, and unlike previous MCU films, it maintains a strong balance between humor and heart. A clearly East Asian focused film, "Shang-Chi and the Legend of the Ten Rings" also doesn't shy away from embracing Chinese culture and exploring the cultural stereotypes that affect people today.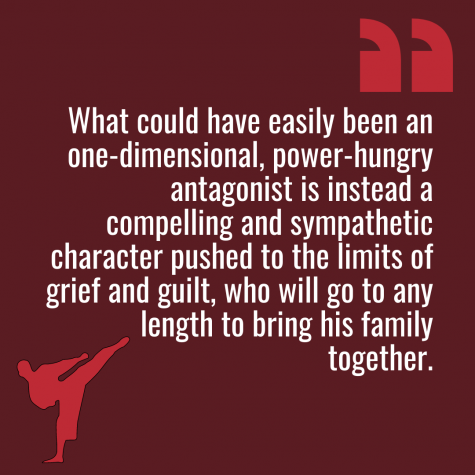 However, despite riveting action sequences and a compelling cast, "Shang-Chi" disappoints in other areas. The climax trades its flawless fight choreography and emphasis on personal stories for a final battle of excessive CGI, weakening the film's otherwise character-driven plot. With the exception of Wenwu, other antagonists like Razor Fist (Florian Munteanu) and Death Dealer (Andy Le) lack character development and are little more than colorful henchmen.
Regardless of the shortcomings of the ending, "Shang-Chi" still finds footing in the superhero genre with its brilliant cast, complex antagonist, breath-taking choreography and deep cultural roots. The creative endeavors showcased in this film's fundamentally different spin on the usual MCU origin story is enough to warrant a watch.
4/5