Manic artistry is celebrated in 'Donda'
Kanye West's newest record hits vulnerable highs but fails to find cohesion and purpose
"Donda" is the 10th studio album released by Grammy-winning rapper and producer Kanye West. After three listening parties  where Kanye lifted himself up into the air, burned himself alive in a room, and recreated his childhood home on the stage, the album was released on Aug. 29, 2021 . The album is named after his late mother, who passed away in 2008. 
From his charismatic lyrics in the critically acclaimed debut "College Dropout" to his flavor samples on "Graduation" and his vulnerability in "My Beautiful Dark Twisted Fantasy," Kanye West has been at the forefront of the next generation of rap music. West first came to prominence at the peak of the "Bling" era of rap, where rappers combined auto tuning and R&B to the original boom bap rap formula. Moving forward, he led the charge, showing a great deal of experimentation in albums such as "808s and Heartbreak" in 2008 and "The Life of Pablo" in 2016.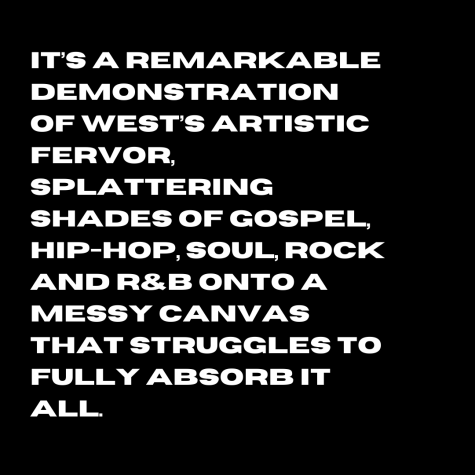 On his new record, West decides to bring spontaneity as the main act, collecting sounds in a manner that feels like a kaleidoscope of colors swirling around. It's a remarkable demonstration of West's artistic fervor, splattering shades of gospel, hip-hop, soul, rock and R&B onto a messy canvas that struggles to fully absorb it all.
Following his last LP, "Jesus Is King," "Donda" borrows the spiritual and gospel elements from his last record and prunes away the lyrical egocentrism that had plagued it. Its thematic elements are an exploration of spirituality, celebration and remembrance, but brought to a more honest interpretation of God and Christ, unlike the surface level material on "Jesus is King."
The track "24" pairs organ crescendos with heavy choir proclamations, reaching emotional highs with West vocalizing his declarations of how "We gonna be OK" as a call and response to the choir's "God's not finished." It's an emotional moment on the record that does justice to the gospel song formula he aimed for in his last LP. 
While thematically centered around West's spirituality and a tribute to his mother, the album's tracklist is all over the place. When "24" is a slow and melodic gospel entry, songs such as "Off The Grid" and "Praise God" are abrasive 808s paired with hard hitting features from artists Travis Scott, Playboi Carti, Fivio Foreign and Lil' Keem.
"Off The Grid" also features a beat switch from a general trap beat to drill, featuring sparse kicks, alternating hi-hats, offbeat snares and a rough bass — characteristic of the genre — under an aggressive and passionate verse by Foreign. Meanwhile, "Praise God" is a psychedelic trap banger, where Travis Scott comes with a laid back triplet rhythm on his verse, fitting right into the environment of the track's spacelike energy.
West's affinity for catchy hooks and melodies from albums like "Graduation" and "808s and Heartbreaks" arrives on the scene on tracks such as "Ok Ok" and "Believe What I Say," both impassioned songs with sticky melodies but two completely different vibes. "Ok Ok" is sinister and foreboding, with a sub-bass kick and haunting pads, while "Believe What I Say" goes on a soul route paired with a smooth bass and by far the most infectious chorus West puts on the record: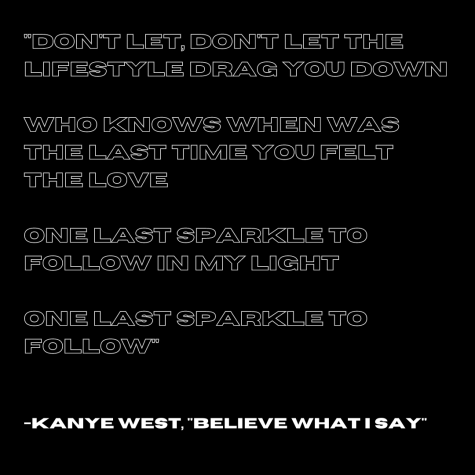 There's more digging left to do into the large plot of this album, but not everything is valuable. Beyond the individual tracks and their unique qualities, albums are made with cohesive elements that thematically tie everything together. "Donda" starts off with an idea, but gets tangled in the web of genres it wants to cover. Each track feels almost nothing like the previous one, which can be an exhausting experience when listening to the album in one go. 
Yet the biggest issue with "Donda" is not the music — it is rather the inclusion of controversial artists such as Marilyn Manson and DaBaby into the song "Jail pt.2." Manson is known for accusations of sexual assault towards multiple women, while DaBaby was recently imbued in a controversy following homophobic remarks accusing gay men of spreading the autoimmune disorder AIDS. The placement of these two within the same track, as well as their front stage appearances on the various listening parties show that West included them to bring attention to the record. These inclusions are not only outright offensive towards the respective communities they affect, but also leave a bad taste throughout the whole record, alienating the listener from being able to connect with West and his music.
 On one hand, "Donda" is an exploration of Kanye West's musical background, a culmination of his past records combined into one. It's inventive, creative, emotional and hard-hitting music that features passionate performances from each artist featured. On the other hand, it lacks cohesion — there's nothing keeping this record from falling apart. The inclusion of controversial artists is also a disservice to its musical prowess, and due to that, it's hard to separate the art from the artist in this record. 
 3/5