Senior Bucket List
Class of 2021 members follow the tradition of maintaining a bucket list despite the COVID-19 pandemic
March 13, 2020 proved to be a difficult day for the entire world, but for then junior Aditi Singh, it was an opportunity waiting to be seized. She began writing down a list of things she would set out to accomplish before the end of her senior year. 
"At the beginning of high school, I promised myself that I would get to do a lot of these things throughout the four years, but it just kept getting pushed back with the excuse of not having time," Singh said. "In the end, I just compiled it all into one bucket list that I plan to check off before I go to college."
Later, in the summer of 2020, she met some new friends through her online internship and decided to include them in her bucket list plans.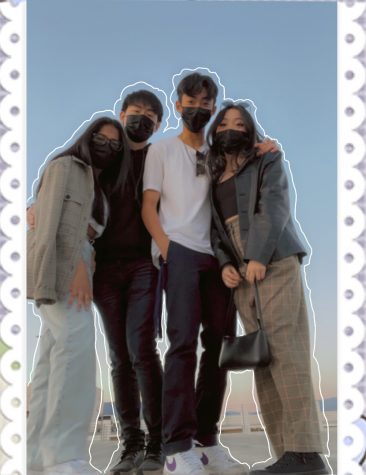 "Even though they go to schools all over the Bay Area, I clicked with them in a way that I haven't clicked with people in a long time," Singh said. "I shared my notes with them over a call and we quickly added more things we could do together once we could meet in-person."
Some of the goals that she set out to accomplish included a road trip with her friends from the internship, stargazing, a day trip to the beach and a day in San Francisco in the prom dresses that they weren't able to wear. They were able to achieve some of these while social distancing and wearing masks when the restrictions were decreased.
"My favorite thing that we were able to do was go to San Francisco in our prom dresses," Singh said. "Since there were four of us total, we all had our own date; I went with Miles and Karine went with Jackson. It was easily one of the best days of my entire life and it was definitely unforgettable." 
On the other hand, senior Viha Srinivas began her senior bucket list towards the end of her first semester of senior year. With more time on her hands, Srinivas wantedto emphasize staying safe and did not focus her bucket list around friends.
"To me, the bucket list is all about family — I created it to bring me closer to my parents and cousin before I have to go off to college," Srinivas said. "I feel like I was so swarmed with school that I pushed them away, but moving to distance-learning was the perfect opportunity to bond with them again before I have to move out."
The list Srinivas created was filled with simple things she could do with her parents such as having a board game night or watching their old home videos, along with items that took more planning, such as a trip to Disneyland with her younger cousin.
"A lot of my bucket list are things we used to do when I was younger such as the board game nights," Srinivas said. "It's almost like I want a chance to recreate my childhood before it's really over and I have to grow up."
Senior Viveka Ramanathan and her friends have been brainstorming their bucket list since they saw members of the class of 2020 making theirs. 
"We were definitely inspired by last year's seniors and we stole some of the things that they weren't able to finish before they graduated due to the pandemic," Ramanathan said. "I remember [adding] to this huge Google Doc with a list of over 100 things we had to accomplish." 
Ramanathan and her friends have over 30 people working to finish the ultimate senior bucket list. Some of the items included throwing a party in a Lake Tahoe vacation home and cliff jumping. The seniors come from a variety of high schools, most of them attending either MVHS or Evergreen High School.
"It's definitely been a wild ride and we still have time to complete more things," Ramanathan said. "To be completely honest, I don't think we are truly going to be able to finish the entire list, but the best part is that we can always pass it on to the class of 2022, and it can be our own little Monta Vista tradition in the spirit of senior year."