The year we didn't lose
Discovering the myriad of things we learned this year
We missed out on a year of learning.
March 13 signaled the one year anniversary of distance learning. And many MVHS students claimed it also signaled one year of unfinished curriculum, inadequate education and lost potential. But did it really?
Speaking from our seats of privilege here in Cupertino, it seems unfair to equate distance learning with no learning. Sure, distance learning hasn't been the same. But our teachers have been working tirelessly to provide an in-depth education, allowing students to learn an exceptional amount of material this school year despite the unprecedented (the word so aptly describes this past year that it's become a cliche) circumstances. It would be unfair, even blatantly false, to claim that teaching and learning hasn't been happening.
And learning transcends merely academic learning. This past year has offered us time, and with it, opportunities to learn more about ourselves. The downtime during quarantine let us explore new things, whether that was taking up the ukulele or realizing hiking was not a horrible ordeal (it's exercise with bonus points for pretty scenery!). 
High school is supposedly the four years of our lives where we can explore a variety of interests and start to discover who we are and who we want to be. But ironically at MVHS, this is often neglected. More often than not, we are unequivocally goal-oriented and constantly push ourselves to get into our dream colleges and fabricate our dream futures. And sometimes, we forget to just exist and use the time that we have to do the things that we like. Sometimes we forget to actively work towards being happy and liking ourselves — but isn't that the real goal?
We also learned how to bridge distance in relationships, whether that was being physically distant from our friends or perhaps being emotionally distant from our families. For our families in particular, many of us used the gift of additional time to develop new family practices. Whether they were daily walks or weekend hikes, cooking together or eating dinner together, playing music or building puzzles, small yet persistent actions helped us rekindle and strengthen our bonds. Perhaps halting the breakneck speed of life was something all of us needed. And when we graduate and leave our homes, maybe we will remember this year as not the year we lost, but rather the year we developed more meaningful relationships with our families and friends.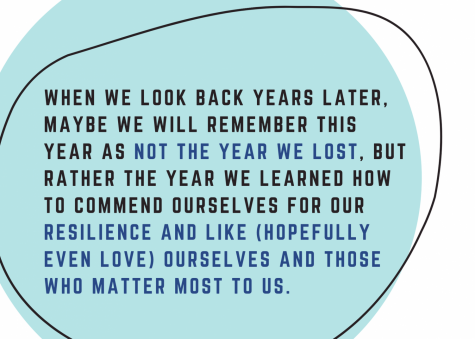 This isn't meant to dismiss the challenges of this past year. Distance learning has been hard. Going to school in-person makes it easier for us to learn, and seeing our classmates and teachers in-person was a blessing that most of us took for granted (maybe we'll remember this and complain less in the future?). And sure, in-person school would likely have yielded better test scores and we would have finished more curriculum.
Yet the MVHS community has a tendency to embrace a single-faceted definition of learning. Learning is not just about the AP classes and the numbers on Schoology and the SAT and ACT scores. Learning is about the self-management we cultivated this year, like time management and organization. And learning is also about introspection, building relationships and developing empathy. We've done all of those this year, likely to a larger extent than we would have during a regular school year. Learning about yourself — who you are and who you want to be — is probably the best kind of learning there is. When we look back years later, maybe we will remember this year as not the year we lost, but rather the year we learned how to commend ourselves for our resilience and like (hopefully even love) ourselves and those who matter most to us.
It isn't fair to say we missed out on a year of learning. We didn't miss out on a year of learning. We've been learning all along.
About the Contributor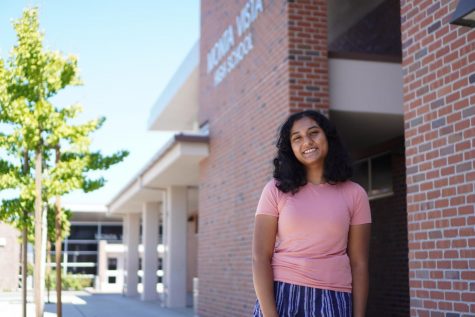 Oishee Misra, Editor-in-chief
Oishee is currently a senior and the co-editor-in-chief for El Estoque. She's an artist, and the walls of her room are plastered with artwork. She loves listening to music and obsessively creates Spotify playlists and plays the piano. She's also a total foodie (although her cooking attempts are usually disastrous). She loves reading the Opinion section of New York Times, and hopes to live in New York City and be an NYT columnist someday.